Catch up on our recent newsletters
Here you will find an archive of our previous newsletters, bare in mind any offers or promotions may now be expired
Latest Scanshots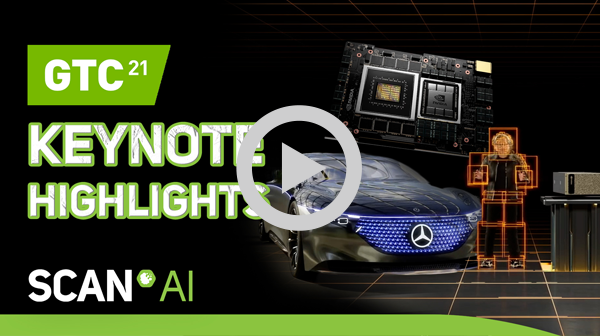 NVIDIA says farewell to x86 with its first data centre CPU
The Grace CPU is designed to give NVIDIA powered supercomputers independence from the current generation of bottlenecked X86 CPUs. Drastically increased bandwidth between the CPU and GPUs in Grace systems will deliver 10x the performance of today's fastest servers in giant-scale AI and HPC applications.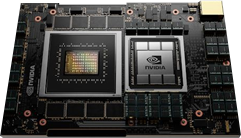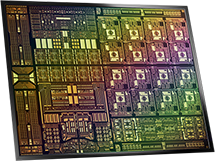 Transform the datacentre with NVIDIA BlueField DPUs
The NVIDIA Bluefield Data Processing Unit (DPU) is a next generation network card designed to provide high speed, low latency data throughput combined with advanced security and also providing offloading of the management of software applications from the CPU. The Bluefield DPU will deliver blistering system performance when combined with NVIDIA GPU accelerators.
A new era of collaboration and simulation with NVIDIA Omniverse
Omniverse is a platform designed to revolutionise the design and delivery of graphical projects or simulated environments. Omniverse allows real time collaboration from anywhere, combining industry standard software packages in areas such as media and entertainment or architecture and construction, to offer a flexible space, where multiple creators can seamlessly combine their skills. Omniverse also provides a basis to build digital twin environments that allow simulation and testing of real world situations prior to them being physically developed.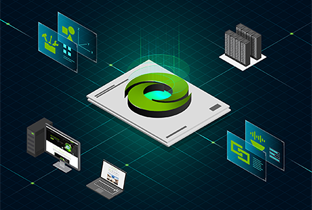 The latest solutions coming to Scan Business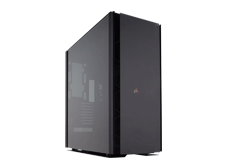 NVIDIA A5000 AI Workstations
AI development stations from 3XS Systems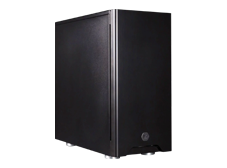 NVIDIA A4000 Graphics Workstations
Graphic design workstations from 3XS Systems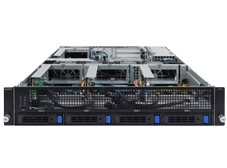 NVIDIA A10 Inferencing Servers
3XS Servers for AI inferencing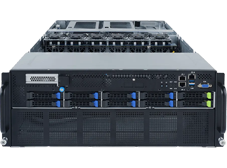 NVIDIA A30 Training & HPC Servers
3XS Servers for AI training and high performance computing applications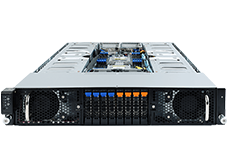 NVIDIA A16 Servers for Virtual PC VDI
3XS Servers for virtual PC and desktop infrastructure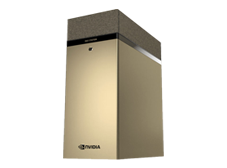 NVIDIA DGX Station 320G
Workgroup AI training system



Follow Scan Computers on: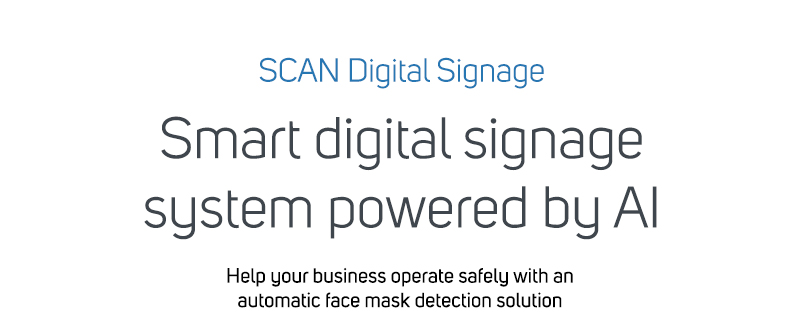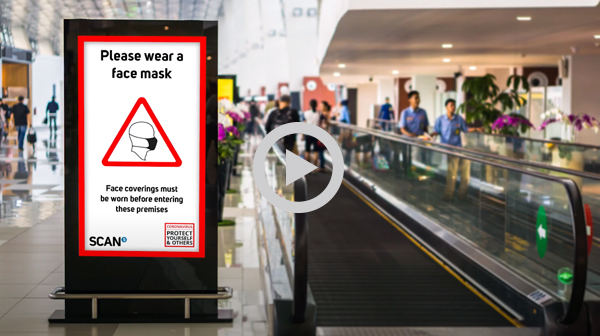 Wearing a face mask is a key factor in helping stop the spread of disease. Help your business return to work safely with our digital signage solution that includes discrete cameras and anonymous facial detection to screen visitors and alert those who aren't wearing a mask.
GET IN TOUCH >
Trigger COVID Safety Content on Screen
Automatically display customised content on screen to remind people of guidelines in place.
Future-Proof Investment
Flexible signage solution made to prioritise safety messages when triggered
Flexible Deployment
Free standing unit for freedom of location and maximum impact. Other options available.
AI Powered
Increases accuracy and reduce false readings.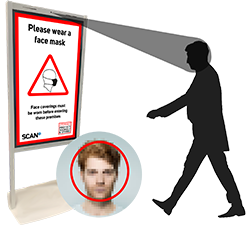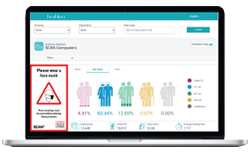 In-Depth Analysis
Granular breakdown of data by hour/month accessed through our browser-managed dashboards.
Demographic Analytics
Provides useful demographic data to understand visitor engagement for every piece of content.
Cloud-Based CMS
Display and schedule all your content on screen such as images or videos.
Location Trends
See trends across your estate by analysing data from multiple sensors.
Ask about our other Covid-19 solutions

Occupancy
Management

Thermal
Screening

Digital Signage
Safety Content
Follow Scan Computers on: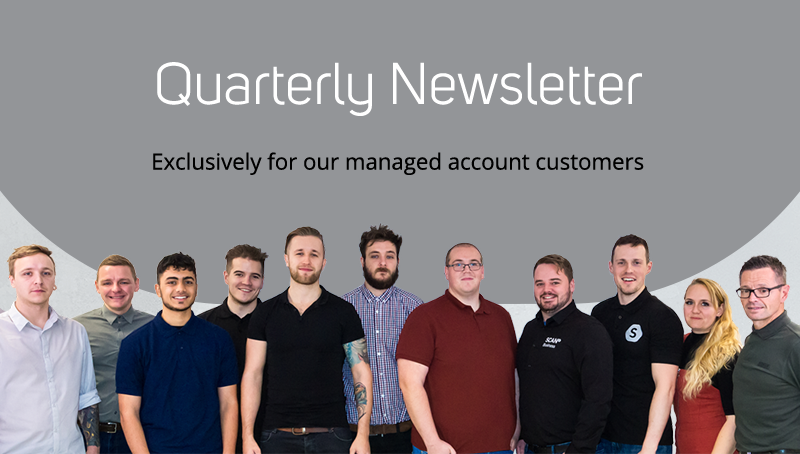 What's new at Scan -

Q4 2021
HOT TOPIC
SCAN Business launches new SCAN IT sub division We are proud to introduce our latest addition to the Scan Business family - Scan IT. Although our 3XS Systems division has been building award-winning professional workstations for video, audio and graphics workloads and the associated infrastructure to support them for many years, there's never been an obvious way to link them altogether - until now.

Scan IT brings together our office PC and workstation portfolio, our server room solutions and our cloud offerings in one place, so you can see how one product line compliments another and understand the wraparound professional services we provide too.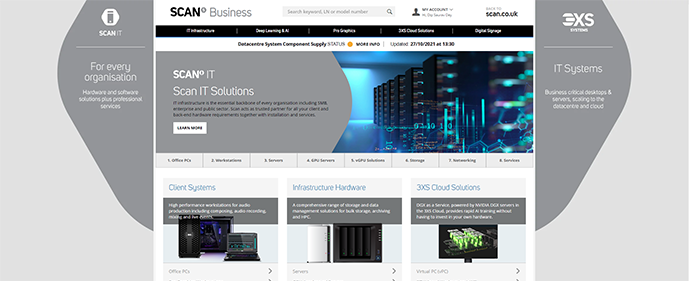 Our infrastructure hardware offerings cover a wide range of servers, including GPU-accelerated models for high demand workloads such as HPC and AI; storage solutions from JBOD to NAS to all-flash appliances; and a networking portfolio made up of Ethernet and Infiniband switches, wireless technology and airtime services too.

Within our 3XS Cloud range we have virtualised GPU (vGPU) solutions aimed at virtual desktop, workstation and server - all delivering powerful GPU compute without local hardware to enable better resource management and sharing, plus step added benefit of remote access to high performance applications (see more below).

The Scan IT homepage is also where you can find link to our informative Buyer's Guide series - designed to help you understand particular technologies and aid your decision making when it comes to product specification.

To LEARN MORE > about our great new integrated portfolio, speak to your account manager and visit Scan IT today.

VIEW SITE >
Spotlight on… Microsoft

This quarter saw the launch of the latest desktop operating system from Microsoft - Windows 11. Windows 11 Pro provides a great upgrade platform for any organisation as it supports corporate network security policies. This makes the Pro version safer and easier to manage if your business has lots of PCs. In addition, you can link a Pro device to a domain, which isn't possible with the Home version. Windows 11 Pro also has useful features such as Remote Desktop to remotely connect to another PC in the office.
LEARN MORE >

October also saw the launch of the latest server operating system from Microsoft - Windows Server 2022 - available in three versions. With up to 25 users or 50 devices, the Essentials edition is the perfect server OS for small businesses and rather than a license-based model, Essentials is just a single purchase. The Standard edition is aimed at users who only need a few Windows Server virtual machines. In addition to installation on the physical hardware, two virtual machines running Windows Server are also possible with the server license. Finally with the Datacenter edition, users have the greatest possible flexibility in server deployment and can realise large, rapidly changing workloads.
LEARN MORE >
Omniverse Enterprise

Omniverse Enterprise from NVIDIA is a groundbreaking virtual platform built for collaboration and real-time true-to-reality simulation. It has been developed to allow video and graphics professionals to maximise productivity, enhance communication, and boost creativity while collaborating on the same 3D designs or scenes from anywhere.

Scan Business is an authorised reseller partner for Omniverse Enterprise and we have solutions aimed at architecture, engineering and construction (AEC), media and entertainment (M&E) and manufacturing and product design, ready to be tested out in our Omniverse proof-of-concept environment.

Our ground-breaking PoC platform, hosted in a secure UK datacentre, offers an experience for multiple users - based anywhere - so you can truly test Omniverse on your real-world workflows. For example, if you have 20 designers spread across Europe, you can understand how Omniverse can revolutionise your collaborative efforts enabling cross-application real-time working without restrictions - at no cost. All you need is your existing application licences to link to the Omniverse connectors and you're away.
LEARN MORE >
Virtual GPU by 3XS Cloud

Virtualised GPU (vGPU) solutions enable organisations to deliver high performance GPU-accelerated applications to their employees, but without requiring high performance workstations at each desk or in the field. Scan's 3XS Cloud team provides visualisation and compute solutions powered by NVIDIA GPUs to deliver the ultimate user experience with the ability to support high performance compute (HPC), artificial intelligence (AI) and professional graphics workloads in hypervisor-based virtualised environments.
LEARN MORE >
Discover the range of Scan Business solutions
Follow Scan Computers on: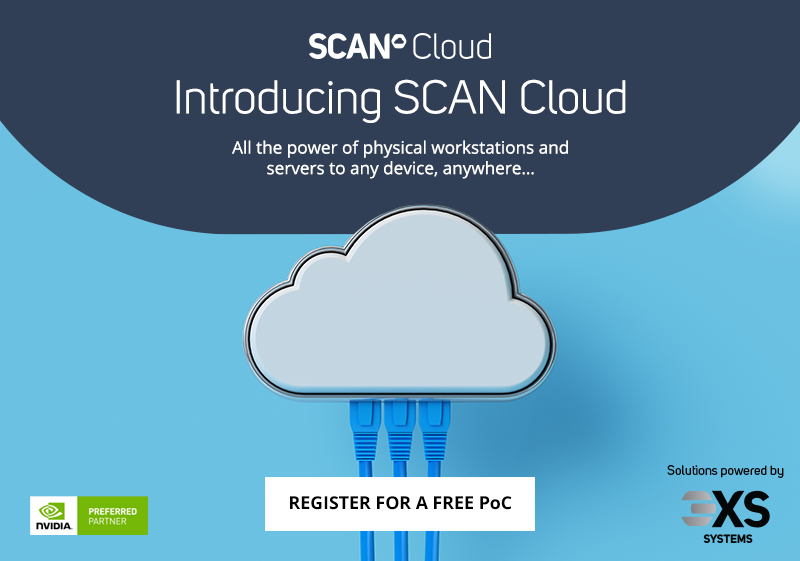 Scan's 3XS Workstations have been winning awards for professional applications for almost 20 years. Scan Cloud takes all our expertise in building and deploying physical PCs to give you a range of services for virtual GPU compute, wherever you need it, via the Cloud.

No more costly and desk-hogging workstations for each member of your team, simply tell us the number of seats you require, and they can all log in remotely on any compatible device. Or, why not take your GPU-intensive applications and programs to the construction site on a thin & light laptop? Discover a new level of flexible working with Scan Cloud.
Find out more about the benefits of cloud computing
Read WHY CHOOSE SCAN CLOUD or watch our video below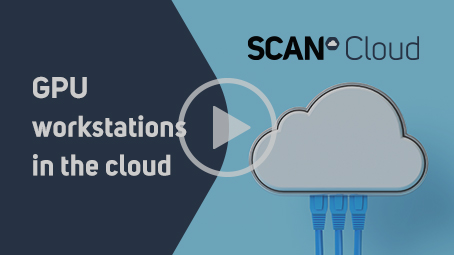 Discover our public cloud services today…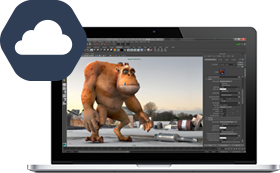 3XS Pro Graphics Cloud Workstations
Virtual workstations optimised for applications within AEC & BIM, CAD & CAE, Media & Entertainment and Rendering
FIND OUT MORE >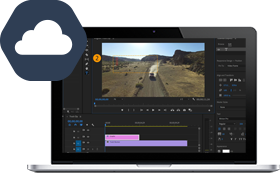 3XS Pro Video Cloud Workstations
Virtual workstations optimised for video production applications such as Editing, Colour Grading and Visual FX
FIND OUT MORE >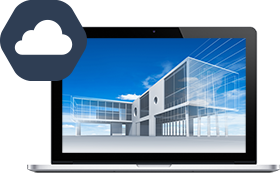 3XS Cloud Rendering
A flexible service delivering high performance virtualised servers for Pro Graphics and Pro Video rendering in the cloud.
FIND OUT MORE >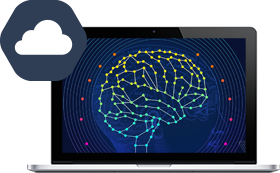 3XS DGX as a Service
Virtual NVIDIA DGX supercomputers for training models for deep learning and AI workloads
FIND OUT MORE >
… or let us build you a private cloud solution
Discover how Omniverse Enterprise can enhance collaborative working between your cloud systems and how we can build a private cloud solution for your organisation.
Why you should consider Scan Cloud

GPU-accelerated
NVIDIA RTX GPUs lie at the heart of our cloud service, delivering cutting edge performance and features for professional users.

Scalability
As your business needs develop, additional cloud workstations can be quickly spun up and more storage brought online.

Flexibility
3XS Cloud Workstations are available in a wide range of configurations, tuned for the different users and workloads in your organization.

Cost-effective
Available in monthly commitments paid for from OPEX, there's no upfront outlay from CAPEX or ongoing costs associated with on-premise hardware.

Secure
3XS Cloud Workstations are hosted in secure datacentre environments so the cloud experience will not compromise your integrity or data.

Trusted
As an NVIDIA Elite partner, Scan guides you throughout your cloud service – from free PoC to designing your personalised workstation configuration.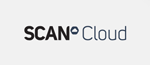 Read the Scan Cloud
Press release
READ NOW >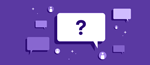 Scan Cloud FAQs
READ FAQs >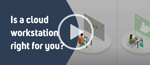 Is a Cloud Workstation right
for your business?
WATCH NOW >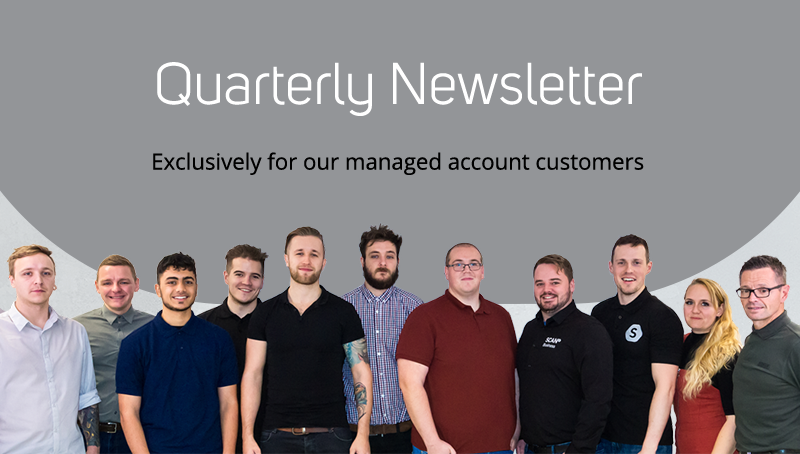 What's new at Scan -

Q1 2022
HOT TOPIC
Scan Business launches Scan Cloud virtual GPU services and solutions 3XS Systems GPU-accelerated workstations and servers are the gold standard when it comes to delivering content creation and data science applications. Powered by professional grade NVIDIA RTX GPU accelerators, all the capabilities of our award-winning 3XS Systems are now available in the cloud from any device, anywhere. Scan Cloud takes all of our expertise in physical systems and packages it into a range of virtual system profiles to give you GPU-accelerated compute power when and where you need it - on-site, off-site or even on a construction site.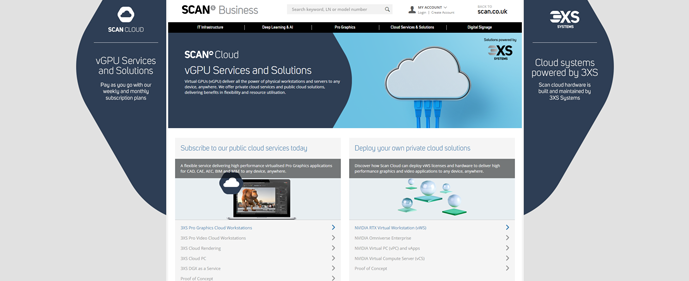 GPU power is delivered securely from a centralised server infrastructure and can be specifically tailored to meet your requirements in terms of users, performance and demand. If you're lacking dedicated rendering resource for a demanding time-sensitive job, simply log on to our render server in the cloud for as long as you need it. If you need to bring remote teams together for a high profile project, then collaborate in real-time using NVIDIA Omniverse in the cloud. And if you need NVIDIA DGX capabilities but can't stretch to the outlay, you can subscribe to DGX as a Service to give you performance without the price.

Speak to us today about your creative needs and how Scan Cloud can provide the flexible and adaptive platform your organisation needs - alternatively we can advise on constructing your own private cloud infrastructure. What's more, all of our Scan Cloud solutions can be trialed free of charge via a proof of concept hosted in a secure UK datacentre

VIEW SITE >
Spotlight on… YouTube

The Scan Business family has now grown to five complimentary sub divisions, so we figured a tidy up of our YouTube channels was in order! There's now a dedicated channel for each of our sub-divisions so please ensure you take a look at the ones most relevant to you for our latest video content. Don't forget to like and subscribe to make sure you never miss an update.
Professional Services

As your own IT infrastructure grows and become more complex, you need to be sure that you're always getting the best from it. Indeed, adding new technologies may promise the uplift in speed or functionality, but some of those benefits may only be realised if the surrounding infrastructure is up to scratch. Our range of professional services includes help with installation and configuration to guarantee optimum performance, consultancy around storage and data management or cyber security, health checks to identify any areas of your hardware not currently giving their best, remote monitoring solutions to take the weight of your staff or project management to keep those technology roll-outs on course.

Our range of services come at competitive rates and are undertaken by our expert teams, trained and certified by manufacturer partners giving you absolute peace of mind.
Go to Professional Services >
Some of our customer success stories
Each newsletter we'll publish a selection of our customer case studies that highlight the way cutting edge technology is being used within a variety of industry sectors right now.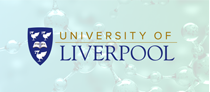 University of Liverpool
Find out how powerful GPU-accelerated servers and optimised storage are being used to further chemical discovery.
LEARN MORE >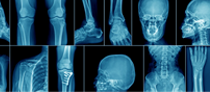 Bering, iCAIRD and NHSGCC
Learn how AI-powered chest X-ray image diagnosis technology is being adapted to help early identification of COVID-19 cases.
LEARN MORE >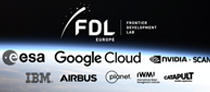 FDL Europe 2020 - Digital Twin Earth
The project set out to discover whether machine learning can learn forecast precipitation by fusing simulated satellite weather data with physical model data.
LEARN MORE >
NVIDIA GTC

March 21st - 24th sees the main GTC event from NVIDIA, where you can learn all about the latest developments in the world of GPU-accelerated computing, and find out more about the next generation of NVIDIA products and services.

Keynote addresses and training sessions cover a whole host of topics from professional graphics and visualisation, deep learning and AI and autonomous driving. Register today.
Go to GTC registration >
Discover the range of Scan Business solutions
Follow Scan Computers on: