SCANZONE
15.07.16 | ISSUE 43
Summer still refuses to arrive but that hasn't stopped NVIDIA and AMD flooding the market with exciting new graphics cards, delivering unparalleled performance while consuming less power than previous generation GPUs. Scan has introduced its first ever overclockable laptop. Read on to find out more.

1. Prices and the US dollar
Due to the recent referendum on EU membership, as predicted the value of the British pound has dropped significantly versus the US dollar. As a result, as Scan brings new stock into the UK from abroad, the cost of all these items is going up. We have already seen costs increase by as much as 10% with further cost increases a real possibility due to the political and economic situation. This affects anyone who imports goods and our goal is always to secure the best prices we can.

Exchange rate source: www.xe.com

2. NVIDIA GeForce GTX 1070 review
After launching the ludicrously fast GTX 1080 last month, NVIDIA has now followed up with the cut down GTX 1070. I say cut down, but the GTX 1070 is still an incredibly powerful graphics card, boasting 1,920 cores running at upwards of 1,506MHz and 8GB of GDDR5 memory. In comparison the GTX 1080 has 2,560 cores running at 1,607MHz plus 8GB of GDDR5X memory. Both high-end 10-series cards are based on the new super-efficient Pascal architecture which is made using tiny 16nm FinFET transistors that consume less power and switch faster than the larger transistors used to make GTX 9-series GPUs.

The end result is that the GTX 1070 muscles it ways through modern games at 1,920 x 1,080 and 2,560 x 1,440 and even makes a decent stab at 4K too. This puts it roughly on par with the previous generation GTX 980 Ti, which is not only more expensive, but noisier and consumes more power. As such the GTX 1070 is the best choice for gaming on a 2,560 x 1,440 monitor, guaranteeing smooth frame rates, plus advanced features such as G-Sync.

Like the more powerful and more expensiveGeForce GTX 1080, the GTX 1070 is available in two flavours, the Founders Edition which is NVIDIA's fancy new name for a reference card, with all brands having the same cooler and clock speed plus customised versions made by different manufacturers which are overclocked and have custom coolers. You can check out the whole range of GeForce GTX 1070 graphics cards on the Scan website, with prices starting around £400 inc VAT.

3. AMD Radeon RX 480 review
Like NVIDIA, AMD has been stuck making GPUs out of 28nm transistors for much longer than either company expected. However, at long last AMD is joining the die shrink club, and is using a 14nm FinFET process to manufacture the GPU in its latest graphics card the Radeon RX 480.

Codename Polaris, the new GPU is still based on the GCN architecture that AMD introduced with the R9 200 series way back in late 2013, although there are some notable enhancements when it comes to efficiency, especially audio processing, a critical factor for VR games. However, the smaller transistors are the biggest contributor to performance, allowing AMD to squeeze in 2,304 steam processors running at upwards of 1120MHz, a big step up from the previous generation R9 380X which has 2,048 stream processors running at 970MHz. The new GPU has plenty of RAM too, being equipped with 8GB of GDDR5 with 256GB/sec of memory bandwidth.

All this silicon goodness translates into a graphics card that can stand toe to toe with the NVIDIA GeForce GTX 970 in most games. In real world terms this means silky smooth frame rates at 1,920 x 1,080 and solid frame rates at 2,560 x 1,440. As such, priced at round £240 inc VAT the Radeon RX 480 is worth considering for upgrading your existing PC, although as NVIDIA will have a new mid-range card at this price point soon, it's probably worth waiting to see how the two cards compare first.

4. Overclocking comes to laptops
While the graphics card is the most important component in a gaming laptop, a fast CPU is still crucial as it determines how quickly your system loads games and runs other applications such as editing videos. However, historically laptop CPUs have always run slower than desktop CPUs, with their performance limited by the small size and power requirements of laptops.

That's no longer the case with the introduction of our first overclockable laptops. The Scan 3XS Vengeance G-Sync gaming laptop can now be configured with an Intel Core i7 6820HK processor. Out of the box this CPU runs at 2.7GHz but our engineers can overclock overclock it up to 3.6GHz. In real world terms this means a substantial 11% extra performance in tasks such as editing photos and encoding videos as measured in the Custom PC Realbench benchmark.

The Scan 3XS Vengeance G-Sync is available with both 15.6in and 17.3in screens, with your choice of powerful NVIDIA GeForce GTX 970M or 980M graphics.

5. HTC Vive VR headset in stock and ready to buy
One of this year's hottest products is the HTC Vive VR headset, but until now it's been very hard to get hold of with very long pre-order lists online. However, Scan has managed to secure a large quantity of HTC Vive's, which are available by themselves or bundled with a VR Readygraphics card orPC. Check our website or visit us in store for more details and a free demo.

6. Experience the thrill of racing at home
Last month we introduced the RAID Full Motion Simulator, which takes driving sims to the max with the whole racing chassis vibrates, leans and dives as you throw it around the race track. The RAID is one of those products that really benefits from being seen in action so we've put together this video to give you a sneak peak of the ultimate simulator experience.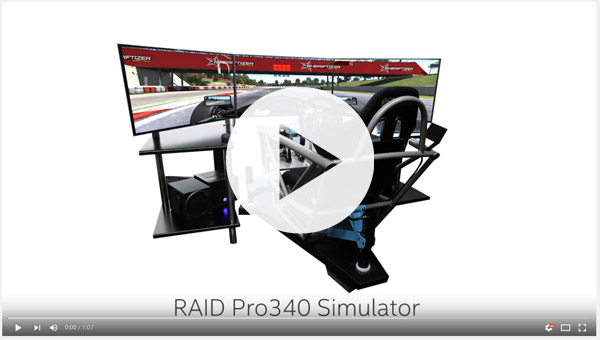 You can find out more about the RAID Full Motion Simulator on the Simulator section of the 3XS website.

7. Windows 10 free upgrade offer ends soon
For the last year Microsoft has been giving away free upgrades to Windows 10 for PCs running a licensed installation of Windows 7 or 8.1. That offer comes to an end on July 29th so make sure you take advantage while you can. Highlights of upgrading to Window 10 include support for DirectX 12 games, Cortana voice assistant, improved security and much faster boot times. Visit the Microsoft upgrade website to claim your free upgrade.

8. Introducing the Intel Visual Compute Accelerator
Video transcoding, the process of changing a video from one format or resolution to another is one of the most easily multi-threaded tasks, making it a prime target for multi-core CPUs and other parallel processors such as GPUs.

Intel has just unveiled a new option, multiple CPUs working together mounted on a single PCI-E card. Known as the Visual Compute Accelerator or VCA for short, this 16x PCI-E card mounts three quad-core Xeon E3 12XXL processors, each running at between 2.9 and 3.8GHz. These are special versions of the E3 1285L v4 processor and so also have the much more capable Iris Pro Graphics P6300 integrated graphics which is also used to process video. Each CPU can support up to 32GB of RAM and is designed to boot into an OS such as CentOS or Xen, which is stored on the host server, as the VCA itself has no on-board storage.

Using transcoding software from the likes of ATEME you can then allocate work to each of the CPUs. Think of it as hardware virtualisation, with all the hardware resident in one host server with multiple VCAs. As with any HPC type device performance depends massively on your workflow, but Intel has benchmarked each VCA card as capable of transcoding up to 50 AVC 1080p streams in parallel, far more than CPUs alone could manage. This is even more impressive when you consider that servers such as the 3XS HPC-V20G can host up to 8 VCA cards. Visit the Scan 3XS Enterprise website to find out more.

9. Intel announces next-gen Xeon Phi processors
Intel has been pushing its Xeon Phi accelerators for several years now, with first generation products, codenamed Knights Corner, taking the form of 16x PCI-E cards that although bootable, required a host server to run just like other co-processors such as NVIDIA Tesla.

At the ISC show Intel unveiled its next generation Intel Phi, codename Knights Landing. Known as the Xeon Phi x200 series, there are 8 models planned, 4 as co-processors and 4 as host processors. The latter are the first time Intel has made Xeon Phi available this way and means that rather than requiring a host server with Xeon E5 processors, the host version of the Xeon Phi x200 processor are standalone and fully bootable. Both flavours of the new Phis are made using 14nm transistors and sport up to 72 cores, up to 32MB of Level 2 cache plus a massive 16GB multichannel cache known as MCDRAM, which Intel claims provides up to five times the bandwidth of DDR4 system memory.

One of the first servers to support the new bootable Xeon Phi x200 processors is the Supermicro 5028TK-HTR, which has four hot-pluggable nodes, each with a LGA3647 socket for a single Xeon Phi x200 processor. In other regards the 5028TK-HTR is very similar to a traditional server, with support in each node up to 192GB of ECC or 384GB of ECC LR DDR4 memory and three 3.5in SATA drives. We don't have pricing for the Xeon Phi x200 processors or servers yet, but please register your interest at [email protected] and we'll fill you in on the details as soon as we know more. In the meantime, you can view our range of Enterprise class servers on the Scan 3XS website.

10. Vote now and win prizes
PC Pro magazine has opened voting for its annual Technology Excellence Awards. If you complete the online survey on the products and companies you have bought from in the last 12 months you have a chance to win some great prizes. Please visit the voting website for more details and to share your opinion.

Set to churn out top-tier frame rates for a long time
Custom PC was the first magazine to review a gaming PC using NVIDIA's new flagship graphics card, the GeForce GTX 1080. The Scan 3XS Z170 Vengeance 1080 GL is built inside the stunning glass and aluminium In Win 04 case Plus and was praised as 'There's no doubt about the star component in Scan's 3XS Z170 Vengeance 1080 GL– after all, it's in the name - NVIDIA's factory-fresh GTX 1080 is a barnstormer. The In Win 904 Plus mid-tower chassis makes a stylish first impression too. The fascia and roof are built with a 4mm-thick slab of aluminium that's sandwiched between two panels of thick, tempered glass. The whole chassis feels rock-solid, and it looks great – sleek and minimal.

"NVIDIA's latest GPU brushes aside our 4K game tests, and Scan has backed it up with high-quality components in every other department. The case might have a couple of odd design quirks, but it looks fantastic. Most importantly, the speed of the GTX 1080 is incredible, with this machine looking set to churn out top-tier frame rates for a long time."

Custom PC gave the 3XS Z170 Vengeance 1080 GL a score of 92% and a Premium Grade award.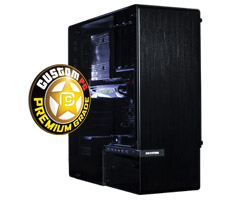 A fine choice and a prime candidate for VR gaming
HEXUS was the first website to review a gaming PC with the GTX 1080, taking a look at our 3XS Z170 Vengeance Q, which is specially engineered to make the least amount of noise possible with a case that includes sound absorbing foam and special fans.

HEXUS found that "The pick of the bunch, in our estimation, could well be the understated 3XS Z170 Vengeance Q. The noise profile of chassis fans is often overlooked, but Scan is clearly paying attention to the details. Minimal noise output is the Vengeance Q's primary objective, and it succeeds in setting a new benchmark among various high-performance machines. It's the quietest rig on show. Scan demonstrates its expertise by striking an optimum balance between speed, efficiency and minimal noise. Scan's 3XS Z170 Vengeance Q is a fine choice and a prime candidate for VR gaming."

HEXUS gave the 3XS Z170 Vengeance Q a Recommend award and you can read the full review online.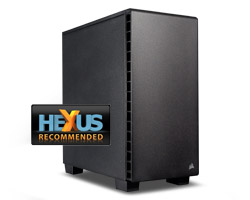 The GW-HT20 should be on a shortlist of one
The GTX 1080 wasn't the only hot new product to launch recently, Intel also launched the world's first 10-core desktop CPU, the Core i7 6950X which our engineers put to work in the 3XS GW-HT20 high-end professional graphics workstation.

PC Pro magazine took a look at the 3XS GW-HT20 and found that it offers "Unbeatable performance courtesy of the all-new Intel Core i7 6950X and a talented supporting cast. A PNY NVIDIA Quadro M5000 is included – currently the fastest sub-£2000 graphics card on the market. All this pushed the GW-HT20 to phenomenal scores in our tests. It's going to be amazing for 3D modelling too. There's no professional real-time 3D visualisation category that this workstation won't accelerate as fast or faster than any other system currently on the market. If you're looking for a content creation workstation that won't stutter with any task the GW-HT20 should be on a shortlist of one."

PC Pro gave the 3XS GW-HT20 a score of 5 out of 5 plus an A-List award.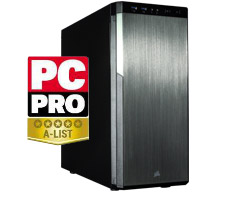 Top-notch design make the Scan an excellent premium PC
Issue 156 of Custom PC hits the shops this week can contains a group test of gaming PCs with the new GeForce GTX 1080 graphics card. Six different manufacturers took part, with Scan submitting a high-end custom watercooled PC, the 3XS X99 Carbon Fluid GL SLI. Housed in a stylish aluminium and glass case with a pair of GTX 1080s plus a 6-core Core i7 processor, our system won the group test with a score of 92% and a Premium Grade award.

According to the review "the entire machine looks stunning – the white tubes look fantastic, and the matt black fittings contrast well. There's no doubt about it – the Scan's two overclocked GPUs deliver this month's best gaming performance" before concluding that "The high-end components are paired with an impressive glass chassis and an extensive, well-built water-cooling system. The Scan backs up its spec sheet and good looks with excellent benchmark scores too – the Scan is the fastest PC on test in games".