SCANZONE
07.03.16 | ISSUE 40
After more than 20 years of waiting my dream of VR gaming is finally here, with the HTC Vive headset now available for pre-order. Although you'll have to wait a few months longer till your headset arrives, NVIDIA is already fully geared up with a VR Ready campaign and has been working closely with Scan on a recommended hardware guide. Read on to find out more about VR gaming and some other great promotions at Scan this month.

1. HTC Vive VR headset now available for pre-order
Computer games have advanced enormously since they first emerged in the 1970s, but regardless how powerful your PC is we all experience games the same way - by looking at a computer monitor.

The trouble with gaming on a monitor is that they're not very good at tricking your brain into thinking you're actually in the game as at some point you'll get distracted by something in the background, such as bird flying by the window or the phone ringing. Once that happens it's very hard for your brain to be tricked again, breaking the sense of immersion.

After decades of development we're just on the cusp of this problem being solved by the introduction of Virtual Reality headsets. Instead of looking at a monitor sat several feet away on a desk, a VR display sits comfortably on your head and cuts out all ambient light, so all you see is the game. This tricks your brain into thinking you're really there, greatly increasing the sense of immersion.

VR headsets also track the movement of your head, so instead of panning your view in the game around with the mouse you move your head naturally and the headset does the rest for you. Some VR headsets will also be bundled with controllers that mimic your hands, allowing you to interact with objects in-game far more naturally than with a keyboard and mouse.

The HTC Vive, which can be pre-ordered online includes two wireless controllers and room scale sensors so you can move about in the virtual world by walking around the room with your PC.
Ready for Virtual Reality

Whichever VR headset takes your fancy you'll need to make sure you have a suitably powerful PC to provide a smooth frame rate and a responsive experience as immersive VR requires much more graphics processing power than traditional games and applications.

Keep an eye out for PCs, laptops and graphics cards marked with the 'GeForce GTX VR Ready' logo as these have been tested with the latest headsets. Scan recommends at minimum a GeForce GTX 970 card, with a GTX 980 or GTX 980Ti providing the best experience. To save you fiddling around the back of your system EVGA has developed a special GTX 980Ti VR Edition which includes a pair of USB 3 ports and a HDMI port mounted in a 5.25in drive bay. If you'd rather pick from AMD's line of graphics cards you need at minimum a Radeon R9 390 with the R9 390X, Fury or Fury X providing a better VR experience.

Scan has also developed a range of VR Ready PCs, with a wide selection of configurable and pre-configured systems that are ready for next day delivery.

If you want to see how your current PC will cope with a VR headset then Valve has released a free SteamVR Performance Test application.

2. Experience VR on the HTC Vive at Scan
The Scan showroom in Bolton has played host to the launch of many new products before, but we're particularly excited to announce that from Thursday 17th March you'll be able to try out the amazing HTC Vive headset. Demoed on one of our award-winning 3XS gaming PCs powered by a VR-Ready NVIDIA GeForce GTX graphics card you'll be able to try out a variety of VR experiences including games, undersea exploration and 3D art.

3. Play like a Pro with Intel Extreme Masters
To celebrate the 10th annual Intel Extreme Masters Pro Gaming Tournament World Final earlier this month, Scan has worked with Intel and ESL to build some limited edition IEM PCs. The two gaming PCs are the Challenger and the Champion, with the latter having the same core specification as the PCs in the IEM tournament. The Challenger has an Intel Core i5 6600K CPU with NVIDIA GeForce GTX 970 graphics and the Champion an Intel Core i7 6700K CPU and NVIDIA GeForce GTX 980 graphics. For a limited only you'll also receive five free games when you purchase one of the special IEM PCs.

4. Free games with GeForce GTX
For a limited time you'll receive a free copy of Tom Clancy's The Division when you buy an eligible GeForce GTX graphics card from Scan. Eligible products include the GTX 970, 980, or 980 Ti graphics card, or a gaming laptop with a GeForce GTX 970M, 980M or 980. Click here to find out more.

5. Free games with AMD
AMD also has a game promo at the moment, giving a free copy of the new Hitman game when you buy a Radeon R9 390 or 390X graphics card or a 6 or 8-core FX CPU. Click here to find out more.

6. Introducing the Scan 3XS Graphite 13
Thick and heavy laptops are a thing of the past with the new 3XS Graphite 13. This super thin (18mm) and light (1.4kg) laptop is ideal for anybody on the move and is made from aluminium so is stylish and hard wearing too. Powered by a powerful Intel Core i5 processor, 8GB of RAM and a variety of storage options, you can configure your own SCAN Graphite 13 or choose a pre-configuredhome user or business user laptop ready for next-day delivery.

The best quiet gaming PC we've seen
The latest issue of Custom PC includes a review of the new 3XS Z170 Vengeance Q gaming PC.

The Q means it's been specially designed to be as quiet as possible, something that was noted in the review with such praise 'Scan has fastidiously ensured that the cables are routed in regimented lines Despite it's low-noise design, the Vengeance Q produced great frame rates in all our test games.
The Scan machine delivered its consistently great benchmark results without making a racket. When it's idle, the Scan might as well be a passively cooled PC. The only way we could hear fan noise was by pressing our ears right up against the side panels and, even then, the system produced a barely detectable low hum. The 3XS Z170 Vengeance Q is virtually silent when idle, and the noise barely increased when we pushed its high-end components to their limits. If quiet operation is your top priority, the Vengeance Q is both powerful and exceptionally quiet.'

The review concluded that the Vengeance Q is 'Near-silent operation is every situation and equipped with enough power to blast through games – this is the best quiet gaming PC we've seen', giving it a score of 89% and a Premium Grade Award.

You can read more about the Vengeance Q and configure it on the 3XS website.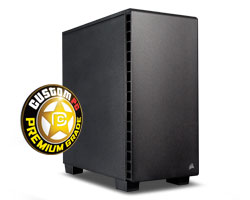 Quieter than any gaming system I've seen before
Trusted Reviews also took a look at our new 3XS Z170 Vengeance Q gaming PC, finding that 'its slow fans generate barely any noise' and that 'It never faltered when playing the latest titles at 2,560 x 1,440, with playable frame rates in every benchmark'.

The review concluded that 'While idling or running low-intensity tasks, the Scan might as well be a passive PC' and that 'Scan set out to build a different kind of gaming system with the 3XS Z170 Vengeance Q, and it's achieved its brief with impressive performance levels', giving a score of 4.5 out of 5.

You can read the full review on Trusted Reviews and find out more about the Vengeance Q on the 3XS website