SCANZONE
30.07.14 | ISSUE 21
Hello and welcome to the July issue of ScanZone

After the barrage of CPU launches the last few months I think a lot of people were expecting a relatively quiet July on the new tech front. However, NVIDIA managed to keep its latest new product, the Shield tablet, up until almost the last minute. The Shield tablet is NVIDIA's first retail product and has some amazing gaming credentials, including the ability to stream games from your PC. Read on to find out more.

In this month's newsletter…

1. NVIDIA launches the first tablet for gamers
Almost every gamer I know owns both a PC and a tablet. However, up till now gaming on a tablet has been limited to relatively basic games, whose idea of gameplay is rarely more complex than a 1980s platform game or pattern-matching game. That's all set to change this month with NVIDIA's announcement of the Shield tablet, the company's first retail product.

At first glance you could be forgiven for thinking it's no different from the hundreds of other 8in Android tablets already on the market, but that's not the case – the Shield tablet has an ace up its sleeve, the Tegra K1 processor. While this is undoubtedly an exciting new processor, sporting 192 CUDA codes running at 2.2GHz, what's far more important is what Tegra allows the Shield tablet to do.

For starters, the K1 is much more powerful than other tablet processors, with benchmarks such as GFX Bench 3.0 running between 10-30fps faster on the Shield than other tablets, that it unlocks a whole new era of games on Android, with popular PC games such as Trine 2 being ported already. Hopefully this will mean we'll get more interactive Android games in the future, as the current crop feature far too much auto-aim and auto-complete for my liking. And because K1 Tegra shares the same Kepler goodness found in GeForce, Quadro and Tesla cards it can run CUDA code too, so multimedia applications such as photo and video editors will benefit too.

Still, regardless how much faster the Shield is than other tablets it's still no match for a gaming PC or laptop. And that's where, GameStream, which I believe is the Shield's real killer feature comes in. GameStream allows you to wirelessly stream games from any PC with a GeForce GTX graphics card to the Shield, with all the processing work being done of your PC. This means you could transfer your gaming environment from the desk in front of your PC to the comfort of the sofa downstairs without upsetting the other half by placing a big black PC in the living room. Of course, most PC games won't really play very well if at all on an 8in touchscreen, so NVIDIA has also made an optional gamepad for the Shield. And while this will never take the place of a keyboard and mouse for an FPS or RTS game, the Shield gamepad is ideal for action, adventure and puzzle games. Like all good tablets, the Shield also has a mini-HDMI port, so you can connect it to a big-screen TV for watching TV, films and PC games via GameStream.

This combination of GameStream and gamepad is so potent it makes games consoles with their sub-PC graphics utterly redundant and means that Valve's long-delayed Steam OS has also lost a lot of its attractiveness as with a Shield tablet you can play PC games in your living room without having a PC in your living room.

What's more, unlike most new tech NVIDIA hasn't gotten greedy with the price, as the standard WiFi version of the Shield tablet retails at £239.99 inc VAT, a very similar price to other top-name brand tablets such as Samsung, none of which have as powerful GPU as the K1.

Don't just take my word for it though, come visit Scan on Saturday 16th August for an open day and gaming tournament. You'll get to try out the NVIDIA Shield tablet for yourself and win some fantastic prizes including £1,000 in cash for the winner of our League of Legends tournament. Point your web browser to find out more about the Scan Summer Barbecue.

2. Intel unleashes enterprise-class PCI-E SSDs
Intel already has an extensive range of SATA SSDs for both consumer and enterprise users, but this month saw the launch of three new series of PCI-E drives that use the brand new NVMe communication protocol. Non-Volatile Memory Express uses the PCI-E bus, in the case of these new drives four PCI-E 3.0 lanes, to communicate at far higher speeds than SATA or SAS can manage.

Intel will eventually launch a full range of consumer and enterprise NVMe SSDs, but for this launch is launching three new drive families, the DC P3500, P3600 and P3700, all aimed at the enterprise market. Each of these follows the same naming system as the older S-series SATA drives, so the P3500 is optimised for read intensive applications, the P3600 for a mixture of reading and writing and the P3700 for writing. You can see the principle characteristics of each family in the table below. The P3700 for example have much higher write speeds than the P3500 or P3600 plus a much higher endurance. Compared to the SATA S3700, the P3700 is nearly 6 times faster at reading and just over 4 times faster at writing, a simply magnificent increase. The new P-series drivers are also available in much larger capacities than the S-series drives.
Drive Family
P3500
P3600
P3700
Available capacities (GB)
400, 1200, 2000
400, 800, 1200, 1600, 2000
400, 800, 1600, 2000
Sequential Read (MB/sec)
2500
2600
2800
Sequential Write (MB/sec)
1700
1700
2000
Random Read (IOPS)
450
450
460
Random Write (IOPS)
35
56
175
Lifetime Endurance
1095TB
3 drive writes per day
10 drive writes per day
Interface
NVMe 4 x PCI-E 3.0
Form Factor
2.5in or half-length, half-height PCI-E card
Memory type
20nm MLC NAND Flash
All three drive families will be available in two form factors, as 2.5in drives or half-height, half-length PCI-E expansion cards. The former won't work in standard SATA drive caddy's though, they require a special caddy that supports NVMe. You can expect to see these appearing soon when the next generation Intel Xeon launches later this year. In the meantime you can add a PCI-E to any system that supports NVMe with a 4x PCI-E slot. Right now Windows 8.1 and Windows Server 2012 have native support for NVMe, although Intel does provide drivers for both OS's and Windows Server 2008 R2 plus a developer guide for creating your own Red Hat and SUSE Linux driver.

The entire family of Intel DC P-series NVMe PCI-E SSDs is available to order now from Scan. Pricing wise you do have to pay a a little extra for the P-series, for example the 400GB P3700 retails for £789 ex VAT and the same capacity S3700 for £621 ex VAT. However, given the spectacular performance difference between the two this seems like a tiny price difference, so I believe that NVMe SSDs such as the Intel P-series have a very bright future ahead of them.

3. Intel unveils 3 teraFLOP processor
After barraging us with a host of new CPUs and chipsets the last few months Intel took a small break from its launch frenzy this month, instead teasing us with new details about its next gen Xeon Phi processor.

Codename Knight's Landing, one of the most significant changes compared to existing Xeon Phi's is the packaging. This might not sound exciting or important, but it's arguable that current Phis are limited by having to communicate with the CPU over the PCI-E bus. Therefore, Intel will make two different versions of Knight's Landing, PCI-E cards for current systems and a new version that will mount into a new socket using the Omni Scale Fabric bus. This new bus has been specially developed for the HPC market and will be integrated in future Xeon CPUs and provides much higher bandwidth and lower latency than PCI-E.

Knight's Landing itself will feature around 60 Silvermont cores, the same underlying architecture found in the existing range of incredibly power-efficient Avoton servers such as the 3XS SER-R15AS. Intel has also announced that the new Phis will have up to 16GB of memory, developed in conjunction with Micron.

You can expect to see the first Knight's Landing Xeon Phis making their way onto the market in the second half of 2015 with a headline grabbing 3 teraFLOPs of double-precision performance, nearly three times more than any other CPU or GPU based accelerator currently announced. If you can't wait that long, then Scan already offers a wide range of CPU and GPU-based HPC servers; point your web browser to our dedicated HPC solutions website to find out more.

4. Pro Video systems for professional film makers
Scan Pro Video is very proud to announce a new series of professional video editing and finishing systems: 3XS Evolve.

The new series has something for everyone: DIT, editor, animator or colourist; from high-end HD systems to server class 4K+ workstations. Our new range of professional NLE and grading rigs have the same build quality and attention to detail that you've come to expect from award-winning 3XS systems, backed by our Platinum 3 year warranty and by Royal Appointment.

3XS Evolve systems are configured to deliver rock solid reliability and performance even in the most punishing post-production environments. Digital artists require speed and reliability and demand a zero tolerance approach to performance bottlenecks. We work closely with our Platinum Partners to create the highest quality systems for the Media & Entertainment industry.

Our team of engineers and leading industry professionals battle test system configurations for real-world use in our state of the art 3XS lab, so that we can continue to provide reliable solutions to our customers in world renowned post facilities across the UK. Scan Pro Video has a mission; to support the creative industries by matching passion with passion. Your vision to our vision.

In other news, the Scan & Intel sponsored competition for digital artists - Velocity 2014 – is now in the final stages and the winners will be announced imminently. Stay tuned to the Pro Video Facebook and Twitter for news and updates. Meanwhile, as if it wasn't already fit to burst, the prize fund has been increased by SoHo Editors (one of our industry's most respected training providers) with a golden ticket to attend a three-day training session at either their London or Manchester bespoke training facility. Last month, Velocity 2014 sponsor Adobe announced the release of Creative Cloud 2014, which one lucky winner will receive. Major updates include a debayer for RED media and support for Intel Iris GPUs in Premiere Pro.

5. DJ Rasp & Marshall Jefferson in the house
Congratulations to Scan DJ Demonstrator, DJ Rasp, who recently won the prestigious DMC 2014 Battle for UK Supremacy DJ competition and is now representing the UK in the world finals in October. Rasp has worked as a DJ demonstrator for Scan for the past few years at many in-store events and shows including Gadget Show Live and The Music Show and will be showcasing some of his winning routines live for us on the afternoon at the Nvidia summer BBQ on August 16th.

We also have a true pioneer of house music, Marshall Jefferson headlining our entertainment line-up in-store on the Friday 15th August evening lock-in, who also just took delivery of one of our 3XS Audio Workstations for his studio. Marshall is one of the founding fathers of house music as it is known today and was a central figure in the development of the Chicago house scene in the 80's and 90's, producing many seminal anthems including Move Your Body, 7 Ways To Jack and Open Our Eyes. He has worked with the best in the business, from fellow founding father Frankie Knuckles, Steve 'Silk' Hurley, Felix Da Housecat and Lil Louis, he has been a leading hand in the growth of both the acid and deep house movements. Even after almost three decades in the industry, Marshall is still busy as ever and most importantly, constantly cementing his stellar reputation while still evolving as both an artist and an entertainer.

6. Have your say and win prizes
We're excited to announce that Scan has been nominated in multiple categories in the upcoming Custom PC Awards. The awards are voted for by the general public, so you can shape which companies and products win awards by going to the awards website and registering your opinion. We'd love to hear what you think. Completing the awards survey will also enter you into a competition to win some fantastic prizes including motherboards and graphics cards.

7. How do you like our service?
After winning last year's award for Best Online Retailer we're delighted to have been nominated again in this years PC Pro Awards. The awards are voted for by the general public, so you can shape which companies and products win awards by going to the awards website and registering your opinion. We'd love to hear what you think. Completing the awards survey will also enter you into a competition to win some fantastic prizes including an Ultrabook and digital camera.

A solid gaming laptop on a mid-range budget
PC Advisor reviewed our 15.6" mid-range gaming laptop, the 3XS LG156, this month, giving it a great score of 4 out of 5 and a Recommended Award.

The review describes the LG156 as 'It's good value and provides the sort of gaming performance that would have cost £1200 or more in the recent past. Well-heeled gamers might prefer a more expensive model taking top-of-the range graphics, but the 3XS Graphite is a good choice if you need a solid gaming laptop on a mid-range budget.'

You can read the full review in the latest issue of PC Advisor on the magazine's website.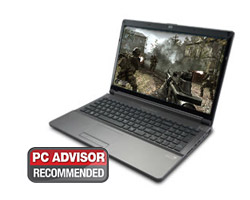 Superb gaming performance for a sub-£1,000 laptop
Expert Reviews also took a look at our 3XS LG156 mid-range gaming laptop, giving it a fantastic score of 5 out of 5 and a Best Buy Award. According to the review the LG156 provides 'Superb gaming performance for a sub-£1,000 laptop' and that 'These results show that the 3XS LG156 is more than capable of handling the latest games at High or Medium graphics quality, and that should remain the case for some time to come', concluding that 'Scan's 3XS Graphite LG155 was one of our favourite mid-range gaming laptops during 2013, and the company has stuck with the same tried, tested and powerful formula with the LG156. It has taken the best parts of last year's machine and increased the specifications without increasing the price.' You can read the full review on the Expert Reviews website on in the latest issue of Computer Shopper magazine.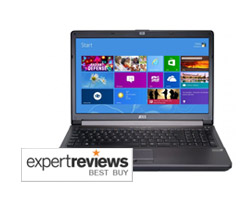 Guarantees top-notch performance for many years to come
HEXUS reviewed our latest high-end gaming PC, the 3XS Z97 Vengeance 780, earlier this month. Based around Intel's new Devils Canyon architecture Core i7 4790K which we overclock to 4.7GHz and an overclocked EVGA GeForce GTX 780 graphics card, the Vengeance was described by HEXUS as 'For a high-end gaming rig, it's satisfyingly quiet' and that 'right now, you're unlikely to see anything quicker from a quad-core PC' concluding that 'The 3XS Z97 Vengeance 780 guarantees top-notch performance for many years to come'

With such praise HEXUS gave the 3XS Z97 Vengeance 780 a Performance Award. You can read the full review on HEXUS.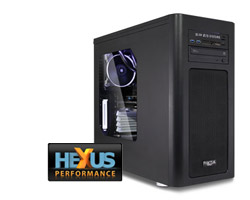 Purpose built to slice through 4K video production
PC Pro just reviewed our Pro Video 3XS Evolve NLE HD Plus workstation, giving it 5 out of 6 and a Recommended Award.

According to the review, 'Creating a cinematic blockbuster in your home may seem like a far-fetched proposition, but that's all in a day's work for the Scan 3XS Evolve NLE HD Plus. An impeccably neat interior, every cable neatly zip-tied and routed out of sight. The Scan's flush of SSDs puts it in a different league to anything we've seen before. The 480GB RAID5 array smashed past every machine we've ever seen. A superb build make for a PC that's both powerful and unusually quiet.'

You can read the full review on the PC Pro website.