SCANZONE
02.09.16 | ISSUE 44
If you thought there were lots of new graphics cards already this summer then you better get ready for another deluge, as in this month's Scanzone we've got news of 11 new cards: five new gaming models, three laptop GPUs and three professional accelerators for workstations and servers. They span all the way from £101 to £7752 so there really is something for everyone. Moving award from graphics for just a moment Intel also has a brilliant new range of SSDs that are also worth checking out, read on to find out more.

1. NVIDIA GeForce GTX 1060 review
NVIDIA has spent the last few weeks fleshing out its range of GeForce GTX 10-series cards based on the new Pascal architecture. Alongside the high-end cards it's also launched the GTX 1060, which is available in two flavours. Despite sharing the same name, the two GPUs are very different from each other, with the 3GB version having 1152 cores and the 6GB having 1280 cores.

Reviews of the 6GB GTX 1060 found that this model is extremely power efficient and is a great option for gaming on a QHD monitor with a resolution of 2560 x 1440. However, it's worth noting that unlike the high-end GTX 1070 and GTX 1080 cards the GTX 1060 doesn't support SLI, so you won't be able to add a second card later to boost performance. There is a huge variety of 6GB GTX 1060 cards available with prices starting from £235 inc VAT.

The newer 3GB GTX 1060 not only has less RAM but also fewer cores, so it is somewhat slower than the fully fledged 6GB GTX 1060. For example, in games such as Doom the 3GB GTX 1060 is about 10fps slower than the 6GB GTX 1060 which means that it will still run many games smoothly on a QHD (2560 x 1440) monitor. However in harder to run games such as Hitman you'll need to dial the resolution down to 1920 x 1080 to maintain a smooth frame rate. Prices for the 3GB GTX 1060 start at £194 inc VAT.

2. NVIDIA TITAN X review
At the opposite end of the spectrum from the GTX 1060 NVIDIA also launched a new flagship card, the TITAN X. Based on the same Pascal architecture as the GeForce GTX 10-series cards the new TITAN X sports even more RAM, even more memory bandwidth and even more cores.

By way of comparison TITAN X has 12GB of GDD5X RAM, 4GB more than the GTX 1080, and this memory is connected via 384-bit controller versus the 256-bit controller on the GTX 1080 giving it far more memory bandwidth (480 versus 320GB/sec). The TITAN X also has much more processing power, with 3584 cores versus 2560.

All this silicon makes the TITAN X monstrously fast in games and earns it the accolade of being the first single-GPU graphics card that delivers silky smooth 60fps plus in games at 4K. For example in its review HEXUS benchmarked the TITAN X running Doom at an average frame rate of 83fps and minimum of 71fps.

The sheer amount of processing power also makes the TITAN X a compelling choice for compute in workstations and servers with 10.9 teraFLOPS single precision of performance.

Like other TITAN cards, the new TITAN X commands a significant price premium, but it's ludicrously fast and very desirable because of it. Currently the only way to get a TITAN X card is inside a PC, so we've designed a huge array of 3XS systems, including configurable gaming PCs and ready-to-ship gaming PCs, workstations and Deep Learning systems.

3. NVIDIA GeForce 10-series Gaming Laptops
Historically, laptop GPUs have always lagged a good six to nine months behind their desktop counterparts and had much lower performance as the desktop versions were simply too power hungry to fit inside a laptop.

However, NVIDIA's Pascal architecture is so much more power efficient than previous designs its enabled the GTX 10-series to arrive in laptops with almost the exact same specs as the desktop versions.

For instance, the laptop and desktop GTX 1080 both have 2560 cores running at up to 1733MHz and 8GB of GDDR5X memory. The laptop GTX 1070 is a little diferent to its desktop version, with 2048 cores running at up to 1645MHz with 8GB of GDDR5, compared to the desktop model which has 1920 cores runing at up to 1683MHz with 8GB of GDDR5 memory. Finally there's also a laptop GTX 1060, which likes its desktop version has 1280 cores running at up to 1670MHz with 6GB of GDDR5 memory.

As such, for the first time a GeForce GTX 10-series gaming laptop will run games at pretty much the same frame rate as a desktop PC so you'll no longer have to reduce the graphical quality settings when gaming on a laptop. Price wise the new laptop GTX 10-series GPUs are designed to sit above the current GTX 960M, which remains a great choice for a mid-range gaming laptop at a sub £899 price.

Scan has a full range of customisable 3XS gaming laptops with the new GeForce GTX 10-series GPUs, including dual-GPU SLI models and models with razor sharp 4K screens, all with G-Sync technology to help reduce tearing and stuttering, plus a variety of MSI and Gigabyte laptops.

4. AMD Radeon RX 470 and 460 review
AMD has also had a busy month, adding two new models to the Radeon RX family of gaming graphics cards. The two new models, the 470 and 460 sit below the 480 that AMD launched last month and are aimed at mainstream gaming PCs.

Compared to the 480 which has 2304 stream processors, the 470 has been cut down to 2048 while the 460 has just 896 stream processors. In real world terms this means the 470 delivers smooth frame rates in excess of 50fps in many games at 1920 x 1080 and even makes a good stab at gaming at 2560 x 1440, though you'll need to sacrifice detail settings in some games to achieve a smooth frame rate. Scan carries a huge range of Radeon RX 470 graphics cards, with prices starting at £169 inc VAT.

The 460 has a lot less horsepower than the 470 but can still play many AAA games smoothly at 1920 x 1080, however it faces very stiff competition from the GeForce GTX 950 which is available at a similar price. Prices for the Radeon RX 460 start at a very reasonable £101. Even so, its great to see AMD flesh out the range of RX graphics cards with these models and have more options in the market.

5. NVIDIA Tesla P100 review
The very first Pascal GPU to hit the market was the Tesla P100 which is available in the DGX-1 server that includes eight GPUs and is optimised for deep learning. To maximise performance the first version of the P100 did away with the PCI-E bus, instead using NVLink to speed up communication between the cards.

This month NVIDIA has released two more P100 cards, this time with a PCI-E interface so they can be integrated into standard GPU servers. The two models available have the same raw performance, with 3584 cores delivering 9.3 teraFLOPs double precision compute performance and 4.7 teraFLOPS double precision. One model has 16GB of HBM2 memory with a staggering 720GB/sec of bandwidth while the other has 12GB, providing a still impressive 540GB/sec.

By way of comparison the previous generation Tesla K80 provides 8.74 teraFLOPS in single precision and 2.91 teraFLOPs in double precision, so the new Tesla P100s do offer a considerable step up in performance, especially in single precision calculations. As with all the Pascal cards, there's also a considerable power saving, with the P100 drawing 250W compared to the K80 which guzzled 300W.

Both versions of the new Tesla P100 GPU accelerator are available standalone or integrated in a server, visit the 3XS website or email [email protected] for more info.

6. NVIDIA teases Quadro P6000 and P5000
NVIDIA usually uses its GeForce brand to test the waters with a new archictecture, which is why we've seen so many new gaming graphics cards recently. However, later this year NVIDIA will start rolling out Quadro graphics cards based on the new Pascal architecture for professional graphics workstations.

NVIDIA teased the first card in a blog post, revealing that the Quadro P6000 will have 3,840 cores delivering 12 teraFLOPs of compute performance plus 24GB of memory, making it much more powerful than any of the Pascal-based GeForce cards. There will also be a P5000, which has 2560 cores delivering 8.9 teraFLOPS of compute performance with 16GB of memory.

We don't have exact release dates for the Quadro P6000 or P5000 yet or benchmarks, but as soon as we do we'll do a follow up story in a future issue of Scanzone.

7. Intel introduces super-fast and affordable M.2 SSDs
The SSD market just got a lot more interesting with the launch of the Intel 600p-series. These are PCI-E M.2 drives that use the latest NVME instruction set to communicate at lighting fast speeds. However, they don't command the same premium price as other PCI-E drives.

For instance, at the top of the consumer SSD market is the Intel 750-series, which is available in 400GB, 800GB and 1.2TB capacities, starting at £287 inc VAT, which works out as £0.72 per GB with read and write speeds of 2200 and 900MB/sec respectively. The next fastest SSD is the Samsung 950 Pro-series, which is available in 256 and 512GB capacities, starting at £175 inc VAT, which works out as £0.68 per GB and reads and writes at the same speed as the Intel 750 although it is slower in sustained use. Both of these drive families being a lot more expensive than a 2.5in SATA SSD such as the best selling Samsung 850 Evo which works out at £0.34 per GB and reads and writes at 540 and 520MB/sec respectively.

Entering into this mix is the Intel 600p-series, which is available in 128, 256, 512GB and 1TB capacities. But what makes it so compelling is that how well it performs for the price, with the 256GB model reading and writing at 1570 and 540MB/sec respectively. While the write speed isn't anything to write home about, apart from video workstations, PCs spend more time reading than writing, and the headline 1570MB/sec is nearly three times faster than a SATA SSD. For instance, the 256GB 600p retails for £99 inc VAT, giving it a cost per GB of just £0.38, barely more than a SATA SSD and nearly half that of a Samsung 950 Pro or Intel 750. In short, the Intel 600p SSDs represents outstanding value for money and for a gaming PC is very credible alternative to a more expensive PCI-E drive or a cheaper SATA SSD.

8. Receive $115 to spend in game when you purchase GeForce GTX
For a limited time you'll receive a code to unlock in-game items worth $115 in Epic's new MOBO Paragon when you buy you buy select GeForce GTX graphics cards or laptops. The full details of the promotion and a trailer for Paragaon can be found on our website.

9. Play Deus Ex: Mankind Divided for free with AMD
You can enjoy the latest game in the Deus Ex series for free when you buy a 6-core or 8-core AMD FX processor. Check our our website for a trailer for the new game and more details on this great promotion.

A mighty system for 4K and VR gaming
To show off the full potential of the NVIDIA GeForce GTX 1080 high-end gaming graphics card we sent our 3XS Vengeance 1080 gaming PC out to several reviewers.

One of this month's reviews was in Computer Shopper which wrote that 'The Z170 Vengeance 1080 is a quality PC where it counts; slick performance at high resolutions' and that it 'is at its best when running intensive games and applications', giving the system a score of 4 out of 5.

You can read the full review in issue 343 of Computer Shopper and customise your own 3XS Z170 Vengeance 1080 using our online configurator.

PC Pro also took a look at our 3XS Z170 Vengeance gaming PC, writing that it's 'a carefully crafted gaming PC that's packed with power' and that 'Scan also pays its usual careful attention to the supporting cast of components.'

The review concluded that 'the bottom line is that Scan has produced an awesomely powerful gaming PC with excellent levels of support. if you already own a 4K display then with Z170 Vengeance 1080 is the first machine we've seen that will truly take advantage' giving the system a score of 4 out of 5.

You can read the full review in issue 263 of PC Pro.

PC Gamer also reviewed the 3XS Z170 Vengeance gaming PC, giving it a score of 90% and writing that 'Pascal, NVIDIA's latest and best architecture has come to the people. With that in mind, Scan sent us one of their lovely 3XS Vengeance PCs, featuring NVIDIA's mighty GTX 1080. Coupled with an Intel Core i7 6700K at 4.6GHz, 16GB of Corsair DDR4, a 256GB Samsung 950 Pro and a 2TB HDD, this is almost the perfect gaming PC.'

You can read the full review in the October issue of PC Gamer.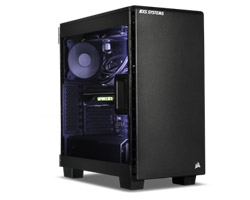 A small, good looking, well built and fast PC
Sticking with the GeForce GTX 1080, but watercooling it and cramming it inside a small form factor mini-ITX case is just the challenge our 3XS engineers enjoy.

Custom PC took a look at just such a PC, the 3XS Z170 Nanu Vengeance Fluid, which features custom watercooling with an overclocked Core i7 6700K and GeForce GTX 1080 graphics plus a PCI-E SSD.

Scoring 90% and winning a Premium Grade award Custom PC had this to say 'It looks excellent, not least because Scan has carefully hidden the cables. The machine also benefits from Scan's great warranty, which offers a great deal that includes parts coverage a full three years, with the first year on site. There's an incredible amount of gaming performance inside this small system. The rapid performance is also bolstered by the SSD's class-leading read and write speeds. Despite its size, the 3XS Z170 Nanu Vengeance Fluid has the power to handle 4K gaming and, thanks to Nvidia's Pascal architecture and a water-cooling loop, the GPU is perfectly cool. The build is great too, with a tidy interior and great looks. The rest of the spec is solid, from the overclocked CPU to the motherboard and storage.'

You can read the full review in the October issue of Custom PC, and customise your own 3XS Z170 Nanu Vengeance Fluid using our online configurator.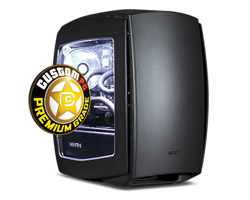 For peace of mind Scan's package is hard to argue with
3XS Systems also designed a new gaming PC featuring the AMD Radeon RX 480 mid-range gaming graphics card and sent it out to two reviewers.

The first review appeared on Bit-tech, which gave the 3XS Z170 Performance GTK4 a Recommended Award and wrote that 'The RX 480 means the system can deliver smooth frame rates at 1080p regardless of settings but at 1440p you'll need to dial down the image quality a little in some games. The Core i5-6600K is the go-to choice for gaming PCs. Its four Skylake cores will be adequate for the vast majority of titles, and the -K suffix means it can be overclocked to alleviate CPU bottlenecks. Scan takes full advantage of this, as the CPU comes overclocked to a tasty 4.6GHz.'

You can read the full review online at Bit-tech.

Techradar also took a look at the 3XS Z170 Performance GTK4, giving it a score of 4.5 out of 5 and writing that 'This Radeon graphics card has the power to play any game at 1080p and 1440p, and the rest of Scan's specification is impressive: an overclocked processor sits alongside plenty of memory and an SSD to ensure consistent performance. Build quality is good, too, with a smart design that allows for easy upgrade. This is an excellent mid-range gaming rig'

You can read the full review online at Techradar and customise your own 3XS Z170 Performance GTK4 using our online configurator.