SCANZONE
04.01.12 | ISSUE 03
Welcome to Issue 03 of ScanZone, the monthly newsletter from Scan Computers. This month Scan has been working hard with its premium partners to launch several new exciting products including a new range of keenly-priced modular PSUs from Corsair and an NVIDIA sponsored game giveaway. You'll also find some insight from our Professional teams about home pianos and Intel's first coprocessor since 1987. Happy New Year everyone!

1. 3XS Priority Build
Sometimes you just need a PC right now. Maybe your existing PC has kicked the bucket or you've found that your old workhorse can't hope with the latest game you just bought. Either way, we've just launched a new service that may be of interest to you.

Normally we estimate that it will take us 10 working days to build, test and dispatch your brand new 3XS PC. However, we now offer a Priority Build option, which for an additional £40 guarantees that we'll build, test and dispatch your new 3XS PC within four working days.

You can choose between Standard and Priority Build in the Build Time section of the configurator when ordering your PC online or simply asking one or our sales advisors over the phone.

2. Corsair launches new keenly-priced modular power supplies
Up till now if you wanted the advantages of a modular PSU – less cable clutter, easier maintenance, superior airflow in your case for better cooling, you had to splash out quite a lot of cash. However, leading PSU manufacturer Corsair has now come to the rescue by launching a new series of keenly-priced modular PSUs.

Known as the Builder CXM Modular, this series comprises four new models, ranging from 430W, 500W, 600W and 750W. All four models include modular cables for the disk drives and graphics cards – only the 24-pin ATX, 4-pin ATX12V and 8-pin EPS12V power cables are hard-wired in. Each and every model is also 80 PLUS Bronze certified, meaning they waste less power than generic PSUs and as an added advantage they make less noise too.

You can check out the new Builder CXM Modular series on our website

3. The Home Piano: A return to cool
Over the years, all the leading manufacturers, Korg, Yamaha and Roland have enjoyed healthy sales in the area of home pianos. These instruments have evolved over time from garish looking, Japanese style influenced, plastic monstrosities that sounded like high-end musical boxes to sleek pieces of furniture with on-board sounds indistinguishable from the real things they emulate, whether that was a grand piano, an electric piano, or a harpsichord.

However, home pianos were always fraught with the idea that a family would buy one, and then be faced with the extra costs of tuition, books and the possibility that the kids would get bored learning Chopsticks and give up on the thing.

So why are home piano sales very much on the rise, and why is piano playing cool again? Look no further than YouTube.

Nowadays your teenage daughter or indeed yours truly can find pretty much any song or style they want to learn, and you can almost guarantee someone out there has put up a video showing you how to play it. Just stick your iPad or laptop on the top of the piano, and you're away…

With all the ease of the online video, (slow it down, repeat sections), kids are learning to play music they know and like, in a fraction of the time it used to take via traditional methods, and it's making piano playing cool again!

Check it out for yourself, go to YouTube and enter 'Katy Perry Firework' for example, followed by 'piano tuition', and then, when you've seen how easy it can be, check back at the Scan Pro Audio website to see our range of very reasonably priced home pianos.

4. Intel debuts new Xeon Phi coprocessors
Bizarre as it may first seem, but the last time that Intel released a co-processor was way back in 1987 when the 80387 launched. This coprocessor plugged into the motherboard next to your 80386, adding the ability to make complex Floating Point calculations that weren't part of the original 8086 instruction set. Since then however all Intel (and compatible clones) have had FPU (floating point units) built in, negating the need for a coprocessor.

That's all set to change in 2013 however as Intel has announced a whole new series of exciting coprocessors – the Xeon Phi series. Like previous co-processors the Xeon Phi has been specifically designed to speed up certain types of calculations, in this case the highly parallel compute-intensive workloads found in many server rooms and supercomputer clusters.

The Xeon Phi is based on the Intel MIC (Many Integrated Cores) architecture, the name giving a strong hint that each Xeon Phi is based around an array of multiple processors all working together in parallel. The first model, the Xeon Phi 5110P includes 60 such cores and 8GB of its own on-board memory. Packaged as a 16x PCI-E 2.0 card so that you can install multiple Xeon Phis in your server, Intel claims it can calculate as much as up 1 Teraflop of double precision peak performance, at least ten times more than a standard 8086 CPU can manage.

Unlike competing coprocessors the Xeon Phi can be addressed using common programming languages and tools, which will make it far easier and quicker to start using. You can expect to see Xeon Phi coprocessors available in Scan servers shortly.

5. Scan launches TARDIS PC
Scan is proud to announce that it is now ready to launch its latest PC system, the TARDIS.

The TARDIS, or Time and Relative Dimension in Space, has been Doctor Who's favourite vehicle since November 1963, keeping him safe through a multitude of adventures.

The Scan TARDIS, which has developed in conjunction with UK-based design house Head Cases, has been officially licensed by BBC WW Ltd and is a scale model of the time-travelling vehicle. It comprises 45 pieces of individually cut brushed aluminium which are painted with the official Pantone blue colour of the original TARDIS, creating a faithful reproduction of the original TARDIS.

All the pieces are based on the original prop model and so recreate all the detail discerning Doctor Who fans would expect to see, from the blue beacon on the roof to the pewter door handle and period posters. The Scan TARDIS is 205 x 205 x 430mm so looks perfect on top of a desk or next to the TV in a living room.

The Scan TARDIS is now available to with a variety of specifications, starting from £923.99 inc VAT. The basic specification includes an Intel Pentium G2120 dual-core processor, 8GB of Corsair Vengeance 1,600MHz DDR3 memory, 500GB hard drive, Blu-ray reader and Microsoft Windows 7.

You can see more about the Scan TARDIS on our website.

6. Arm yourself for Assassin's Creed III
Scan has teamed up with NVIDIA so that when you buy a GeForce GTX 600-series graphics card this month you'll also get a voucher for a free digital copy of Assassin's Creed III.

Assassin's Creed III is the first game in the series to take advantage of the DirectX 11 technology inside the GeForce GTX 600-series, so looks stunning as you hunt your enemies across the beautifully rendered landscapes of revolutionary America.

Don't just take our word for it though. PC Gamer says that Assassin's Creed III has 'entertaining storytelling and fantastic naval combat' while IGN says that 'the PC version has the technical edge on console versions'.

For the full terms and conditions of this time limited offer please visit our special Assassin's Creed III website

7. AMD Bundle Competition Winners
Last month we gave two lucky readers the chance to win a 3XS Slik bundle worth over £750. All you had to do was answer the question 'How many different overclocked bundles does the Scan 3XS team produce that are based around AMD processors?'

The correct answer of course was 5 bundles, but with over 500 ScanZone readers submitting their answer to the question, competition to win the bundles was fierce.

Congratulations then to Mark from Aberystwyth and Scott from Northampton who were randomly selected from the list of people who guessed the correct answer to the question. We hope you enjoy your 3XS Slik bundles and wish all readers of ScanZone a happy new year.

One Of The Most Powerful Gaming PCs
PC Advisor reviewed our popular high-end gaming rig, the Scan 3XS Z77 Performance GTX this month.

The review states that 'Housed in an unassuming and deceptively compact Corsair Carbide 300R case, the 3XS Performance GTX is one of the most powerful gaming PCs you can buy' and concluded that 'Performance-wise the 3XS system lives up to its name, delivering very high scores in both the overall PCMark 7 benchmark and across all of our gaming tests'.

PC Advisor gave the 3XS Z77 Performance GTX a score of 4 and a half out of 5, the highest in a group test of gaming systems. You can read the full review online or in the February issue of the magazine.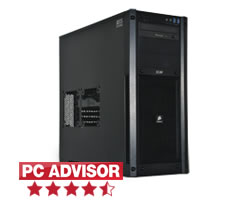 A Powerful Laptop
The reviewers at Computer Shopper wrote that 'Everything about this 15.6in laptop is designed to offer the best performance, while letting you happily dump your desktop' and that 'In other words, no matter what you throw at the 3XS Graphite LG10, this powerful laptop will cope with it.'

The review concluded that the 3XS Graphite LG10 is 'powerful, can play the latest games and has a Full HD screen', giving an overall score of 4 out of 5. You can read the full review in the January issue of Computer Shopper or online on its sister website Expert Reviews.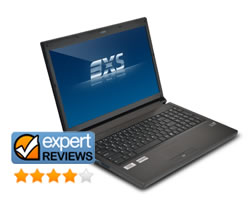 A Serious Gaming Laptop
PC Gamer has just printed a review of our very popular 3XS Graphite LG5 gaming laptop.

According to PC Gamer the LG5 'will most definitely offer up some serious gaming performance' thanks to its 'surprisingly capable GT 650M Nvidia graphics card', concluding that 'this is a miniature games PC, and it's tough to argue against its gaming performance'.

PC Gamer gave the LG5 a score of 86%. You can read the full review in the January issue of PC Gamer.