SCANZONE
14.10.13 | ISSUE 12
Hello, And welcome to the October issue of ScanZone, the monthly newsletter from Scan Computers that aims to inform you about the most exciting technology and developments in the computer industry. This month we've got news on the massively expanded range of Scan 3XS gaming laptops and our first laptops designed for home and office users. Meanwhile, AMD has been busy, unveiling a new range of gaming graphics cards, the R7 and R9 series. Read on to find out more.

1. Scan 3XS launches more affordable and powerful gaming laptops
One of the most common questions asked at the recent i49 gaming festival and Eurogamer Expo was 'when is Scan going to launch more gaming laptops?' We're pleased therefore to announce that that time is finally here.

We've launched four new models, adding to both the top and bottom of the range. For example, the new 15.6in LG151 with GeForce GT 740M graphics opens up a whole new price point for gaming laptops, coming in at just £589 inc VAT, nearly £300 cheaper than our previously cheapest gaming laptop. The LG151 also has more powerful sibling, the LG152 which has a more powerful GeForce GT 750M graphics, yet still costs a very reasonable £730 inc VAT.

Ever since we sold out of the super popular 11.6in LG5 laptop we've been searching for a suitable replacement. Enter stage left the LG135, a compact and lightweight gaming laptop with a 13.3in screen and powerful GeForce GTX 765M graphics. At £755 the LG135 it's not as cheap as the LG5 was, but it's a lot more portable (and affordable) than similarly specced 15.6in gaming laptops.

At the opposite end of the spectrum is the mighty LG1715, a 17.3in gaming laptop which has two GPUs. It's available in three flavours, with two GeForce GTX 765M GPUs, two GeForce GTX 780Ms or two AMD Radeon HD 8970Ms. With such powerful GPUs running together in SLI or CrossFireX the LG1715 is the ultimate desktop replacement.

We've also added the AMD Radeon HD 8970M as an option in the popular 15.6in LG1510 and 17.3in LG1710 laptops.

You can view the whole range of Scan 3XS gaming laptops on the 3XS website.

2. What happens when a gaming PC meets a shrink ray?
Ah, the shrink ray from Duke Nukem 3D, quite possibly the most fun gun ever in a multiplayer game. Which makes it all the better that that is precisely what EVGA appears to have used to help make its first ever case, the Hadron.

The Hadron isn't just yet another mini-ITX cube case that takes up a surprisingly large amount of room due to the use of standard bulky components. Instead, by switching out a rectangular power supply for a slim-line rackmount style PSU, EVGA has managed to squeeze down the overall dimensions of the case dramatically. For example, the Hadron has a volume of just 13 litres, whereas in comparison the popular SilverStone FT03 Mini is 18 litres, and the Fractal Design Node 304 and Cooler Master Elite 120 are both 20 litres.

Despite these tiny dimensions the Hadron can still pack a punch. It's built large enough to accommodate all but the largest dual-GPU graphics cards and it's more than happy to house an overclocked CPU thanks to its 80PLUS Gold rated 500W PSU. There are also has two 3.5/2.5in drive bays for hard disks and SSDs plus a slot-loading slimline optical drive bay on the right side. This has the added benefit of keeping the front of the Hadron clean and uninterrupted.

Like all small form factor components there is a price premium on the Hadron, but given its tiny dimensions and clean styling I think it's well worth a look. You can pick up a Hadron by itself of as a complete 3XS system today.

3. Scan 3XS launches new home office laptops
Scan has been selling its 3XS gaming laptops for well over a year now, so we thought it high time to launch some more wallet-friendly laptops for the non-gamers out there.

The range kicks off with the LH155, a keenly-priced laptop which includes a Core i3 processor and 15.6in screen. Starting at just £499 inc VAT the LH155 can be configured with multiple drives and CPU options, but even in its default configuration it's a perfect entry-level laptop for students and general home/office use.

We've also developed two models with a 14in high-resolution screen. The LH145 has a Core i5 processor for improved performance and at just 2kg is half a kilo lighter than the LH155. Further up the range is the LH1410, a super thin design which also boasts a Core i7 CPU with integrated Intel HD 5200 Iris Pro graphics. This GPU is a lot more powerful than inside other CPUs, meaning the LH1410 could also be used as a workstation or for casual gaming. The LH145 starts at £581 inc VAT and the LH1410 at £850 inc VAT.

You can view the whole range of Scan 3XS home laptops on the 3XS website.

4. Vote now in the Expert Reviews Awards 2013
Expert Reviews and Computer Shopper magazine has just opened voting for its annual awards. We'd like to invite all Scan customers to take part in the awards survey. It only takes a few minutes and you'll be entered into a competition to win an Amazon Kindle Paperwhite.

5. A need for speed
Scan has always had a soft spot for speed – just look at the hundreds of awards that our 3XS PCs have won for their performance.

We're therefore delighted to announce that Scan's official charity, Speed of Sight, has arranged for several new world speed record attempts over the coming months. Speed of Sight is a charity that promotes and encourages people with disabilities to take part in sporting and physical activities that would otherwise be impossible to take part in.

The first attempt is for the water speed record. Team captain Mike Newman, who is blind, is seeking to hit at least 100mph, breaking the current record which stands at 90mph, in his customised Silverline powerboat. You can see Mike attempt the new record on Friday, 1st November at Torquay Harbour. It's sure to be a spectacular attempt, so if you're in the area or are a fan of all things speed it's well worth checking out.

Soon after Mike will attempt to exceed his previous land speed record with the goal of reaching 200mph in an as yet unspecified car.

You can find out more about Mike and the rest of the team at Speed of Sight on the charity's official website.

6. New AMD graphics cards unveiled
After months of speculation AMD flew hundreds of journalists to the tropical island of Hawaii to unveil its new generation of GPUs, based on the Hawaii architecture.

The flagship part, the Radeon R9 290X has a whopping six billion transistors, a fair way short of the NVIDIA GTX Titan (7.1 billion) but a big step up from AMD's previous biggest GPU, the Radeon HD 7970 which has 4.3 billion. AMD indicated at the launch that this translates into five teralops of computing power or put another way can push four billion triangles per second. AMD hasn't as yet revealed the exact specification of the R9 290X, but did that its 4GB of RAM has over 300GB/sec of memory bandwidth, suggesting a 512-bit memory controller.

AMD also announced several other new cards; the R9 280X, R9 270X, R7 260X, R7 250 and R7 240. However, these are based on the existing Tahiti architecture, rather than the new Hawaii design. The helpful chaps at review site Anandtech helpfully put this comparison table of the new GPUs.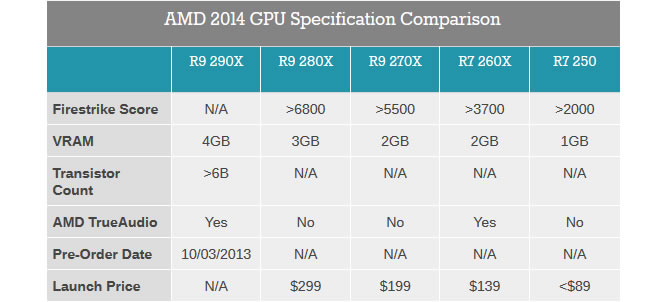 You can find out more about the forthcoming AMD Radeon R9 290X on the Scan website. Alternatively you can already buy a the R9 280X, R9 270X, R7 260X, R7 250 and R7 240 standalone or as a part of a pre-built 3XS system or bundle.

7. Join Scan Pro Audio at the Music Show, Manchester 15th-16th November
This issue of Scanzone we want to announce some exciting news for anybody interested in music and technology. For the first time in many years, Manchester is going to be playing host to the Music Show at the Manchester Central Convention Complex.

The Music Show will take place at Manchester Central on Friday 15th and Saturday 16th November and will promote the benefits of music, and showcase the latest products and services to musicians, educators and industry professionals.

The two-day exhibition is open to anyone who has a passion for making music, from aspiring bands, musicians and industry professionals to teachers, students and their families.

Chris Martin, Event Manager at Hamerville Media Group says 'The Music Show aims to inspire anyone who has an interest in making music - it is about widening access to music. Manchester is passionate for making music, and it is the centre for music education which is why we were determined to bring this brand new show to the city.

Scan Pro Audio will be there in force (we've got the biggest stand!), and we're going to be featuring lots of great gear demos, as well as giving you the chance to get your hands on some kit and make some music yourself.

As a special reward to Scan customers, we are pleased to be able to offer you a special 50% off the regular show entry price of £10. All you need to do is quote the code SCN3009 and the discount will be applied at the checkout.

8. Corsair introduces ultra-quiet RM series power supplies
Corsair has introduced a new range of power supplies to replace the existing TX series. The new series, known as RM, are billed as ultra-quiet and have improved efficiency. They can also be monitored via Corsair Link.

Featuring fully modular cables for easy system building and improved airflow the series spans six models from 450W all the way up to 1,000W. Every model is 80 PLUS Gold certified, meaning they can be up to 92% efficient and have a single 12V rail. To keep noise levels down the 140mm cooling fan is programmed not to switch on until the PSU is under at least 40% load. Realistically speaking this means that for much of the time the fan won't spin at all, keeping the PSU silent.

Technology website HEXUS has already reviewed the RM750, giving it a Recommended Award stating that the 'RM750 ticks many of the right boxes. Cabling is good, performance is competitive with premium 80 PLUS-rated supplies, and the fan remains silent even when mainstream PCs are busy playing games'.

With prices starting at £79 inc VAT the RM series is competitively priced too, being much more affordable than the flagship AX and AXi power supplies. You can check out the RM series in more detail on the Scan website.

9. Get 4GEE and unlimited calls on your mobile for just £13.13 a month
Scan has teamed up with Scancom Distribution to offer customers an awesome SIM-only contract with 4GEE.

The highlight of the 24-month contract is 4GB of data at super-faster 4G speeds (up to 60Mb/sec). The contract also includes unlimited calls, texts and is compatible with 3G if you're not in a 4G area or your smartphone doesn't support 4G.

Although you'll actually be billed £17.50 per month, every 4th month of the 24 month contract you'll not be billed, averaging out the cost at £13.13 per month. To find out more about this cracking offer visit the Scan website.

10. Get Batman: Arkham Origins for free
Scan has teamed up with NVIDIA to offer any customer buying a GeForce GTX 660, 660 Ti, 670, 680, 760, 770 or 780 graphics card a voucher for a free copy of Batman: Arkham Origins.

Set several years before the smash hits Arkham Asylum and Arkham City, Arkham Origins puts you in the shoes of a young Batman, so you can expect a rawer feel than the previous games. Batman: Arkham Origins is due for release on October 25th.

The most accomplished system we have ever reviewed
The graphics gurus at 3D World magazine took a look at one of mid-range graphics workstations this month. The 3XS GW-HT10 is a highly configurable workstation which at its heart supports a quad-core Intel Core i7 4770K processor, 16GB of RAM, 256GB SSD and NVIDIA Quadro K4000 graphics card.

3D World wrote that 'As a modelling workstation, the Scan is the most accomplished system we have ever reviewed' and that 'it punches well above its cost'. The review concluded that 'With Scan's 3XS GW-HT10, you don't need to compromise on performance, even if you have just £1,500 to spend on your workstation.'

You can read the full review in Issue 174 of 3D World magazine or online.