Scan's TekSpek
Our Aim
To provide you with an overview on New And existing technologies, hopefully helping you understand the changes in the technology. Together with the overviews we hope to bring topical issues to light from a series of independent reviewers saving you the time And hassle of fact finding over the web.
We will over time provide you with quality content which you can browse and subscribe to at your leisure.
NVIDIA SHIELD TABLET
Date issued:
The time is right for a gaming tablet
Nvidia has spent the last decade diversifying its business away from a narrow focus on desktop and notebook graphics to a broader range of products. New ventures have included enterprise-oriented Quadro and Tesla segments as well as the Tegra division with its eyes set on the ever-growing mobile market.
Nvidia's foray into the mobile market with Tegra is the most notable of them all. Tegra has had a rollercoaster ride since its inception in 2008. Tegra 2 and 3 were met with notable success compared to Tegra 4, which has had limited uptake in the mobile market. Nvidia's Achilles heel has been strong competition from quantity-driven chipmakers like Qualcomm and MediaTek.
In response to falling orders from potential device makers Nvidia took up the challenge to make devices itself in order to get Tegra into the marketplace. The first example, the Tegra Note 7, used the Tegra 4 system-on-chip (SoC). While it's hardly been a ground-breaking tablet its release has laid the foundation for Nvidia to try its hand at a wider range of tablets.
Nvidia's latest iteration of Tegra, the K1 superchip, will now power the company's second significant tablet release. Learning from the partial successes of its Shield device and Tegra Note 7 tablet, Nvidia is making use of the latest Tegra K1 chip to power its Shield tablet. By anyone's standards the consumer market has barely seen a device that qualifies as a gaming tablet, given that the standard of Android games available to casual users on their smartphones and normal tablets seems enough to satisfy mainstream demand.
For the enthusiastic and even hardcore gamer the Shield tablet looks like an exciting prospect. From July 29th in the USA, and August 14th in Europe, the Nvidia Shield tablet will hit the market with Kepler-class GeForce graphics, similar to those found in desktop GeForce GTX graphics cards.
Shield Tablet - look, feel, and hardware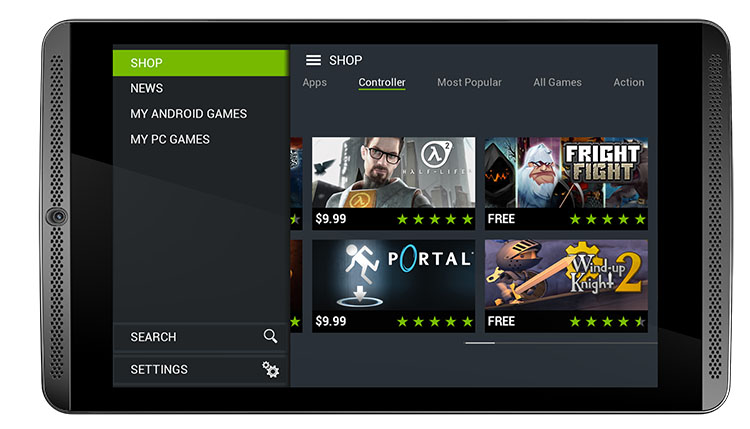 Nvidia Shield Tablet specs

Type

WiFi

LTE

Flash

16GB

32GB

SoC

Tegra K1

Memory

2GB

Screen

8in, 1,920x1,200

Storage expansion

MicroSD (128GB)

Connectivity

Bluetooth 4.0 LE
GPS/GLONASS

HDMI

1.4a (4K30)

Cameras

5MP front/rear

Dimensions

221mm x 126mm x 9.2mm

Weight

390g

Price

£229

£299
Surprisingly enough Nvidia isn't the first company to make use of its own Tegra K1 SoC in a tablet, as Xiaomi's MiPad achieved that landmark. Nvidia's Shield Tablet, therefore, learns quite a bit from Xiaomi's first run.
The focal point of the Shield tablet is the vibrant 1,920x1,200, 8in IPS display which Nvidia claims it chose to most closely resemble the 1080p most gamers are accustomed to. That's a lower resolution than many other tablets out there, certainly, but it's still crisp, clear and fit for purpose.
The concentration on the internals is arguably what counts the most, since the Shield tablet is targeting a gaming audience. Nvidia custom-designed the tablet's body to withstand the high TDP produced by the Tegra K1 chip when running at the maximum 950MHz core. Better heatsinks and arrangement of ventilation allows the Shield tablet to be 'up to 2x' more efficient than other tablets while still maintaining a passive design.
Two versions of the Shield tablet are being prepared for market - one with 16GB of storage and N-class WiFi, the other with 32GB of storage, N-class WiFi and Cat 4 LTE. Pricing is £229 and £299, respectively, meaning Nvidia is relying on gaming enthusiasts who are willing to pay for innovation rather than the mainstream tablet market. Both models also feature microSD upgradeable storage with support for an additional 128GB.
Being an entertainment-centred device the decision to equip two forward-facing speakers is a smart move. Making a reasonable fist of conveying action the Shield tablet's speakers compensate for the lack of size. A mini-HDMI 1.4a port provides a nice alternative to consumers who'd rather use a larger display, like their flatscreen TV, with support for up to 4K resolutions at 30Hz.
Digging deeper into the internals and the main event is the Tegra K1 32-bit SoC. Nvidia equips four ARM Cortex-A15 cores capable of a maximum frequency of 2.2GHz, with a companion core for light-load tasks. Graphics processing is dealt with by Nvidia's 192-core Kepler-based GPU that boasts an impressive 365GFLOPS when running at full speed.
Nvidia's preliminary benchmarks suggest the Shield tablet is between 2-4x faster than what the Apple iPad Air and Samsung Galaxy Tab Pro 8.4 have to offer in the graphics department. Powering the high-spec internals is a 19.75WHr battery capable of 80 hours of music playback, 10 hours of video playback and a few hours of hardcore gaming
Available to buy separately, for about £40 in the UK, is the Shield controller. When paired up with the Shield tablet you effectively have an updated version of the original Shield, albeit with more flexibility. The Shield tablet can be used on its own with the touchscreen but the controller is recommended for a more authentic gaming experience.
Making use of a WiFi Direct connection, the Shield controller boasts surprisingly low latency. In testing it's fair to say the controller feels like a corded connection in that there's no perceivable lag, even when playing 10 feet away with the Shield hooked up to a TV. Interestingly, up to four controllers can be paired up to a Shield tablet for multiplayer action. Even games that have no native controller support can be used with the controller through the company's GamePad Mapper feature.
At the time of writing, over 400 Android games were optimised for touch or controller input. Gaming is big business on the Android platform, because for reference over 90 per cent of Google's Play Store revenue is derived from the sale of games and in-game purchases.
The last optional accessory, priced at £29, is the smart cover. Allowing the tablet to stand upright, the smart cover is a useful addition, particularly to the frequent traveler. At some stage Nvidia will likely offer the Shield tablet, controller and smart cover as a single bundle with a discount compared to the sum of the individual costs.
Software - Android gaming
The Shield tablet ships with Android 4.4 and a pledge from Nvidia to deliver regular over-the-air updates. Outside the gaming environment the tablet feels similar to many other popular tablets, and the Tegra K1 SoC certainly has no trouble in dealing with regular tablet tasks.
The gaming side of things centres around the Shield Hub displayed on the first page. On that hub you will find that there are over 400 Android games, and rising, natively supported by the Shield tablet. Although one of the notable drawbacks, at the present time, is that few of those games are tuned to take advantage of the immense graphics horsepower on the Shield tablet, Nvidia's Unreal 4 engine demo aside. To draw on some well-known examples Angry Birds and Candy Crush aren't going to look any better on Shield than another tablet of identical resolution.
Nvidia tries to prevent a chicken-and-egg scenario from playing out with the Shield tablet by bundling K1-optimised versions of Trine 2, Half Life 2 and Portal. While these are commendable inclusions Nvidia is relying, to a large extent, on the presumption that Android developers will take advantage of the Shield's powerful hardware. The problem with such a strategy is that developers develop for the masses, and the power possessed by the Shield tablet is an exception to the mainstream.
Software - PC games
The functionality of the Shield tablet relative to PC game-streaming could well be its saving grace. Nvidia has done well to deliver numerous updates to its GameStream service, for both Shield and Shield tablet owners. The latest version of GameStream technology enables WiFi-based streaming of PC games for a GeForce GTX-powered PC. An impressive 120 titles are supported at 1080p at 60Hz, which is a huge jump from the 24 titles at 720p at 30Hz at launch.
GameStream is, to Nvidia's credit, the Shield tablet's biggest draw. Being an Nvidia-exclusive technology the uniqueness of said feature might be enough to sway PC gamers to the green team when it comes to choosing their next graphics-card upgrade. Using the Shield tablet as a vehicle for playing the latest PC games on a 50in TV through the console mode is a definitive plus point. The Shield tablet offsets the need for any kind of dedicated streaming box or HTPC, and thanks to the trial run of the technology on the first generation Shield, the technology is already mature.
Further cementing its position as a gaming tablet the support for Nvidia's Grid cloud-based game-streaming service makes for an interesting proposition. Even more intriguing is the fact Grid is functional over WiFi and LTE - playing Titanfall, at high-quality settings, is now a possibility for long train journeys.
For both Android and PC games Nvidia's Shield tablet also has a dedicated hardware section of the underlying chip capable of recording, uploading and live-streaming to Twitch. In effect the Shield tablet is the world's first gamecasting tablet, if that appeals to you.
What does the Shield Tablet need to do to win gamers over?
Nvidia's Shield tablet effectively showcases many of the company's cutting-edge mobile and desktop technologies. Be it GameStream, Grid or just good, old-fashioned console-style gaming on a TV, the Shield tablet has something for almost every type of gamer. One thing that does shine through is that the Shield tablet is more of a desktop gamers' companion device, rather than a specifically Android gaming tablet.
Shield tablet has the potentially to advance Android gaming, but as it stands the Android gaming experience is still focused on the mainstream market of smartphone and tablet users. Such dedicated Android gaming hardware is novel, but rarely used in most mobile games. Shield tablet will likely be at the forefront of the progression of Android gaming, Android L is to ship with a number of Android Extension Packs (AEPs) whose job it is to help close the gap in the way games are coded on the mobile and desktop platforms.
The innovative marriage of Nvidia's unique hardware and software know-how produces a tablet like no other. Geared for enthusiasts who already own a GeForce GTX PC, the main advantages of the Shield tablet relate to its game-streaming capabilities. Looking to the future the next iteration has the potential to be even more exciting, with Nvidia's Project Denver 64-bit SoCs on the horizon and the new Maxwell architecture set to make its way over to the mobile GPU space.
Who knows where Android gaming will be in a year's time, but one thing is certain - the frenetic pace of tablet innovation doesn't look set on slowing any time soon. It's a sobering thought that Unreal Engine 4 runs on a fully passive Android tablet. In effect, the Shield tablet has more power than the PlayStation 3, a console considered 'current' just a year ago.
For now the Shield tablet successfully combines Nvidia gaming know-how to, arguably, the most powerful mobile SoC on the market. That's a decent duo for the £229 asking price.
Scan Computers, as always, are selling the Nvidia Shield Tablet which can be found here.