SCANZONE
04.12.15 | ISSUE 37
Christmas is only a few weeks away, but that hasn't stopped NVIDIA releasing an updated version of its incredibly popular Shield tablet – this time with a £90 reduction in price. Other last minute news includes the debut of Scan's G10 system, specially engineered for deep learning research plus the launch of the AMD Radeon R9 380X graphics card. Read on to find out more.

1. NVIDIA refreshes Shield tablet
Back in the summer of 2014 NVIDIA took the market by storm when it introduced the first tablet for gamers, the Shield. This winter the company is back with a refreshed Shield tablet. As the core spec and features haven't changed, owners of the first Shield don't need to worry about their tablet being upstaged. However, anybody who missed the Shield has 90 reasons to be happy as the revised tablet is a staggering £90 cheaper, with a retail price of just £149.99 inc VAT.

All this despite having the same 2.2GHz quad-core CPU with a Tegra K1 GPU with 192 cores, 2GB of RAM, 16GB of storage, 8in IPS touchscreen and Android operating system. What is different is the new Shield doesn't include a stylus (no great loss for gamers) and doesn't include a charger as standard – again no big deal as you can charge it via any micro-USB cable – something that most gamers have several of already from all their other gadgets. If you are bothered by these omissions you can buy them separately, including the Shield gamepad.

AsExpert Reviews concluded in its review 'We loved the NVIDIA Shield when it first arrived, and the price cut only makes us love it more. For £150 there's very little else out there that's as powerful or as flexible when it comes to gaming.'

You can view more info on the Shield tablet and accessories on our website.

2. Scan wins Best Specialist Retailer Award
As the year draws to a close we're delighted to announce that Scan has been voted the Best Specialist Retailer by the readers of Computer Shopper magazine. A big thanks to all our customers and suppliers for your continued support.

3. Scan 3XS workstation smashes SPECviewperf 12 benchmark
Scan builds hundreds of high-performance graphics workstations a month for a wide range of customers in the media and entertainment industries, engineering and higher education. We're therefore extremely proud to have submitted our first result to the industry-leading workstation benchmark, SPECviewperf 12.

Scan's result, measured on a 3XS GW-HT10 workstation, took the leaderboard by storm, with the highest aggregate score of any manufacturer. The configuration benchmarked included a quad-core Intel Core i7 6700K processor overclocked to 4.4GHz, 16GB of Corsair DDR4 memory and an NVIDIA Quadro M6000 graphics card, and is just one of many customisableworkstations that are available from Scan.

Full details of the benchmark are available on the SPECviewperf 12 leaderboard.

4. Accelerated deep learning on NVIDIA GPUs
Deep learning is one of the fastest-growing segments of the machine learning/artificial intelligence field and a key area of innovation in computing. With researchers creating new deep learning algorithms and industries producing and collecting unprecedented amounts of data, computational capability is the key to unlocking insights from data.

GPUs have brought tremendous value to deep learning research over the past couple of years. In the pursuit of continuing innovation, 3XS engineers built the world's fastest desktop deep learning machine— the 3XS Deep Learning G10.

The 3XS Deep Learning G10 includes four NVIDIA GeForce Titan X GPUs running the NVIDIA DIGITS software on Ubuntu 14. You can customise your own Deep Learning G10 and learn more about deep learning on the Scan website.

5. AMD Radeon R9 380X review
Just in time for Christmas AMD has expanded its range of graphics cards with the R9 380X. With cards retailing for just under £200, the R9 380X sits midway between the cheaper R9 380 and more expensive R9 390 and NVIDIA's GTX 960 and GTX 970.

In terms of specs the R9 380X has 2048 stream processors, a fair amount more than the R9 380, which has 1792. Both cards have 4GB of GDDR5, although it runs 100MHz faster on the R9 380X. In real world terms this translates into an extra 3fps in games, or put another way about 1fps per £10 extra over the cost of a R9 380. You can check out a wide range of R9 380X cards on the Scan website.

6. Play Star Wars Battlefront for free with Radeon R9 Fury
For a limited time and while stocks last you will receive a free copy of the online shooter Star Wars Battlefront, which normally retails for £50, when you buy an AMD Radeon R9 Fury graphics card from Scan. Visit our website for more details on this great game bundle.

7. Join us for Star Wars night
On Wednesday 16th December Scan, in association with AMD, is hosting a special Star Wars night at our showroom in Bolton. You'll get a chance to play the brand new Star Wars Battlefront game on our awesome 3XS gaming PCs, take part in a cosplay competition and be in with a chance of winning one of 100 free cinema tickets for the midnight premier of Star Wars: The Force Awakens at the Vue cinema in Bolton. The event starts at 5.30pm, we look forward to seeing you.

Incredible gaming speed
For its January issue Custom PC took a look at our high-end watercooled gaming PC the 3XS X99 Carbon Extreme SLI, which features an overclocked eight-core Intel Core i7 5960X and three EVGA GeForce GTX 980 Ti graphics cards in SLI.

Custom PC found that 'The numbers involved are staggering. Scan has done an impeccable job with the build too. The trio of graphics cards blasted through our 4K benchmarks, staying well above 60fps in every single test. The trio of graphics cards bats aside dual-GPU rivals. Amazingly, thanks to the expertly tweaked water-cooling loop, the Carbon Extreme SLI is also very quiet. Scan aimed to provide Dream PC-style performance without frills and it's delivered. The trio of overclocked graphics cards help the Scan's gaming performance to outstrip key rivals by a significant margin. The Corsair case is excellent, the water-cooling system looks smart and effective, the lighting looks great and noise levels remain reasonable too'.

The review concludes that 'The Scan 3XS Carbon Extreme SLI eschews the luxuries found elsewhere in Dream PCs in favour of pure performance, and there's no denying its punch in every category' giving a score of 92% and a Premium Grade Award.

You can check out the 3XS X99 Carbon Extreme SLI in more detail on the Scan website.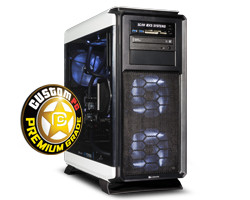 An exceptionally capable workstation
The January issue of 3D World goes on sale this month and includes a great review of our latest graphics workstation, the 3XS GW-HT10.

Scoring 4 out of 5 and winning a Highly Commended Award, 3D World had this to say 'The NVIDIA Quadro M4000 promises a new leap forward in performance. It's the modelling performance where this system shines, thanks to the Quadro M4000 - the SPECviewperf 12 results are phenomenal - nearly twice what any system using the K4200 has achieved. The Quadro M4000 gives the Scan 3XS GW-HT10 huge modelling potential - this is an exceptionally capable workstation for the money.'

You can configure your own 3XS GW-HT10 on the Scan website.