SCANZONE
22.12.14 | ISSUE 26
Welcome to Issue 26 of ScanZone, the monthly newsletter from Scan Computers. While December is a frantic time for Scan and the PC industry, with thousands more orders to ship before couriers take a break over Christmas, there usually aren't too many product launches at this time of year.

That said, this month we've got news on several hot new products that will be hitting the shelves soon, including the update to the most popular SSD, the new Samsung 850 Evo. Other highlights this month include the launch of FunkyNUC, a range of customisable Intel NUCs in a wide range of colours plus the world's first 5K monitor. Read on to find out more.

1. The best SSDs just got better
Ever since the launch of the 840 series last year Samsung has been the most popular SSD brand at Scan, selling thousands of high performance drives every month. The key for the success of the 840 series was the pioneering use of TLC NAND flash memory which provides higher storage density and thus costs less to produce than the traditional MLC NAND inside other drives.

Earlier this summer Samsung updated this winning formula by releasing a new 850 Pro and this month it's time for the 850 Evo. As before, the Evo provides maximum bang per buck while the more expensive Pro has higher sustained performance and greater endurance.

The principle difference between the 840 and 850-series is the use of TLC 3D V-NAND. This differs from first generation TLC NAND by stacking 32 cell layers vertically on top of each other, allowing much higher density. In turn, this means there is far more room in the die for each transistor, allowing Samsung to switch the production process from 21nm to a larger 40nm process. While this seems counterintuitive, and the direct opposite of what you'd normally expect from a new semi-conducting device, the larger process means that each transistor has more electrons. And as a result the new 3D V-NAND cells are far more error tolerant. For this reason, the new 850 Evo has much greater endurance than the 840 Evo with a five year warranty versus three years on the older drive.

Like its forebear the 850 Evo is bundled with the same RapidMode software that caches data in system RAM for a massive performance boost. The 850 Evo is available in 120GB, 250GB, 500GB and 1TB capacities.

2. Customise your Intel NUC
The miniature NUC is one of the coolest ideas to come out of Intel's labs in recent years, giving you full desktop PC performance in a system small enough to fit in the palm of your hand. Whether you need an office PC, something for the home or a media centre, there's a NUC that's right for you. With a wide choice of Celeron, Core i3 and Core i5 processors, up to 16GB of DDR3 RAM and a huge selection of mSATA SSDs, 2.5in hard disks and SSDs, NUCs are also eminently configurable. As NUCs use special low voltage processors they're also extremely cool and quiet too, a real boon for home and office users, as the last thing you want to hear is a noisy cooling fan whirling away inside your PC.

Scan sells a wide range of NUC PCs, but if you want to make your NUC to really stand out from the crowd why not consider a FunkyNUC? These specially customised NUCs are available in a wide range of colours including stunning Arctic White, Sunburst Yellow and Royal Blue. You can browse through the selection of colours; alternatively, send in your design as a high resolution image file and we'll customise your NUC the way you want.

3. Scan joins forces with Adobe
This month we're proud to announce that Scan is now an Adobe Certified Reseller. This means that Scan customers can have confidence that we really know what we're talking about when we suggest an Adobe product for you. With Creative Cloud creative professionals get access to all of Adobe's latest applications. The range of Adobe products includes household names such as Photoshop and Premiere Pro, but also other vital business tools such as Acrobat XI Pro.

To join the certified reseller program our staff had to take exams to demonstrate expert Adobe product knowledge, not as easy as it may seem considering the range of Adobe products on offer. Scan has a great relationship with Adobe and we are proud to add the Adobe badge to our caps. Visit our Pro Video website to find out more.

4. Take to the stars in Elite Dangerous
Nowadays, with the proliferation of earphones and buds given away by mobile phone manufacturers, and the accompanying lack of expectation this has delivered, you'd be forgiven for thinking that no-one could ever use headphones in any serious capacity, especially not to mix a track in anger.

So let us introduce to you, one of the best pairs of headphones in the world. A pair of headphones on which it is perfectly possible to mix a track, because they sound better than most home studio reference monitors. A pair of headphones that is exclusively available in the UK through Scan Pro Audio. And finally, a pair of headphones that costs just under £1,800.

If you're interested, do give our Tom a ring on 01204 4747463 to find out how amazing the new Audeze headphones are.

5. Super high res monitors to feast your eyes on
After a furious summer filled with rapid fire launches the 4K monitor market seems to have lost its way a bit. Yes, you can now pick up a 4K monitor for as a little as £350 a fraction of the £3,000 these sorts of displays launched for just over a year ago, but many of these budget 4K monitors have a headache inducing refresh rate of 30Hz or a TN panel. TN panels are the bargain basement of the LCD world and are characterised by poor colour accuracy, a reduced colour gamut and limited viewing angles; hardly the sort of characteristics anybody wants to experience on even a "budget" high-end monitor if that's not a contradiction in terms.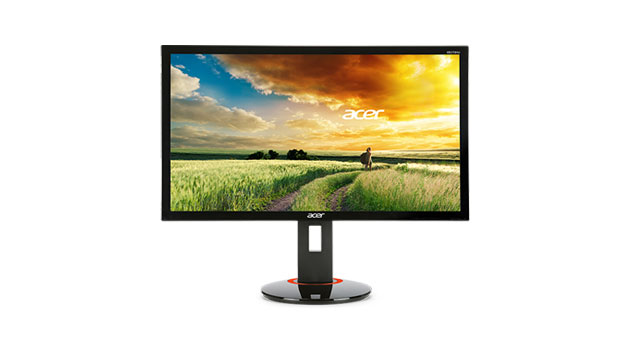 Acer was the first company to try something different by integrating NVIDIA's awesome G-Sync technology that eliminates tearing and stuttering into a 4K display. The XB280HK was announced earlier this year but has only just begun to trickle onto the market in the last few weeks. Unfortunately, it's been selling out so fast I haven't been to test one myself yet, but the reviewers at PC Gamer and Digital Trends both seem to be genuinely impressed, despite it having a TN panel. At £519 inc VAT the Acer XB280HK is a little more expensive than budget 4K monitors, but having G-Sync, a 60Hz refresh rate and a decent quality TN panel puts it in a league of its own.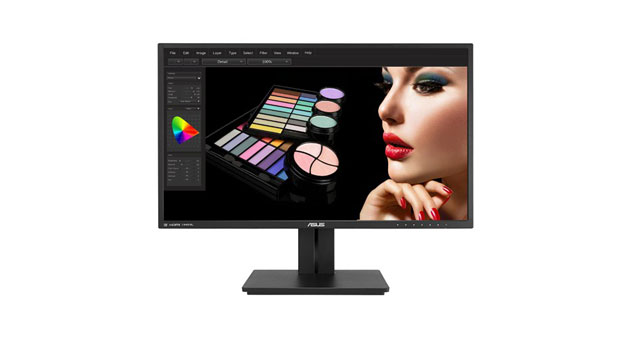 Another interesting new 4K monitor to keep an eye on is the Asus PB279Q. Unlike all the other sub £1,000 4K monitors the PB279Q has an IPS panel, which means it has much greater colour accuracy and a wider colour gamut than any of the 4K monitors with a TN panel. For example, in its review HEXUS found that the PB279Q could reproduce 100% of the sRGB and 81% of the Adobe RGB palettes, a far better result than a TN panel monitor, which would typically only manage about 95% and 7% respectively. To professional artists this means that what you see on the PB279Q is far more colour accurate than on a TN panel. As always there's a premium to be paid for having an IPS panel, but even at £679 inc VAT the Asus PB279Q is the first sub £1,000 4K monitor that I think is worthy of serious consideration, especially if you do a lot of graphics work.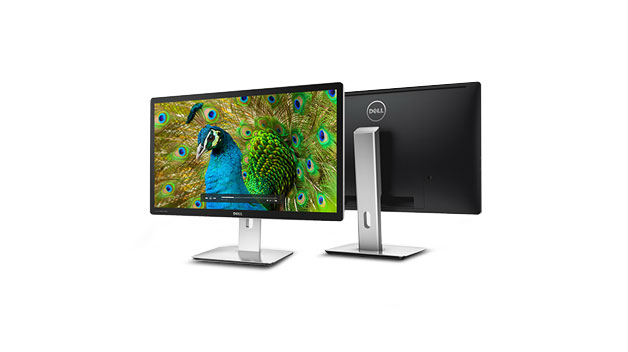 If 4K isn't enough for you then how about a 5K monitor to feast your eyes on? First announced a couple of months ago, the 27" Dell Ultrasharp UP2715K is the world's first 5K monitor, meaning it has a resolution of 5120 x 2880, a significant step up from the 3840 x 2160 of 4K. To achieve such a high resolution at 60Hz you'll need to connect the UP2715K to your PC with two DisplayPort cables. Aimed squarely at graphics professionals, the UP2715K has an IPS panel that is claimed to be able to reproduce 100% of the sRGB and 99% of the AdobeRGB palettes and is compatible with the X-Rite range of colour calibrators. Contrary to expectations the UP2715K is a lot cheaper than first anticipated, retailing at £1498 ex VAT. This is less than half the price that 4K monitors launched at a year ago, making the Dell UP2715K surprisingly affordable for creative professionals who need a large desktop for multiple or complex applications.

6. Trade your way to top
The first 'S' of our 3XS philosophy is Specification - we will go the extra mile to make sure we are pushing the boundaries to deliver the latest and greatest tech. To this end we are proud to announce the launch of the latest addition to the 3XS Custom Series range – Trading PCs. As the name suggests, these PCs have been designed to give traders an edge over their competitors - making a trade faster so you get the best price.

Our trading PCs use the finest components such as Intel Core i7 and Xeon processors that have been overclocked for even greater performance and NVIDIA Quadro NVS graphics cards so you can run multiple displays simultaneously. These systems have been developed to run all leading trading platforms including Hanweck Assoc, Activ Financial, Level 3 Finance, RapidMind, Hummingbird, JAVA, Bloomberg, Reuters and Numerix.

The Trading PC range includes four fully-customisable systems and can support between four and 16 displays so you can keep a close watch on all your key markets. Visit the Trading PCs section on our 3XS website for more information.

7. Investing in People
Scan Computers is proud to announce that we have been accredited as an Investor in People.

The Investors in People Standard tells you what good people management looks like. Defined and set by business leaders, it's a series of 39 must-haves that organisations measure up against, to find and realise the potential of their people.

Covering everything from business planning and leadership, to management effectiveness and performance measurement, the Standard is the benchmark for best practice and recognises our commitment to developing our staff.

8. Get cashback with Intel CPUs and motherboards
Everybody likes a bargain so this bit of news should brighten up your day. Until the 27th December you can claim up to £110 cashback when you buy select Intel Core i5 and i7 CPUs with motherboard using the Intel Z97 or X99 chipset. The amount of cashback depends on which exact CPU and motherboard you buy, you can find out more on each of these motherboard manufacturer pages: Asus, Gigabyte and MSI. Once you've placed your order make sure you visit www.toptechcashback.com to claim your cashback.

9. Christmas Opening Times
If you're in the mood for some last minute Christmas shopping then you'll be pleased to hear that the Scan showroom will be open until 4pm on December 24th. Our showroom will reopen again at 10am on 27th December. Alternatively, if you order online or by phone before 12pm on Tuesday 23rd December we'll make sure your goods arrive by Christmas.

Make sure you also keep a close eye on the Scan homepage over Christmas as we'll offering some fantastic discounts over the holiday period.

A worthwhile upgrade from last year's model
Professional graphics artists need powerful and reliable systems to work at their best, so we're delighted to announce that Digital Arts have awarded our 3XS GW-HT20 workstation its coveted Editor's Choice award.

The 3XS GW-HT20 is a high-end graphics workstation that has been optimised for creating, animating and rendering complex models and simulations in professional applications such as Autodesk 3ds Max, Maxon Cinema 4D and Newtek Lightwave 3D. Its default spec includes an 8-core Intel Core i7 5960X processor overclocked to 4.2GHz, 16GB of Corsair DDR4 and an NVIDIA Quadro K4200 graphics card.

You can read the full review on the Digital Arts website.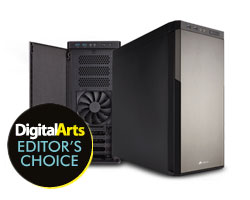 The focus is clearly on gaming
PC Format took a look at our popular 3XS Z97 Performance Q10 gaming PC this month. The Performance Q10 has been specially designed to make the least amount of noise possible with a case that includes sound absorbing foam and a special CPU cooler. This all makes the Performance Q10 the quietest system in our range. The default specification includes a quad-core Intel Core i5 4690K CPU overclocked to 4.6GHz accompanied by a 2GB NVIDIA GeForce GTX 760 graphics card. Also included is 8GB of 2133MHz Corsair Vengeance Pro DDR3, an Asus Z97-P motherboard and silent 500GB SSD.

The reviewer at PC Format really liked the Performance Q10, giving it a score of 4 out of 5 and describing it as 'A quality, no-nonsense gaming PC that still has a few frills under the bonnet'. You can read the full review in the January issue of PC Format and find out more about the Z97 Performance Q10 on the 3XS website.