SCANZONE
09.10.15 | ISSUE 35
The big news this month is the NVIDIA Shield TV, a media streamer that can also stream PC games to your TV via the cloud. AMD also launched the Radeon R9 Nano, a miniature graphics card that measures just 6 inches, making it possible to make gaming PCs smaller than ever before. Sticking with the theme of small gaming systems, Intel has also released its 6th generation Core CPU for laptops. At the opposite end of the spectrum NVIDIA has found a way to squeeze a full size GPU into a gaming laptop. Read on to find out more.

1. NVIDIA Shield TV
NVIDIA has been growing the Shield family over the last couple of years, starting with a handheld games console, an Android tablet and now the Shield TV. Like the tablet, this version of the Shield is Android, but has a super powerful NVIDIA Tegra X1 processor which includes a GPU with 256 stream processors and 3GB of RAM. Available in two versions, one with 16GB of storage and the other with 500GB plus a pair of HDMI 2.0 ports, this Shield is more than a media player, it's the ultimate home hub delivering stunning 4K quality videos from the likes of Netflix and YouTube, plus over 50 PC games streamed from the cloud and thousands of Android games. You can pick up an NVIDIA Shield and wireless gamepad from just £149.99, with various accessors such as additional gamepads, stands and remote controls also available.

2. Intel 6th generation CPUs coming to laptops
Last month desktop PCs got a real shot in the arm with the introduction of the first Intel 6th generation Core processors, codename Skylake. These new chips, the Core i5 6600K and Core i7 6700K not only gave a significant performance boost, but also a welcome drop in power consumption, something that is great news for the laptop versions of these CPUs that are now making their way onto the market.

The laptop versions of Skylake are available in two families; models ending with an H or HQ offering the ultimate performance for gaming laptops and models ending with a U that are designed for thin and light home/office laptops. You can tell the new chips apart from their predecessors as the new chips all start with the number 6.

As with desktop Skylake, you can expect to get around a 40% performance boost in CPU intensive applications if upgrading from a laptop with an Ivy Bridge 3000-series or Sandy Bridge 2000-series processor.

Scan already has a range of Skylake-based 3XS gaming laptops to choose from plus a selection of MSI gaming laptops, with more models to follow soon.

3. NVIDIA unveils GeForce GTX 980 for laptops
Sticking with the laptop theme, NVIDIA has unveiled a new GPU for gaming laptops, the GeForce GTX 980. This sits above the existing 980M, which was launched late last year.

For instance, while the original 980M has 1536 cores running at 1038MHz with 5GHz GDDR5 memory the new 980 has a whopping 2048 cores running at 1064MHz and 7GHz GDDR5. These are pretty much the same specifications as the desktop version of the 980, and marks the first time a laptop GPU has reached parity with a desktop GPU.

We expect to have stock of some high-end gaming laptops with the new GPU available to buy in late October, visit our 3XS gaming laptop website for more details closer to the time.

4. Microsoft Office 2016
Microsoft's hasn't made any big updates to its office suite since Office 2013, but there are some big improvements coming with Office 2016. The biggest step forward is in collaborative working, with Word allowing multiple authors to work on a document together, while Skype for Business has been integrated into Office, making it easier to share documents and co-ordinate meetings. By hooking Bing into Office you're also able to fact-change documents on the fly using Smart Lookup, rather than having to search the web separately.

You can buy a standalone license for Office 2016, alternatively users with a current subscription to Office 365 can upgrade free, depending on if you have the Home or Business version.

5. AMD Radeon R9 Nano review
Bucking the trend against bigger graphics cards, this month AMD unleashed its tiny Radeon R9 Nano card. Measuring just 6 inches long the Nano is a good deal smaller than most graphics cards, which typically measure 10 to 12 inches.

AMD has pulled off this amazing feat by integrating the memory with the GPU, using the same HBM design as the Fury X and Fury cards that launched earlier this summer. Like the Fury X, the Nano has 4096 stream processors and 4GB of HBM. However, the GPU is unable to run at the same 1GHz frequency as the Fury's as the power circuitry is cut down, with a single 8-pin PCI-E connector rather than two. This in turn drops the TDP from 275W to 175W.

For instance, when we tested the Nano in a Deepcool Tristellar case, we never saw the GPU reach its 1GHz maximum. As a result the Nano isn't nearly as fast as the Fury X in games, performing closer to a GTX 970. This is not only because of the limited power input available to the Nano but also because when installed in a small case with limited airflow its single fan struggles to keep such a heavyweight GPU in check. That said, despite getting really hot the Nano isn't especially noisy, though it is possible to get quieter cards such as those using the EVGA ACX 2.0 cooler.

For instance, in our testing the Nano achieved a smooth minimum frame rate of 35fps at 2560 x 1440 in The Witcher 3 while the GTX 970 ran the game at 34fps. Both cards ran Shadow of Mordor at the same smooth 41fps and were neck and neck in Dying Light, with only 1fps difference between them. As such, it's safe to say that the Nano is easily capable of playing games smoothly at 2560 x 1440, although 4K is another matter, with the frame rate dropping below a smooth level.

Because it packs such a complex GPU and brand-new HBM memory the Nano is weighed down with a hefty price tag of at least £515, a lot more than a miniature GTX 970. To show off the potential of AMD's new miniature graphics card Scan's 3XS system build division has designed a special tiny gaming PC, the Nanu Nano.

6. Have your say
Scan is delighted to have been nominated in this year's Computer Shopper Awards. The awards are voted for by the public, so you can shape which companies and products win awards by going to the awards website and registering your opinion. We'd love to hear what you think about Scan.

Another impressive, well-built workstation
Develop3D just published this great review of our Skylake-based graphics workstation, the 3XS GW-MT20. With an Intel Core i7 6700K overclocked to 4.4GHz, 16GB of Corsair DDR4 memory and a 4GB NVIDIA Quadro K2200 graphics card the GW-MT20 is optimised for 2D and 3D CAD workflows.

Develop3D described wrote that 'This is another impressive, well-built workstation from Scan, which is ideal for CAD users who do occasional rendering, simulation or CAM. The question on everyone's lips is this: is it worth upgrading to Skylake? If your current workstation is not overclocked, running at speeds below 4.0GHz, then there is a compelling argument in favour.'

You can read the full review on Develop 3D and configure your own 3XS GW-MT20 on the 3XS website.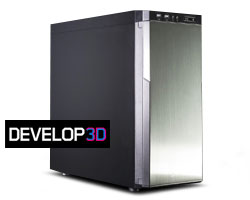 The Scan GW-HTX35 delivers in spades
This month 3D World magazine took a look at our high-end rendering and simulation graphics workstation, the 3XS GW-HTX35. Comprising a pair of Intel Xeon E5-2687W V3 processors, 64GB of RAM and a 12GB NVIDIA Quadro M6000 graphics card, 3D World found that 'Performance is phenomenal across the board. This is easily the fastest modelling system we've ever seen. The Quadro M6000 graphics conquer all in SPECviewperf 12.01, with every single result the fastest we've tested. So if your workflow really needs massive amounts of real-time 3D performance, the Scan 3XS GW-HTX35 delivers in spades.'

With such glowing praise 3D World gave the 3XS GW-HTX35 a score of 5 out of 5 and a Best in Class award.