SCANZONE
30.10.14 | ISSUE 24
Hello and welcome to the October issue of ScanZone. After the last few months of near continuous product launches by Intel, NVIDIA and Corsair there's finally time to draw breadth and take stock of everything that has happened. That said, time waits for no man, so there's still plenty of exciting stuff happening in the IT industry. For instance, Microsoft unveiled the new version of Windows. Despite my low opinion of Windows 8, the new Windows looks very promising and definitely something to look forward to, read on to find out more.

1. Microsoft unveils Windows 10
After the cold shoulder that Windows 8 received from many desktop and laptop users rumours started flying around about Windows 9 a few weeks ago. A couple of leaked videos even seemed to hint that the Start Menu, stripped from Windows 8, would make a return in Windows 9.

However, at the official unveiling a few days ago, Microsoft revealed the next OS isn't called Windows 9, and that it's skipping the number 9 all together and going straight to 10. Although Windows 10 isn't due for release until mid-2015 the most significant new features have already been demoed at a recent event by Microsoft.

The most notable change in Windows 10 is a renewed focus on the desktop, the Start Screen is still there if you want it, but the desktop has been given a major overhaul. Most obviously, the Start Menu is back, and includes commonly used tools such as the power/restart button and a search field that are both accessible without any extra clicks. You can also pin desktop applications, Windows apps, files and folders to the Start Menu and customise its appearance. These might sound like tiny changes, but given that the best OS is the one that allows you to do what you want to do with the least amount of intrusion, they are all welcome changes in the light of Windows 8 heavy-handed 'do it this way or not at all' interface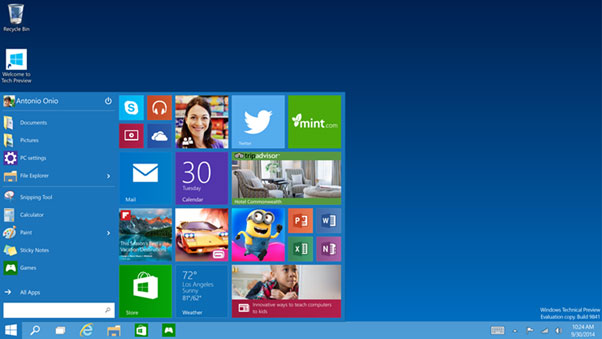 Unlike Windows 8, Windows 10 doesn't feel two different OSes badly stitched together either, as Windows apps no longer open by default in a full-screen mode either, but can run in resizable windows alongside desktop applications.

Snap has been enhanced too, with the ability to automatically resize up to four, rather than two applications, for simultaneous display. If that's not enough workspace for you Windows 10 has taken the Linux idea of multiple virtual desktops, all accessible via a new task switching menu that displays in greater clarity what you're running.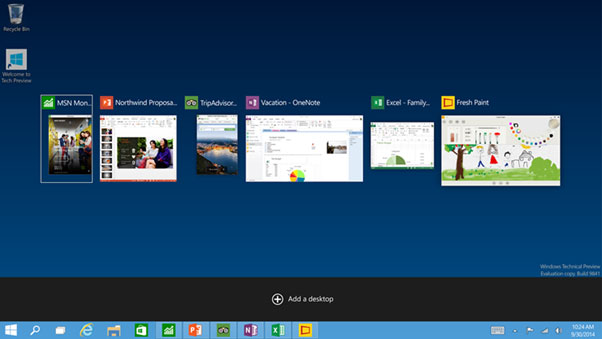 Windows 10 is shaping up very nicely indeed and after the desktop unfriendly design of Windows 8 it's great to see Microsoft paying attention to its core market again. If you can fancy giving Windows 10 a whirl you can sign up to try the free beta at preview.windows.com.

2. Get your 3XS system sooner this autumn
Some say that the British national sport is cueing, but I'm confident that nobody actually enjoys waiting for what they've ordered. That's why we're delighted to announce that we've slashed the waiting time on our 3XS Custom Series systems from an average of 10 working days to just 5 working days. You still get the same award-winning quality, 24-hour burn-in test and 88-point QC check; we're now simply able to your order in half the time it used to take us. And if 5 days is still too long for you don't panic, we still offer our range of F Series and Value Series systems, all of which are pre-built so ready for next-day delivery. If you can't wait that long then we already a variety of MSI Laptops with the GTX 970, in stock and available to order today.

3. Scan awarded Highly Commended Retailer at PC Pro Excellence Awards
Customer service and satisfaction is a high priority for Scan so we're delighted to announce that the readers of PC Pro magazine have voted for Scan to win the Highly Commended Online Retailer award at this year's Excellence Awards 2014. Thanks for everyone who voted for Scan, we aim to continue providing you excellent service for years to come.

4. Next-gen gaming laptops on their way
Earlier this month NVIDIA announced its first 900-series GeForce GPUs for laptops. The first two GPUs, the GTX 970M and 980M are scheduled to replace the existing GTX 870M and 880M, with laptops trickling onto the market over the next few months. For instance, Scan will be launching a brand new range of 3XS Gaming Laptops featuring the new GPUs in early December. These laptops will not only be much faster than their predecessors, but also considerably thinner and lighter, making them far more portable and comfortable to use.

The new 900-series GPUs are based on the same Maxwell architecture as their desktop namesakes so you can expect the same awesome performance boost and power efficiency. In terms of specs the table below compares the new GPUs to the two top-end 800-series GPUs, with early benchmarks showing a near 60 per cent performance boost from the new GPUs.
| | | | | | |
| --- | --- | --- | --- | --- | --- |
| GPU | Architecture | Cores | Frequency | Memory Speed | Memory Controller |
| GTX 980M | Maxwell | 1,536 | 1,038MHz | 5,000MHz | 256-bit |
| GTX 880M | Kepler | 1,536 | 954MHz | 5,000MHz | 256-bit |
| GTX 970M | Maxwell | 1,280 | 924MHz | 5,000MHz | 192-bit |
| GTX 770M | Kepler | 1,344 | 941MHz | 5,000MHz | 192-bit |

5. Get your mitts on a teeny, tiny GTX 970
There's no doubt that the new GeForce GTX 970 and GTX 980 graphics cards that NVIDIA launched last month are incredibly desirable, with both models delivering amazing performance in a low-noise, highly efficient package.

Now Gigabyte has taken things one step further by miniaturizing the GTX 970, slashing the length of the card from 28cm to 17cm, meaning you can squeeze it inside cases a fraction of the size of other GTX 970s. This is exciting news given how many new mini-ITX and other small form factor cases are being released at the moment as it means you'll soon be able to build really powerful miniature gaming PCs. Despite its compact size the mini GTX 970 should be very quiet, with Gigabyte claiming that it'll have an average noise of 26.8dBA, compared to the already quiet 27.1dBA of a standard GTX 970.

We hope to have stock of this exciting new miniature graphics card, the N970IXOC-4GD, in mid-November at around £279 inc VAT, keep an eye on our website over the next few weeks for more info.

6. Speed up your Samsung 840 Evo SSD
Over the last few weeks it's become apparent that the otherwise wonderful Samsung 840 Evo SSD family had a problem whereby after a few months the read speed of some files may drop off, with some reports claiming that performance can drop from the usual 540MB/sec to as little as 20MB/sec.

There's no need to panic though as Samsung has sprung into action and released a new firmware to address the root cause of this issue. The company has also developed a Performance Restoration application for Windows, which will scan and rewrite all the data on your Evo, restoring its read performance back to brand new condition. The Performance Restoration tool will take about an hour or so to run depending on the size of your Evo, and is well worth downloading and running right away.

7. Customise your laptop your way
Our 3XS system division manufacturers thousands of desktops, workstations, servers and laptops a month, each tailored to run specification applications and games. However, we know that some customers would simply prefer to see all the possible combinations of components and spec up a laptop the way they would like.

That's why this month we've launched a new section on the 3XS website called Your Laptop, Your way. In this new section we've built three new highly flexible configurators, one for each of the most popular laptop sizes – 13.3", 15.6" and 17.3". Simply choose which size of laptop you want, then go ahead and customise the other components in your laptop. Our award-winning team will then build, test and deliver your custom laptop the way you want it.

A gaming PC that combines decent components with good features
PC Advisor took a look at our popular high-end gaming PC, the Z97 Performance GTX, this month, giving it a score of 4 out of 5.

The review describes the system has 'a gaming PC that combines decent components with good features. It is a good value gaming PC' and that 'few companies are as adept at getting beneath the bonnet as long-time component retailer Scan, and this 3.5 GHz chip has been pushed up to a quite astonishing 4.7 GHz'. The review concludes that the 'brand new chip and carefully picked components make for a good value gaming PC'.

You can read the full review on the PC Advisor website or in the latest issue of the magazine.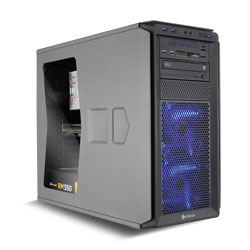 A powerful gaming rig that's suited to connoisseurs of quiet computing
Nobody likes a noisy PC, why is our 3XS engineers make a special range of super-quiet PCs known as the Q series. This month HEXUS took a look at our most recent Q10 system, which comprises an overclocked Intel Core i5 4690K with GeForce GTX 970 in a whisper quiet case for £1249 inc VAT.

HEXUS found that 'the Z97 Performance Q10 lives up to its billing. The system can barely be noticed when idle - you'll need to go right up close to hear the gentle hum of the fans - and it doesn't get loud when gaming, either. We recorded a remarkably-low noise reading of 33.8dB while playing games. We'd normally expect that level of noise from a gaming PC that's idle, but to be able to keep noise levels that low while gaming is a real plus point.'

The review went on to conclude that 'Scan has used the recent introduction of the GeForce GTX 970 as a springboard to launch a powerful gaming rig that's suited to connoisseurs of quiet computing', giving the Q10 a Recommended award.

You can read the full review on HEXUS.