SCANZONE
03.02.17 | ISSUE 47
2017 has got off to a great start with the launch of several key new products including Intel's 7th generation Core processors which bring improved overclocking to the table, plus an updated version of the NVIDIA Shield media streamer and two new mid-range NVIDIA laptop graphics cards. Read on to find out more.

1. Intel 7th gen Core processors
Intel recently announced a change in CPU release strategy, abandoning its decade old 'tick tock' model of a die shrink followed by an architecture update. Instead, we'll now see more sporadic updates, such as the new 7th generation Core processor family which was launched at the beginning of this month.

Technically speaking Intel 7th gen CPUs have already been available for a while, but only the ultra-low-power U-series models found in mini PCs and ultrabooks. This month's launch is the biggie though, with a full range of desktop and laptop CPUs scaling all the way from the entry-level Celeron and Pentium, to the more capable Core i3, Core i5 and Core i7. You can spot the new processors easily as their names all start with the number 7.

In terms of the headline specs the new 7th gen processors, which are codenamed Kaby Lake are broadly similar to the previous 6th gen processors, codenamed Skylake, which were launched in autumn 2015. Thus, the top end models are still quad-core processors and made using a 14nm process and as a result clock for clock run applications and games at pretty much the same speed as an equivalent frequency 6th gen core CPU.

The manufacturing process has been improved though, enabling Intel to ram up the frequency. For instance, the flagship Core i7 7700K runs at between 4.2 and 4.5GHz versus the 4.0 to 4.2GHz of the older Core i7 6700K.

The process improvements are good news for overclocking too, as it's possible to overclock the Core i7 7700K up to 5GHz with air or water-cooling, the first Intel CPU to reach this mythical number without exotic cooling such as a water chiller or liquid nitrogen. In contrast, most Core i7 6700Ks were overclockable to around 4.6GHz.

Continuing the good news the new Kaby Lake CPUs share the same LGA1151 socket as Skylake so you can run the new CPUs in older Intel 100-series motherboards after a BIOS update. However, there is a whole slew of new Intel 200-series chipsets too. As you'd expect, there are B250 and H270 variants for business and mid-range PCs plus the flagship Z270 which is required for overclocking. Compared to the previous generation 100-series chipsets, the new 200-series has four more PCI-E 3.0 lanes, which are intended for connecting a second M.2 PCI-E SSD. As a result many of the new motherboards from the likes of Asus, Gigabyte and MSI have two M.2 slots in addition to the usual SATA ports.

While the 7th gen Core Kaby Lake processors are in many ways only a minor improvement over the previous 6th gen Core Skylake, there are still some bright spots such as much better overclocking and support for more PCI-E SSDs. What's more, as the new models are priced the same as the old models you'd be foolish not to buy a 7th gen Intel Core processor if upgrading or buying a new PC or laptop.

2. New NVIDIA Shield TV
NVIDIA has also used the start of 2017 to launch a new version of its popular Shield TV streaming box. Based on Android 7.0, the new Shield TV has the same Tegra X1 processor with 256 GPU cores and 3GB of RAM as the 2015 version, so if you already own a NVIDIA Shield TV then there's no point in upgrading.

But for anybody looking for a media streamer the Shield TV should be at the top of your list, as it natively supports 4K and all the common UK streaming services such as iPlayer, Netflix and Amazon Prime, the only notable omission being NowTV which both NVIDIA and NowTV say they are working on. Despite the lack of performance uplift, the 2017 Shield TV is around 40% smaller than the 2015 version, which is great to see as it makes it much more discrete plugged into your TV in the living room. The gamepad and remote have also been given a facelift, with the latter now using standard replaceable batteries rather than a sealed battery that has to be recharged.

The gamepad is there for playing games streamed from your local GeForce GTX-equipped PC using Gamestream or over the Internet. The Internet gaming service is called GeForce Now, and for a monthly fee provides access to over 150 games, which are run on an NVIDIA server in the cloud and them streamed down to your Shield TV so you can play anytime, anywhere without need for a powerful gaming PC.

The Shield TV has since its launch been the best way to stream 4K content to a TV, being far more capable than a smartTV and more affordable and compact than a media PC, and with the 2017 version has been refined into an even better product. What's more, owners of the 2015 version will soon get the same software upgrades as the 2017 version, enabling you to use the additional features for free. The Shield TV is available in two models, the standard NVIDIA Shield model for £189 and the NVIDIA Shield Pro version which for £279 includes a 500GB hard disk for local storage.

3. NVIDIA GeForce GTX 1050 and 1050 Ti comes to laptops
NVIDIA already launched the mid-range NVIDIA GeForce GTX 1050 and NVIDIA GTX 1050 Ti graphics cards for gaming PCs last year, so it's no surprise to see laptop versions of these GPUs now emerge.

Like the desktop version, the laptop GTX 1050 has 640 cores and either 2 or 4GB of GDDR5 memory while the NVIDIA GTX 1050 Ti has 768 cores and the same memory configurations. The GTX 1050 is intended to replace the older GTX 960M so will be found in laptops around £999 while the GTX 1050 Ti replaces the GTX 965M in laptops around £1,099.

As the new GPUs are based on the latest Pascal architecture they are much faster than the older 900-series GPUs. For instance, the GTX 1050 is 28% faster than the GTX 960M in the gaming benchmark 3DMark while the GTX 1050 Ti is 32% faster than the GTX 965M. In real world terms this means that the NVIDIA GTX 1050 can play games smoothly at 1920 x 1080 at high detail settings, whereas with a GTX 960M you would have to reduce some of the quality settings to medium to get a smooth frame rate. Meanwhile, the even faster GTX 1050 Ti is about the same speed as the previous generation GTX 970M at a much lower cost.

Just like its high-end 10-series GPUs NVIDIA has once again come up with a winning formula of smooth frame rates and long battery life, making for much more compelling gaming laptops. No longer do you have to compromise on quality settings when gaming on a laptop.

Scan stocks a wide range of customisable 3XS gaming laptops with the new GPUs plus pre-configured MSI laptops.

4. AMD details Vega graphics card architecture
Alongside the AMD Ryzen CPUs that will be launching in the first quarter of 2017, AMD is also planning a range of graphics cards based on a new architecture codename Vega. This will include graphics cards for gaming, workstations and machine intelligence, with the first products expected in the first half of the year.

The Vega architecture has been designed to solve four key problems with AMD's current GPU architecture. First, to readdress the balance between compute and storage. Vega tackles this by using HBM2 memory which is available in higher densities than HBM and has more bandwidth, around 1,024GB/sec. Some Vega cards will also be able to use NAND memory to provide even more capacity. The second challenge is in geometry, and so Vega will have a new dedicated primitive shader which doubles boosts peak geometry throughput.

Like all chip design companies AMD loves to come up with acronyms that don't actually spell out, and so to address challenge number three, which is improving compute performance, its come up with the NCU (Vega Next Generation Compute Unit). In real world terms this means that Vega can operate at different levels of precision, depending on what the application requires. For instance, Vega can process 128 single-precision (FP32) operations per clock cycle, 256 half-precision (FP16) ops per clock, and 512 quarter precision (FP8) ops per clock.

The final challenge, efficiency or the lack therefore as GPUs waste a lot of time rendering polygons that are never shown on screen, has also been given some thought in Vega. This includes a new tile-based rendering technique plus the ability for the back-end end of the render pipeline to access the L2 cache, which is much faster than the frame buffer.

The ageing GCN architecture that AMD's current cards are using is now very long in the tooth so it's great to see that AMD is making some very substantial architectural improvements for Vega. That said, I haven't seen any benchmarks for Vega yet so it remains to see how the new cards stack up against the competition.

5. Enterprise-class NAS solutions
3XS Systems has delivered thousands of PCs, workstations and servers from our state-of-the-art factory in the UK over the course of the last 10 years. Our reliable business IT solutions are trusted and used by companies of all sizes plus government and education customers, so it makes sense to extend our expertise into the storage arena. Introducing 3XS Network Attached Storage.

Based on the award-winning hardware and software platforms of Synology and QNAP NAS, we can provide either desktop or rackmount configurations to suit every budget and business. We are also able to specify the drives that best suit your applications too, even if that means two arrays in a single chassis, such as 4x WD Red Pro drives for business critical storage configured in RAID 5, and 2x WD Purple drives for network surveillance in RAID 1. Our experienced technicians can also pre-configure your RAID requirements too, depending on the level of performance and data security required.

Visit our new Enterprise website NAS solutions to find out more and configure your NAS.

6. All in a Good #AdobeCreativeCause
Last year, Scan joined up with Adobe to support the UK's leading youth charity, The Prince's Trust. Adobe Creative Cause was a competition that helped raise awareness and much needed funds to carry on the important work The Prince's Trust perform. With your help we raised over £16,000 and discovered a wealth of young talent within the Adobe user community.

The call for entries went out in September and by closing date of 1st December Adobe had collected over 500 #AdobeCreativeCause submissions, each one taking its inspiration from the work carried out by The Prince's Trust. Just before the Christmas holidays kicked in we travelled down to Adobe HQ in Maidenhead to help choose the winner of the Adobe Creative Cause competition.

It was a close call, but the eventual and deserving winner was Stuart Burton from the West Midlands. Among the haul of prizes delivered in time for Christmas morning was a Scan 3XS Ultimate 2D Plus workstation hooked up to a Logickeyboard Photoshop keyboard, a Manfrotto RedBee backpack, MVH500 Triopod for the newly minted Canon 5D mkIV and BenQ 4K monitor provided by the other competition sponsors, plus a 1 year free subscription to Adobe CC and Adobe Stock.

"It's hard to put it into words!" said Stuart during a recent interview, "Adobe must see a lot of inspiring work on a daily basis and for the judges to select mine out of hundreds of other great entries was amazing, and for such a big cause as the Prince's Trust too. The prize was great; it's a great way to end the year and start the new one with a powerful image editing PC and camera kit to help me improve on my photography. All the goodies in this prize have been high end so I'm extremely pleased to have my hands on them to inspire some more creative work in 2017. The PC will definitely speed up my work flow, as my current one is getting on a bit now and is sluggish when running multiple software."

During her Christmas speech, and marking The Prince's Trust's 40th anniversary, The Queen mentioned the fantastic work the Prince's Trust do to empower young people to overcome the challenges of poverty, abuse and mental health, to make positive changes to help transform their lives. Scan is very proud to be a part of that success and support the Creative Cause competition. It's never too late to make a difference. Last year the Prince's Trust helped over 56,000 young people. You can donate and read more about the work of the Prince's Trust.

"Formidable power where it counts"
Both Custom PC and HEXUS looked at one of Scan's gaming PCs powered by the new Intel 7th gen Core processor. The Scan 3XS Z270 Vengeance SLI is armed with an Intel Core i7 7700K overclocked up to 5GHz plus a pair of Asus GTX 1080 STRIX graphics cards inside the stunning new Corsair 570X tempered glass case with a programmable RGB lighting system.

Custom PC gave the system a Premium Grade Award and a score of 92%, writing that 'Scan has deployed the Core i7 7700K and has improved its 4.2GHz stock speed to 5GHz - we've never seen a system overclocked to that speed. We love the Corsair Crystal 570X chassis, which takes the trend for tempered glass to the extreme, every panel is made from the fashionable, tinted material and it looks superb. The rear provides a view of the firm's impeccable cable tidying. Scan's build allows huge colour customisation' concluding that 'Kaby Lake boosts processing power, two GPUs deliver huge gaming speed, and the entire system is impressively well built.'

HEXUS also reviewed the Vengeance SLI, giving it an Approved Award and writing that 'Build quality is tidy throughout, the Corsair Crystal Series chassis is a visual treat, storage and memory are both blazing fast, and the guarantee of a 5GHz CPU overclock offers plenty of bragging rights. Add a pair of overclocked GeForce GTX 1080s to the mix and you have masses of power on tap.'

You can read the full reviews in Custom PC magazine and HEXUS configure your Intel 7700K Gaming PC on the 3XS website.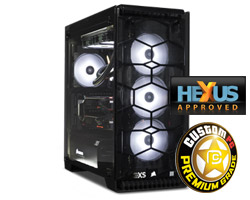 "Incredible performance for rendering, VR and real time viz"
Develop3D, the leading magazine for design engineers took at a look at our 3XS Ultimate 3D workstation this month.

Designed for 3D modelling, animation, texturing and rendering such as 3DS Max, Cinema 4D, Creative Cloud and SolidWorks, Develop3D's review found that 'The Scan 3XS Ultimate 3D is a dual Xeon graphics workstation for those who take their design visualisation or Virtual Reality (VR) very seriously. Scan is renowned for its low cost, overclocked 3D CAD workstations. But this new machine from the Bolton-based manufacturer is a different beast altogether. It is significantly less than what you'd pay for an equivalent machine from a Tier One manufacturer, such as Dell or HP. In summary, if you are pushing the boundaries of design viz and need a wellbalanced machine for CPU and GPU centric workflows then the 3XS Ultimate 3D is well worth a look.'

You can read the full review on Develop3D and configure your 3D graphics workstation on our website.