SCANZONE
28.08.15 | ISSUE 34
August may be the month when a large chunk of the population goes on holiday but that hasn't stopped the IT industry, with dozens of new products being announced and launched this month. These include Intel's new range of Skylake processors plus their accompanying Z170 motherboards and three new NVIDIA graphics cards.

However, the biggest story by far is the joint announcement by Intel and Micron of a new type of memory, 3D XPoint, which is likely to revolutionise the industry over the next few decades. Here at Scan we're also extremely proud to reveal our latest Dream PC the Barracuda. Read on to find out more.
1. Introducing 3D XPoint Memory
While Scan's warehouses are inundated with hundreds of new products every month, it's not often that a new technology comes along with the potential to change everything. In terms of memory, the last big innovation was the invention of NAND flash in the late-1980s by a team led by Dr Fujio Masuoka at Toshiba, although even this type of memory can trace its ancestry back to the EPROM memory invented in 1971. NAND flash was an incredibly disruptive technology, revolutionising computing with high performance SSDs for servers, desktops and laptops as well as enabling the development of mobile devices such as tablets and smartphones.

However, developing a new type of memory is extremely challenging, as it requires a careful blending of the four main characteristics of memory – performance, endurance, volatility and density. For example, it took nearly two decades for NAND flash to be a serious threat to mechanical HDDs, while DRAM has been the main form of computer memory since way back in 1966.

However, both NAND and DRAM have their downsides. For example, while NAND is thousands of times faster than a HDD, is non-volatile so retains data when the power is cut and is much cheaper than DRAM, it has limited endurance and is much slower than DRAM. In contrast, while DRAM is much faster than NAND and has for all intents and purposes unlimited endurance, it is much less dense (and so is more expensive) and is volatile, so loses data when the power is cut.

To try and bridge this gap Intel and Micron has been working together on a new type of memory, 3D XPoint (pronounced cross point). 3D XPoint is a revolutionary new design that stores data in individually accessible cells that are formed from an array of cells that are written to via a change in voltage.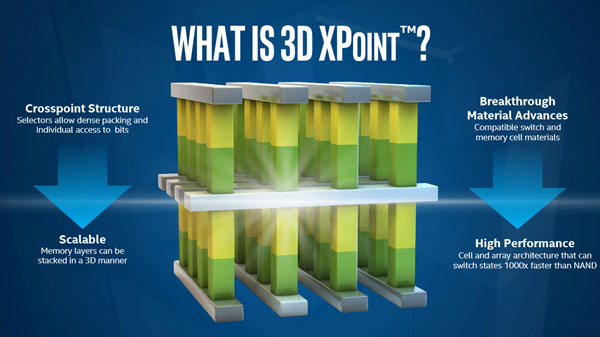 As 3D XPoint comprises multiple individual cells, it doesn't have to refresh whole pages of memory like NAND. This not only brings the performance of 3D XPoint much closer to DRAM, with Intel claiming a 1,000x performance delta over NAND, but also gives it much greater endurance than NAND, with a 1,000x increase in longevity. In addition, the 3D array of cells is much denser than NAND or DRAM, which will allow the production of high capacity modules at a lower cost.

It isn't clear yet how Micron will bring 3D XPoint to market, but given its non-volatile nature it's clearly going to make its way into SSDs, hopefully as early as 2016. Intel meanwhile has already announced that it will bring 3D XPoint products to market in 2016 under a new brand, Optane. This will include PCI-E SSDs as a well as DIMMs that act as a high speed buffer between the DRAM and NAND.

Ultimately, 3D XPoint also has the potentially to completely disrupt computer architecture by replacing both DRAM and NAND, as it's the closest we've ever come to developing a memory with the holy grail mix of performance, endurance, volatility and density. However it is implemented 3D XPoint is an extremely exciting development and just like DRAM and NAND before it could lead to some amazing developments over the coming years.
2. Meet the Barracuda Dream PC
Every year our 3XS engineers challenge themselves to build the fastest, most eye-catching, most innovative, money-no-object system, or what we like to call a Dream PC. This month we're proud to announce the result of many months of hard work, the Barracuda.

The Barracuda has been designed to play games at 4K, housed inside a case that has been extensively modified both inside and outside and cooled by two whisper quiet water-cooling loops. Painted with a stunning metallic blue finish, the Barracuda's colour scheme is carried through into the interior with a customised SLI bridge, memory, cables and fluid flowing through the watercooling loops. Despite the complexity of the system, the interior has a minimalist feel, thanks to the use of solid acrylic tubing and black-out panels that hide unsightly cables.

Completely configurable, the recommended Barracuda spec includes an 8-core Intel Core i7-5960X CPU which is overclocked from 3.5 to 4.625GHz, three overclocked 6GB EVGA GTX 980 Ti Classified graphics cards in SLI, 32GB of 2666MHz Corsair Vengeance DDR4, an Asus X99-E WS board, plus a 1.2TB Intel 750 PCI-E SSD for a cool £9499 inc VAT.

We're delighted to announce that the Barracuda is the winner of the 2015 Dream PC award from Custom PC magazine. This makes the Barracuda the fifth Scan 3XS system to win the Dream PC award, a feat unmatched by any other PC manufacturer. You can read more about the Barracuda and our other Scan 3XS Dream PCs on our website.

3. Intel Core i5 6600K and i7 6700K review
Whenever Intel launches a new CPU family it's always a big affair, not just because of the new processors but it also because it heralds the launch of new motherboards and memory. This month's launch, codename Skylake, takes the form of two processors, the Core i5 6600K and i7 6700K.

These mainstream processors are designed to replace the existing Core i5 and i7 4000-series CPUs codenamed Haswell Refresh that launched last June. As such, they're much more affordable than the Core i7 5000-series, which with their X99 chipset and 6 or 8 cores remain king of the hill.

At first glance, the new Skylake processors don't seem that different compared to their Haswell Refresh predecessors. Both sets of CPUs have four physical cores, with the i7 variants having a further four logical cores curtesy of Hyper-Threading. They even run at the same speed, with the Core i5 4690K and its replacement the Core i5 6600K running at 3.5GHz and boosting up to 3.9GHz. Meanwhile, the Core i7 4790K and its replacement the Core i7 6700K both run at 4GHz, although the newer chip only boosts up to 4.2GHz, versus the 4.4GHz turbo limit of its predecessor. The cache architecture also remains unchanged, with the Core i5s having 6MB and the Core i7s 8MB.

Under the bonnet however the new Skylake CPUs are quite different beasts, being made from 14nm transistors versus the larger 22nm transistors of Haswell Refresh. As smaller transistors are more power efficient than larger transistors, this means that the Skylake CPUs consume around 7% less power than the equivalent Haswell Refresh CPU, a nice but hardly earth shattering difference. The bigger deal is the new memory controller which adds support for dual-channel DDR4. Officially this only supports 2133MHz DDR4, but in our testing at Scan we've had multiple systems happily running with 3000MHz DDR4, which provides a very welcome speed boost compared to the 1600 or 2133MHz DDR3 you'd find in a Haswell Refresh system. You can use DDR3L with a Skylake CPU, but it's really not worth it now that the price of DDR4 is so close to DDR3 and it's so much faster.

The new Skylake processors also have an improved GPU, the HD Graphics 530, though so few people ever use the GPU on a 'K' model CPU I'm not sure why Intel even bothers, it's simply a waste of transistors.

The other big story with the launch of these new Skylake processors is the Z170 chipset. This is a big step up from its Z97 predecessor, as in addition to the 16 PCI-E 3 lanes for graphics cards and the like there are a further 20 PCI-E 3 lanes for the chipset, allocated between storage devices and IO ports. This is made possible by upgrading the link between the CPU and chipset from the ageing DMI 2 standard to DMI 3. The benefit of this change is that Z170 motherboards have double the PCI-E bandwidth for storage devices such as PCI-E SSDs.

To show how much of a difference this makes we measured the performance of the most popular PCI-E SSD, the Samsung SM951, on a Z97 motherboard and a Z170 motherboard using the CrystalDiskMark benchmark. The performance difference, as shown below, was simply staggering as the SSD was able to transfer date more than twice as fast on the Z170 motherboard – clearly the Z97 motherboard was acting like a lead weight attached to the SSD.

Sequential Read:
X axis is MB/sec with a greater number indicating faster performance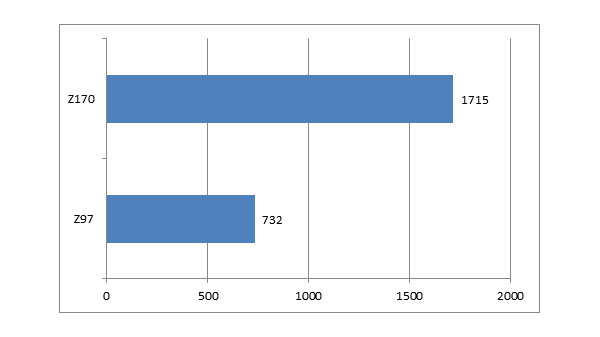 Sequential Write:
X axis is MB/sec with a greater number indicating faster performance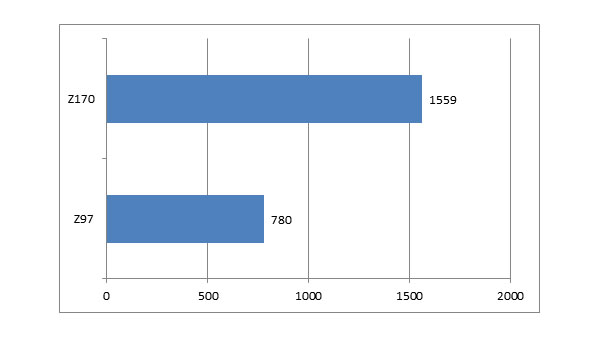 You can expect to see anywhere between a 5 and 13% performance uplift from Haswell Refresh to Skylake, not really enough of a difference to justify an upgrade unless you also want a PCI-E SSD. However, compared to older Intel CPUs, such as the Ivy Bridge 3000-series and Sandy Bridge 2000-series Skylake is up to 40% faster in CPU intensive applications such as media encoding and so is a very worthy upgrade.

Overclocking wise, you can expect to overclock the Core i5 6600K and Core i7 6700K to around 4.6GHz, with some chips overclocking a little bit further if you're lucky. This is about the same frequency that most Haswell Refresh chips overclocked to, yielding a significant performance boost in CPU intensive applications over the stock frequency.

While I'd be hard pressed to recommend any Haswell Refresh owners to rush out and upgrade to Skylake, owners of older systems will see a really welcome performance boost, especially when combined with a PCI-E SSD. You can pick up an Intel Core i5 6600K or Core i7 6700K from Scan today, along with a huge selection of Z170 motherboards plus dual-channel Corsair DDR4 memory kits. Alternatively our award-winning 3XS division offers a wide range of PCs andoverclocked bundles using the new Skylake processors.

4. Hands on with the Oculus Rift and HTC Vive at Gamescom
The annual Gamescom show is a great place to measure the health of the gaming industry, with more than 800 exhibitors and close to 350,000 attendees from all over the world congregating in Germany for a week.

While the show is dominated by AAA titles such as Star Wars Battlefront and Fallout 4 from big name publishers such as EA and Bethesda, what really got my attention was the number of VR (virtual reality) demos. I've been following VR closely for many years, ever since trying out an (unreleased) Sony headset back in the late 1990s. At Gamescom Scan helped NVIDIA to demo two of the most promising upcoming VR headsets, the HTC Vive and Oculus Rift, so I definitely had to give both a try.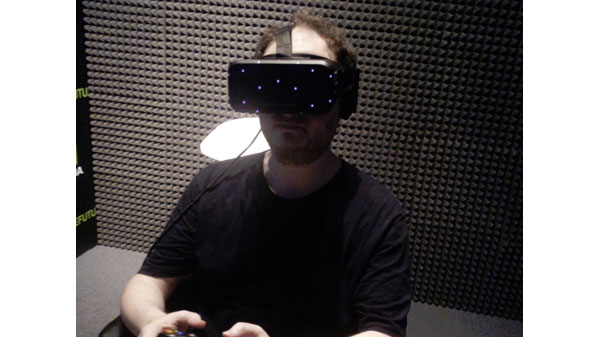 Yours truly, trying and failing to shoot starfighters in EVE: Valkyrie using the Oculus Rift

The Rift has been around for a couple of years now, with NVIDIA demoing the latest fifth-generation prototype, codename Crescent Bay. This has an unspecified, but higher resolution than previous prototypes while being considerably lighter, an important consideration for anybody considering plopping a VR headset on their heads for hours on end. Playing a pre-release version of the upcoming game EVE: Valkyrie, I relieved my childhood Star Wars fantasies zooming around the stars, shooting other space ships. The Rift really helps games like this as you can pan your head around the cockpit naturally to spot incoming enemies. However, the overall experience, while hugely improved over early Rift prototypes is still a bit fuzzy and not especially comfortable for somebody wearing glasses. More seriously, because the Rift is just a headset, you still need to use a conventional controller such as a gamepad to interact with the game, so while your eyes are being tricked into believing you're in another world, your hands are very aware you're not.

That said, I think the Rift still has huge potential for any game where you're cockpit based such as racing, space and flight sims and am still eagerly looking forward to the release in early 2016.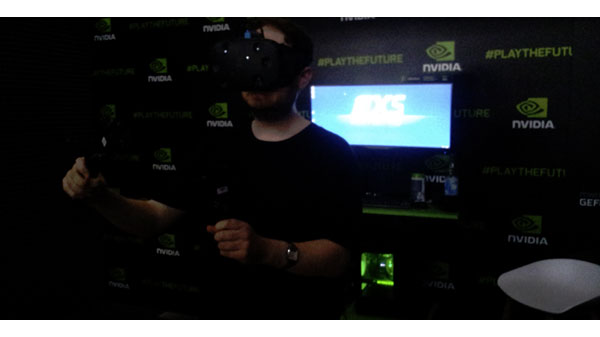 The HTC Vive, which is being co-developed with game maestro's Valve, is a very different proposition to the Rift, combining a VR headset with a pair of batons, one for each hand. Each baton has a set of buttons, but most importantly its own motion sensors, allowing you to interact with virtual worlds in a far more natural way than a gamepad.

At Gamescom I got to try out several demos on the Vive, including exploring an undersea ship wreck while dodging fish and whales, a painting program and most impressive of all a custom demo set in the world of Portal. Like the Portal games, to proceed, you have to interact with objects in the world, pulling open drawers and pushing buttons. However, unlike the Rift, with the Vive you do this far more naturally with the batons, reaching out to objects with your hands as you do in the real world. Despite having a relatively low resolution 1,080 x 1,200 screen for each eye, within moments I was totally drawn into the world of Portal and was even tricked in jumping back a couple of paces as the floor started to collapse underneath me – it really was that engaging.

The Vive is one of the most fun bits of technology I've had the fun to try in years and shows massive potential for gamers and a huge range of other activities such as training courses. Hopefully by the time it's released later this year we've also have a swords and sorcery game where we can use the batons to swing melee weapons around.

5. NVIDIA Quadro M4000 and M5000 for workstations
It's been 11 months since NVIDIA did a mass refresh of its Quadro range of graphics cards for professional graphics workstations, so it's great to see two new models this month. Unlike the cards launched 11 months ago which were based on the Kepler architecture, the new cards are based on the Maxwell architecture so have a new M based naming scheme. Thus the M4000 replaces the older K4200 while the M5000 replaces the older K5200. Both cards are optimised for professional 3D workloads such as modelling, rendering and simulations.
The Quadro M4000 has 1664 cores and 8GB of GDDR5 versus the 1344 cores and 4GB of GDDR5 of the older K4200, giving it a real performance boost, especially with complex memory intensive workloads. The M4000 also benefits from improved connectivity, being capable of driving four 4K displays simultaneously via four DisplayPort 1.2 outputs.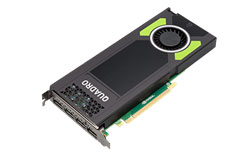 Although on paper the M5000 looks inferior to the older K5200, having 2048 cores versus 2304 cores, due to the improvements in the Maxwell architecture it is noticeably faster, being rated at 4.2 TeraFLOPs in single precision versus 3.1 TeraFLOPs. Like the M4000 the M5000 can also drive four 4K displays simultaneously via four DisplayPort 1.2 outputs.

The new Quadro M4000 and Quadro M5000 graphics cards are available the buy from Scan, retailing for the same price as the older cards. Alternatively the new cards are also available in our range of award-winningScan 3XS graphics workstations.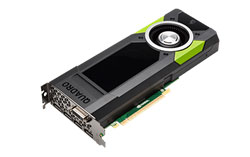 6. NVIDIA GeForce GTX 950 review
NVIDIA's last few launches have been focussed on high-end gamers, so it's good to see a new, more affordable graphics card make its way onto the market. The new card, the GeForce GTX 950, is intended to sit between the existing GTX 750 Ti and GTX 960, and so is optimised for gaming at 1920 x 1080, or 1080p.

Gaming at this resolution is an order of magnitude easier for a GPU than 2560 x 1440 or 4K, so NVIDIA has armed the 950 with 768 stream processors, 48 texture units and 32 ROPs, all running at a 1024MHz and supported by 2GB of GDDR5 running at 6.6GHz via a 128-bit memory controller. In contrast, the 960 has 1024 stream processors, 64 texture units and 32 ROPs clocked at 1127MHz with 2GB of GDDR5 clocked at 7GHz connected via a 128-bit memory controller.

Despite the basic specs the 950 it not that much slower than the 960, and is capable of delivering a smooth frame rate of between 30 and 40fps in demanding games such as GTA V and The Witcher 3 at 1920 x 1080.

If you're a big fan of MOBA gamers then the 950 may also be of interest as NVIDIA has given it some specific optimisations to reduce latency in games such as DOTA 2, League of Legends and Heroes of the Storm. These are accessible via special profile in GeForce Experience and should make for a smoother experience.

With prices starting at £127 inc VAT the GeForce GTX 950 is a solid choice for a gaming PC if you have a 1920 x 1080 monitor or only play MOBA games.

7. Take to the stars with AMD
Available for a limited time only, when you buy a Scan 3XS gaming PC with an AMD Radeon R9 380, 390 or 390X graphics card, you'll get a free voucher giving you immediate access to the Star Citizen beta and an exclusive Omega edtion Mustang space ship to zoom around the galaxy.

8. Have your say…
Scan is delighted to have been nominated in this year's Tech Excellence Awards, as hosted by PC Pro and Computer Shopper magazines. The awards are voted for by the public, so you can shape which companies and products win awards by going to the awards website and registering your opinion. We'd love to hear what you think about Scan. Completing the awards survey will also enter you into a competition to win some fantastic prizes including a quadcopter and a tablet.

9. 800GB Intel 750 PCI-E SSD now available
It's no secret that I'm a big fan of Intel's ludicrously fast 750 SSD, the world's first PCI-E drive that takes advantage of the new NVME standard. However, until now your choice of drive has been relatively limited, with either a 400GB or 1.2TB model to choose from. A lot of other people were thinking the same thing, so Intel has listened and just released a new 800GB model. Like the other models, the 800GB drive is available as a 4x PCI-E 3 card or a 2.5in drive with a U.2 connector. Priced at £618 inc VAT, the 800GB drives sit midway between the earlier 400GB and 1.2TB models, adding a more affordable price point for this killer drive. You can find out more about the Intel 750 SSD and how fast it is in the April issue of Scanzone, available online.

10. Scan at Insomnia 55
If you're in the Coventry area this bank holiday weekend then make sure to head over to the Insomnia gaming festival at the Ricoh Arena. Along with thousands of gamers, Scan will be celebrating the best of gaming with some fantastic new products on show, including our award-winning Barracuda Dream PC.

The 3XS Z170 Vengeance is an immediate showcase of what Skylake can do
Scan's 3XS system build division launched dozens on new systems using the new Intel Skylake CPUs, with HEXUS publishing the first review.

The 3XS Z170 Vengeance is a high-end gaming PC comprising a quad-core Intel Core i7 6700K CPU which has Hyper-Threading and is overclocked up to 4.7GHz. This powerful CPU is accompanied by the amazingly fast 4GB NVIDIA GeForce GTX 980 graphics card for super-smooth gaming. The Vengeance also includes 8GB of 3000MHz Corsair Vengeance DDR4, an Asus Z170 Pro Gaming motherboard, a 256GB Samsung SM951 PCI-E SSD for lightning quick gaming loading and a 2TB hard disk for £1499 inc VAT.

HEXUS gave a glowing review to the new system describing it as 'Overclocked to 4.6GHz and accompanied by ultra-fast DDR4 memory as well as an insanely quick PCIe SSD, the 3XS Z170 Vengeance is an immediate showcase of what Skylake can do' and that 'Cable management is very neat' before giving the system a Recommended Award.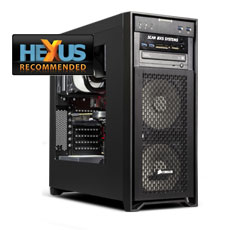 A great gaming PC for this price league
Custom PC also took a look at the Z170 Vengeance gaming PC, finding that 'Scan's build quality helps too. The PC's cables are tidy around the front, and they're even better around the back. Scan also offers one of the best warranties in the business. The Skylake Core i7 chip's multi-threading performance is still formidable. The overclocked GTX 980 also proved very capable in our game benchmarks. Thanks to the Z170 chipset, the M.2 Samsung SSD dishes out amazing performance.
The star of the show is the Samsung SSD, which is blisteringly quick thanks to the new chipset. The Scan produced discreet whirr when idle, and the noise only increased by a tiny margin during gameplay.'

The review concluded that 'With fast performance in all the key areas, great build quality, low noise levels and decent warranty coverage, the Scan 3XS Z170 Vengeance is a great gaming PC for this price league', giving the Vengeance a score of 92% and a Premium Grade award.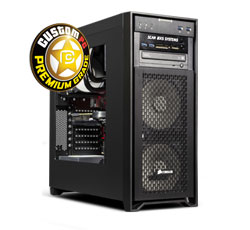 One of the best PCs you can get for the money
Expertreviews was also very quick off the mark with a review of one our Skylake gaming PCs, this time the more affordable 3XS Z170 Performance GTK6.

This mid-range PC includes the latest 6th Gen quad-core Intel Core i5 6600K CPU rather than the Core i7 6700K found in the Vengeance system, the Performance GTK6 has its 4 physical cores overclocked to 4.6GHz for improved performance. Games will also run very quickly on this PC thanks to its 4GB NVIDIA GeForce GTX 970 SC graphics card. Other core components include 8GB of 3000MHz Corsair Vengeance DDR4, an Asus Z170-K motherboard and 250GB SSD.

According to the review 'Scan's £1,000 3XS Z170 Performance GTK6 has everything you need to get started with Skylake. Scan's overclocking efforts set a new Labs record for a Core i5-powered desktop PC, managing an overall score of 145. It's completely silent on the Windows desktop.
You can expect to be playing the latest games at High settings for years to come.'

The review concluded that the fully configurable 3XS Z170 Performance GTK6 is 'one of the best PCs you can get for the money' and gave it a Best Buy award. You can read the full review on Expertreviews.