SCANZONE
26.04.14 | ISSUE 18
Hello and welcome to the April issue of ScanZone. This month's newsletter is little bit later than usual, but we wanted to hold it back so that we include news of some exciting new graphics cards from AMD and NVIDIA. The news is that both companies have announced and launched their first new dual-GPU cards in years. Unlike earlier cards too this isn't just potentially great news for gamers but also for workstation users as the NVIDIA card in particular has incredible dual-precision performance

Meanwhile the 3XS team at Scan has been extremely busy, launching two new ranges of systems, the new F-Series and the SBA series with specially developed software to ease the pain of managing multiple office PCs. Read on to find out more.

1. AMD Unleashes monster dual-GPU graphics card
NVIDIA may have been the first company to announce a new dual-GPU graphics card, Titan Z, a few weeks ago, but AMD was quick to reply and actually managed to get its card out first. AMDs answer to Titan Z is the Radeon R9 295X2.

As you would imagine from its name the R9 295X2 has a pair of R9 290X GPUs on-board for a grand total of 5,632 stream processors, 352 texture units and 128 ROPs. Unusually for a dual-GPU card the GPUs aren't clocked lower than their single-GPU brethren and are clocked at up to 1,015MHz – 15MHz faster than a R9 290X. The memory, all 8GB of it also runs at a fair rate, 5,000MHz, for those that are counting. In short, the R9 295X2 is an absolute monster.

Unfortunately it's also fairly monstrous as the underlying architecture is very energy inefficient. This means that the R9 295X2 consumes a ludicrous amount of power and thus generates an equally ludicrous amount of heat. The latter is kept under control by a hybrid air/watercooling system that includes two Asetek waterblocks and a 120mm radiator and another fan on the card itself. Despite my initial reservations about the design it actually works pretty well though and is a lot quieter than a single-GPU R9 290X. That said the GPUs still ran at 92C when we tested the R9 295X2, so clearly there isn't much, if any room for overclocking with the stock cooler.

What's far more worrying is that the R9 295X2 is likely to need its own solar panel or wind turbine as AMD says it can draw up to 50A or 600W. This is a frankly ludicrous amount of power and throws the PCI-E spec, which has a limit of 300W, right out of the window. This does mean you have to be extremely careful which PSU and potentially which motherboard you use, with AMD providing some guidance on the former on its Website What this translates into is that you need a monster PSU with two 8-pin PCI-E connectors that have their own cables, i.e. they can't share a single cable and be split at the end.

That said, with two full-fat R9 290X GPUs you'd have to be the lucky owner of an 8K monitor to call the R9 295X2 slow. For example, it's arguably the first graphics card that can truly play games smoothly at 4K. What's more, AMD has made real progress in reducing micro-stuttering – the bane of all previous multi-GPU configurations. For example, in its review HEXUS found that the R9 295X2 rendered 97.7 per cent of frames within 33ms, which equates to at least 30fps, far more than any other single or dual GPU card. Put another way, the slowest 1 per cent of frames took a mere 41.1ms to render, compared to a hefty 62.3ms and ludicrous 122.7ms for the previous generation dual-GPU cards the Radeon HD 7990 and GeForce GTX 690.

The R9 295X2 is without a doubt a monster of a graphics card, delivering very high average and minimum frame rates and most importantly of all barely exhibiting any micro-stuttering. The hybrid cooling system also does a remarkable job of keeping the R9 295X2 fairly quiet considering all the processing power under the hood. However, there's no getting away from the fact it draws a ludicrous amount of power, which even if you're not an environmentalist isn't good news for your electricity bill or room temperature come summer.

That said I was pleasantly surprised to see that AMD isn't gouging enthusiasts on the price of the R9 295X2 as you can order a card now from Scan for £1,217 inc VAT. This price is actually very competitive when you think about it, as its pretty much the same as what it would cost to buy and watercool two R9 290X cards, without the downside of requiring a huge case. Anybody ordering a R9 295X2 will also be eligible for a Gold AMD Never Settle bundle, which allows you to choose three free games from a selection of top-tier titles. The big question of course is how does the R9 295X2 stack up against Titan Z, something that I'll endeavour to answer shortly with some comparative benchmarks on the 3XS Blog However, given the comparative clock speeds and architectures of the two cards it's likely that the R9 R95X2 will be considerably faster out of the box.

2. Get Watch Dogs Free with selected Nvidia Cards
The battle for your credit card is hotting up this month with both AMD and NVIDIA announcing new graphics cards and new game bundle deals. While NVIDIA's new Titan Z graphics card hasn't made its way onto the market yet, if you do buy one of the current GeForce GTX graphics cards now you'll get a voucher for the game Watch_Dogs. Set in the near future in Chicago, Watch_Dogs puts you in the shoes of a vigilante to get revenge on your family's attackers.

While you can roam around Chicago on foot or in vehicles ala Grand Theft Audio or Mafia game Watch_Dogs also gives you the chance to hack into the citywide ctOS network, enabling all sorts of creative possibilities such as hacking your targets smartphone and controlling traffic lights, trains to trap them. Watch_Dogs is due to be released on May 27th and will be bundled for free with any new GeForce GTX 660, 660 Ti, 670, 680, 690, 760, 770, 780, 780 Ti or Titan graphics card bought from SCAN.

3. Meet the SCAN F-Series
Scan's 3XS system integration division has been thousands of PCs every month for the last ten years, but until now our focus has always been on highly individual, high value PCs for both businesses and gamers.

As of this month however we've decided to branch out and offer a wider variety of systems. These new F-Series PCs will be advertised and sold through the main Scan website and have been designed to meet different requirements. The first F-Series PCs are affordable home office PCs that have been very keenly priced – they all retail for as little as £220. There are a variety of Intel and AMD configurators to choose from and Scan can install Windows if you buy it at the same time.

Over the coming months we'll be expanding the F-Series range; in the meantime you can check out this range of fantastic value-for-money PCs on the SCAN Website

4. How good can a pair of headphones be?
Nowadays, with the proliferation of earphones and buds given away by mobile phone manufacturers, and the accompanying lack of expectation this has delivered, you'd be forgiven for thinking that no-one could ever use headphones in any serious capacity, especially not to mix a track in anger.

So let us introduce to you, one of the best pairs of headphones in the world. A pair of headphones on which it is perfectly possible to mix a track, because they sound better than most home studio reference monitors. A pair of headphones that is exclusively available in the UK through Scan Pro Audio. And finally, a pair of headphones that costs just under £1,800.

If you're interested, do give our Tom a ring on 01204 4747463 to find out how amazing the new Audeze headphones are.

5. Introducing Scan Business Advantage
As a business owner, you have enough things to worry about without having to manage all the PCs in your office. That's why Scan has developed a new range of office PC's to ease this process. These PCs use Scan Business Advantage software, which was developed in conjunction with Intel.

SBA can backup your important files, update software and even maintain your security software all without having to sit in front of the PC, saving you countless hours of manual maintenance every month. SBA can also block USB ports, preventing staff copying confidential business files without permission. SBA can also automatically power-down idle PCs if your staff forgot to turn them off at the end of the day, saving you wasted electricity on your power bill every month.

The epitome of a high-end, modern-day gaming PC
HEXUS has just published its review of the new Scan 3XS Z87 Hadron Hydro gaming PC. This is a tiny mini-ITX gaming rig with a watercooled and overclocked CPU and graphics card built inside the EVGA Hadron Hydro case.

HEXUS wrote that the 'Scan 3XS Z87 Hadron Hydro is the epitome of a high-end, modern-day gaming PC' and that 'you have superlative all-round performance in a well-built package that's way smaller than most gaming rigs'.

You can read the full review on HEXUS and find out more about the 3XS Z87 Hadron Hydro on the Scan 3XS Website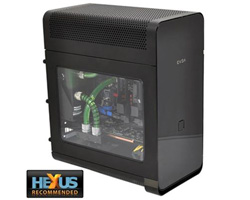 A powerful laptop with a great battery life and keyboard
Expert Reviews has just tested our 3XS Graphite LH145 home/office laptop, concluding that 'If you want a capable laptop that you can rely on while on the move, the LH145 is a great choice.' The LH145 is a thin and light home/office laptop with a 14in screen and Intel Core i5 4200U processor.

The review also said that 'It's capable of tackling multiple programs at once without too much slowdown. This is the same score as many more expensive Ultrabooks, so you're getting a lot of power for your money. The LH145's slim dimensions aren't too dissimilar from an Ultrabook either.The LH145 isn't just powerful; it's great for working on too, as the laptop's bouncy keyboard gave lots of tactile feedback while typing. You should be able to get a good day's work out of the LH145, as it lasted a huge 9 hours and 25 minutes.

You can read the full review at Expert Reviews and find out more about the Scan 3XS Graphite LH145 home/office laptop on the Scan 3XS Website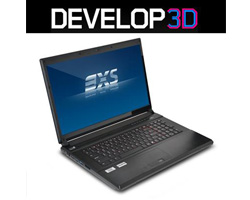 A well-conceived workstation
The March issue of 3D World magazine hit the shops recently and contains a review of our 3XS GW-HT15 graphics workstation.

Comprising a 6-core Intel Core i7 5820K processor overclocked to 4.2GHz, 16GB of Corsair DDR4 and a 4GB NVIDIA Quadro K4200, the review found that the GW-HT15 "offers top-end modelling plus excellent rendering for a single-socket workstation" and concluded that it's "a well-conceived workstation".