SCANZONE
30.02.15 | ISSUE 28
Compared to the rash of announcements at the CES show in January, February is often a slow month in the IT world. However, while there may not be as many new products launching at this time of year there's plenty of interesting new tech emerging. For instance, we've secured the UK exclusive on the world's first AMD Freesync monitor, the LG Flatron 34UM67. In its busiest month in a long time AMD has also started to reveal details on its next-gen range of APUs, codename Carrizo. Also don't forget to check out the crowdfunding campaign for the awesome new RPG Underworld Ascendant.

1. Stutter free FreeSync monitors now available
FreeSync is AMD's answer to NVIDIA's revolutionary G-Sync technology that remove tearing and stuttering from your games. Both work in the same way, syncing the refresh rate of your monitor with the frame rate of your graphics card, delivering a far smoother and more enjoyable experience in games.

However, while you've been able to buy an NVIDIA G-Sync monitor for nearly a year and half, up till now FreeSync monitors have only existed on paper. That's all going to change this month as Scan has secured the UK exclusive on stock of the world's first FreeSync monitor, the Flatron 34UM67. With its 34in superwide display 34UM67 looks simply stunning, especially as it has a high quality IPS panel instead of a lower quality TN panel. With a native res of 2560 x 1080 it provides double the viewing width of a standard 1920 x 1080 monitor, giving you a much wider field of view in games or allowing you to view double the documents at once in Windows.

Retailing at £499 inc VAT the LG Flatron 34UM67 is the same price as the non-FreeSync 34UM65-P, so it's great to see that Freesync hasn't inflated the price of this monitor. As such, for any gamer who owns an AMD Radeon R9-series graphics card it's well worth checking out as a tearing and stutter free monitor makes a huge difference to your gaming experience.

2. New Intel SSDs are faster and more reliable than ever
Last summer Intel unleashed its first PCI-E SSDs that used the new NVMe standard to deliver unprecented read and write speeds of up to 2600MB/sec, nearly five times more than a SATA SSD. That's not to say that SATA is dead and buried though. Most drives, be they HDDs or SSDs will continue to use the SATA bus for the next couple of years as NVMe drives still command a hefty price premium.

For this reason Intel has just updated its enterprise-class SATA SSDs. You can easily tell which are the new drives as they all have a 10 in the name. For instance, the S3700-series has been replaced by the S3710-series. The new S3710 drives have received a nice shot in the arm when it comes to performance, with the sequential read speed jumping from 500 to 550MB/sec and the sequential write speed leaping from 460 to 520MB/sec. This is made possible by the use of smaller 20nm NAND flash while the older drives were made from 25nm transistors. Like their forebears the S3710 drives are optimised for write intensive applications so have incredible endurance. In the case of the 400GB S3700 this was an unprecedented 7.3PB of writes per day, but in the same capacity S3710 this is now a staggering 8.3PB of writes per day, more than double that of competing drives from other manufacturers. The final good bit of news is that despite these improvements the S3710 drives are around 15% cheaper than the S3700 drives.

While Intel hasn't updated the read-optimised S3500 series yet, it has also launched a new range of drives, the S3610 series. This sits mid-way between the S3500 and S3710 series', striking a good balance if you have a mix of read and write workloads on your server. Available in capacities from 200GB to 1.6TB, the S3610 drives have a sequential read speed of 550MB/sec and sequential write speed of 520MB/sec with an endurance of 3PB of writes per day on the 400GB model. As you'd expect from their specifications, the S3610 are priced midway between the S3500 and S3710 drives. You can check out the full range of Intel enterprise-class SATA SSDs on the Scan website and in our fully-configurable range of 3XS Servers

3. AMD teases more details about its upcoming processors
There have been rumours about a new AMD processor architecture going round the Internet for months now, but at the International Solid-State Circuits Conference this month the company finally started to reveal some solid info.

The new architecture, codenamed Excavator is being developed for a new range of low power APUs, which in turn have their own codename, Carrizo. These chips are first and foremost aimed at the mobile market, specifically laptops.

While Carrizo chips will be made using the same 28nm manufacturing process as current Kaveri APUs, there are a number of key improvements that should make a huge difference. For instance, rather than featuring a separate Southbridge on the motherboard, Carrizo has an integrated Southbridge. This change should slash power consumption as the integrated Southbridge will be made using 28nm transistors, rather than less efficient 65 or 45nm transistors used in Kaveri's discrete Southbridge and will be power managed along with the rest of the processor.

The end result is a fairly large chip, with Carrizo weighing in at 3.1 billion transistors versus 2.3 billion for Kaveri, however AMD claimed that the architectural improvements will reduce power consumption by a staggering 40%. AMD also claimed that the Excavator architecture will deliver a 5% boost to IPC (instructions per clock), principally from doubling the L1 data cache from 64 to 128KB.

With a release scheduled for Q2 this year it's not long now till we can look forward to seeing some of these new APUs in action, perhaps as early as the Computex show in June.

4. Speedy new graphics cards in Scan 3XS gaming PCs
Scan's 3XS system building division has won hundreds of awards for its high performance gaming PCs and now those same systems have been given a shot in the arm. Partnering up with EVGA we've developed a 3XS Edition range of cards based on NVIDIA's popular 9-series GPUs, the GTX 960 and GTX 970. The 3XS Edition GTX 960 ships with a substantial GPU overclock, from 1127 to 1279MHz, giving it a big boost in games and thanks to Scan's buying power costs you £8 less than the equivalent EVGA retail card. The 3XS Edition GTX 970 has even bigger GPU overclock, from 1050 to 1190MHz and costs less than a stock-speed GTX 970!

To help show off these super-fast and bargaintastic new cards to your mates both 3XS Edition EVGA graphics cards feature glowing LEDs and EVGA's ACX 2.0+ cooler which the reviewers at HEXUS described as "produces no noise when idle… and they remain suitably quiet when gaming".

5. Enjoy more free games on your Shield tablet
Over the last few months NVIDIA has been steadily building up the library of games on its free Grid gaming service for owners of its award-winning Shield tablet. This month NVIDIA has added three more high profile games, the shooter Saints Row IV which scored 86 on Metacritic, the adventure game Alan Wake which scored 83 and the shooter Metro Last Light: Redux which scored 76. Point your web browser to the Grid website to view the complete list of games that you can play for free on your Shield Tablet.

6. Prepare to journey back to the Underworld
1992 was a fantastic year to be a PC gamer, with Dune II inventing the RTS genre, Wolfenstein 3D inventing the FPS and Ultima Underworld the freeform RPG. All these games spawned a myriad of sequels, knock-offs and clones, although I think it's fair to say that none really captured the magic of the original Underworld.

However, thanks to the joys of crowdfunding, some of the original team behind Ultima Underworld have formed a new company, Otherside Entertainment and have started work on a new Underworld game: Underworld Ascendant. The new game promises an 'Exquisitely Realized Underworld' and the 'Improvisation Engine', giving players the freedom to explore and solve challenges how you want and not be limited by the scripted solutions used by most games.

You can check out the crowdfunding campaign for Underworld Ascendant on Kickstarter, where there is plenty of concept art, screenshots and videos for you to view to see how the game is shaping up. I can't recommend checking out Underworld Ascendant strongly enough, on Kickstarter plus you can also check out Underworld Ascendant on Steam Greenlight.

7. Get ready for faster web browsing with HTTP/2
HTTP, the Hypertext Transfer Protocol is one of the fundamental building blocks of the web, providing a way for servers and clients to communicate so you can browse the web. The last major update to HTTP was way back in 1999 with the 1.1 version of the protocol.

That's all set to change soon though as the IETF HTTP Working Group, the organisation in charge of defining the HTTP spec is getting close to releasing a new version. The focus behind the development of HTTP/2 is increased efficiency, with a special focus on reducing the number of separate connections a client makes with a server. Instead, HTTP/2 communications will be multiplexed; interleaving messages together thus reducing strain on the server. This should also benefit mobile devices too, which are very vulnerable to packet loss when opening lots of simultaneous connections to a server.

HTTP/2 also includes the ability for a server to proactively send data to the browsers cache before it is requested. The new protocol should also help with security, as the improved efficiency of communications means that security layers such as TLS no longer have such a noticeable performance overhead.

HTTP/2 hasn't been finalised yet, but now that the IETF and IESG, the organisations in charge of engineering the Internet, have published the draft HTTP/2 spec it won't be long till web servers and browsers start using the new, more efficient protocol

A well-conceived workstation
The March issue of 3D World magazine hit the shops recently and contains a review of our 3XS GW-HT15 graphics workstation.

Comprising a 6-core Intel Core i7 5820K processor overclocked to 4.2GHz, 16GB of Corsair DDR4 and a 4GB NVIDIA Quadro K4200, the review found that the GW-HT15 "offers top-end modelling plus excellent rendering for a single-socket workstation" and concluded that it's "a well-conceived workstation".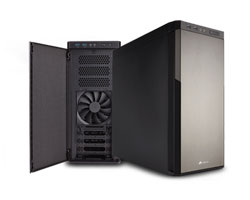 One of our favourite desktop-replacement laptops
The April issue of Computer Shopper magazine has a big round up of gaming laptops, including our 3XS Graphite LG156.

The LG156 is a mid-range gaming laptop with a 15.6in screen, GeForce GTX 860M graphics and is configurable with your choice of Intel processor, memory and storage for as little as £827 inc VAT. Despite being up against stiff competition the LG156 scored 5 out of 5 and walked away with a Recommended Award, being described as "one of our favourite desktop-replacement laptops".