SCANZONE
29.05.15 | ISSUE 31
May in the UK means a mixture of sunny days and sudden rainstorms, and the IT industry has done its best to echo the weather, with a mixture of good and bad news. The good news is that there's some awesome new tech just around the corner, including the world's first curved G-Sync monitor, the delectable Acer Predator. The bad news is that Windows Server 2003 is going to kick the bucket soon, so any servers running this will be particularly vulnerable after the end of July. Read on to find out more.

1. Is this the world's most desirable monitor?
Ever since I rushed down to NVIDIA's office on a cold wet day in autumn 2013 to get an exclusive preview of G-Sync I've been big a fan of the technology as it really does a great job of minimising tearing and stuttering when playing games. Since the initial unveiling at Christmas 2013, we've seen 1080p monitors, 4K monitors, the awesome Asus RoG Swift and more recently the first IPS G-Sync monitor, the incredibly popular Acer Predator XB270HU.

This month, Acer unveiled details of what I'd personally consider to be the most desirable monitor in the world, the Predator XR341CKA. What makes this monitor so special is that it ticks every box I can think of: G-Sync, an IPS panel, a curved screen and a resolution of 3K. The latter might sound counterintuitive given that higher resolution 4K and 5K monitors are also available. However, for gaming, a 3K monitor, with its resolution of 3440 x 1440 is arguably superior, as its super wide aspect ratio provides a more immersive experience, especially in first person shooters and simulators.

You can pre-order the Predator XR341CKA on the Scan website today with delivery due in late June.

2. Free games with GeForce GTX
Since March you've been able to claim a free copy of The Witcher 3: Wild Hunt when buying a NVIDIA GeForce GTX 970 or 980 graphics card or laptop with a GeForce GTX 970M or 980M GPU. This month NVIDIA has expanded the offering, adding a free copy of Batman: Arkham Knight if you buy a GeForce GTX 970 or 980 graphics card. NVIDIA has also released a new driver, 352.86, which includes optimisations for The Witcher 3: Wild Hunt.

3. Support for Windows Server 2003 ends soon
After a lengthy 12 year lifespan Microsoft is calling time on Windows Server 2003 and will stop providing support for the ageing operating system on July 14th. The ending of support introduces a number of risks which any business that relies on the software should be aware of. For instance, no more patches or security updates will be released, leaving any system running Windows Server 2003 vulnerable to new security threats such as malware and exploits. In addition, Microsoft will no longer provide technical support, and while the OS will continue to run it will no longer be compliant with healthcare and payment card industry (PCI) standards, which could result in your business being fined or being unable to trade with your customers and suppliers.

Given the risks involved with the end of support for Windows Server 2003 it's well worth migrating to Windows Server 2012 as soon as possible. Not only is Windows Server 2012 still receiving regular updates, it's also able to take advantage of new trends such as virtualisation, cloud computing and BYOD. In addition it scales much better on modern hardware than Server 2003. If you need help migrating, Scan's has a dedicated server team that can offer you more guidance.

4. AMD unveils more info on its next-gen CPUs and APUs
AMD might still be struggling to stay in the black, but at a recent event the company revealed some tantalising details about its plans for the year ahead. From an x86 perspective AMD is putting all its eggs in one basket, the new Zen architecture, which should start to appear in desktops, laptops and servers in 2016. Zen promises a heady 40% increase in IPC (instructions per clock) over existing processors based on the ageing Bulldozer architecture and its successors, which should make the CPUs much more competitive with Intel.

At this stage there are no details on the number of cores, clock speeds or cache architecture, though it will feature SMT (Simultaneous Multi-Threading), which like Intel's Hyper-Threading allows one core to process two threads in parallel and will support DDR4 memory. For desktop PCs, Zen will use the new AM4 socket, which will also be used for lower-cost APUs.

AMD is also developing new Opteron server CPUs based on Zen, plus the Opteron A1100-series, which use the ARM K12 architecture rather than x86.

In the more immediate future you can expect to see AMD's 6th generation APUs launch soon. Codenamed Carrizo, these are based on the Excavator core, the final iteration of the ageing Bulldozer architecture and are optimised for the laptop market.

5. Next-gen AMD graphics cards to debut with HBM memory
AMD also has big plans for its graphics card division for the year ahead. Firstly, we'll soon see a brand new high-end GPU, codenamed Fiji XT, the first GPU on the market to use HBM (High Bandwidth Memory). This new type of memory comprises DRAMs stacked on top of each other in a 3D array, directly attached to the GPU via an interposer, as opposed to separate modules on the graphics card.

According to AMD, HBM delivers three times more performance per watt than discrete GDDR5 modules. Fiji XT should be available in the next month or two and certainly looks very promising. Later in 2016 this new architecture will be further improved by the use of FinFET transistors which should deliver a further doubling in power efficiency.

Unfortunately, rather than scaling the new Fiji XT architecture across its entire product range, AMD will instead use tweaked versions of its existing GPU architectures for its mid-range and low-end GPUs in 2015. For instance, the soon to launch R9 380 looks on paper to be remarkably similar to the existing R9 285, with the same 1792 stream processors and 4GB of GDDR5. Even more disappointingly some of the other 'new' 300-series GPUs appear to be based on even-older designs. For instance the R7 370 has 1024 stream processors, and 2GB or 4GB of GDDR5 and so would appear to be based on the Pitcairn Pro GPU which was used in the R9 270 and even older HD 7850, a three year old design.

6. Stream games via your Shield at 1080p
NVIDIA's Shield tablet already has a massive advantage over the competition by being able to stream games from your PC or via the cloud using GRID. Up till recently the latter was limited to 720p, but NVIDIA has now released an update unlocking support for streaming GRID games at 1080p. This ups the bandwidth required considerably, from 10 to 30Mbps, but as with any increase in resolution massively increases the clarity and detail of games. You can sign up for the trial version of the newly upgraded GRID service on the NVIDIA website.

7. Intel sets 20 new world record benchmark results
While the single-processor Xeon E3 1200 V3-series and dual-processor capable Xeon E5 2600 V3-series account for the vast majority of servers, there is a small market for servers processing real-time analytics with four or more CPUs. This month Intel launched two new processor series to cater for this market, the Xeon E7 4800 V3-series for quad-processor servers and the Xeon E7 8800 V3-series for eight-processor servers.

The new V3 CPUs feature up to 18 cores and 45MB of cache compared to a maximum of 15 cores and 37.5MB of cache for the previous generation V2 processors. And as the V3 CPUs are based on the Haswell architecture they also gain support for TSX, AVX 2.0 and FMA. The former is a real game changer as it can provide a massive speed increase of up to 5.9x in software that has been recompiled to take advantage of it.

Coupled with a switch from 1600MHz DDR3 to 2133MHz DDR4, Intel claims that the new V3 CPUs have set 20 new world record performance in enterprise benchmarks such as SAP HANA, SAP SD and TPC-H. If your business performs real –time analytics then drop an email to our technical specialists in our 3XS system division to discuss your requirements.

8. Limited edition 3,400MHz DDR4 now available at Scan
Conventional thinking has it that red makes things go faster, but for its latest 16GB DDR4 memory kit Corsair has opted for an orange colour scheme. Designed to make the most of the Gigabyte GA-X99-SOC-Champion motherboard, the Corsair Dominator Platinum Orange is designed to run at a nippy 3,400MHz, making it one of the fastest DDR4 kits in the world. Despite this incredibly high frequency the latency timings are still pretty tight, at 16-18-18-40. To ensure you get the best possible overclock Corsair bundles the kit with its Dominator Airflow module that sits over the DIMMs, keeping them cool with a pair of 50mm fans. You can customise the kit further if you have Corsair Link, which allows you to change the colour of the LEDs in the Airflow or by adding a white or blue lightbar on the top of the DIMMs.

9. NVIDIA summer gaming event
Scan will be rolling out the green carpet and holding an exclusive NVIDIA gaming event, on Saturday 6th June at 10am in our showroom in Bolton.We will be holding many different tournaments where you can win some great prizes, there will also be product demonstrations so you can see their performance and try before you buy, there will be cosplayers, live streams, food & drink and more. Scan and NVIDIA have teamed up to bring you an incredible giveaway. For the first 250 people that pre-register and turn up to the event will receive FREE game digital download codes for the new Batman: Arkham Knight, Dying Light and another great game. That's right! 3 FREE games worth £120 just for turning up! So make sure you pre-register and be there early to get your games! The main events throughout the day will be the gaming tournaments with a cash price of £500 for the tournament champion. Each tournament will have its own set of prizes and rules as usual no professional players are allowed to compete in keeping with the social fun theme of the event. We will have a great selection of tournaments for you to enjoy from action to racing and sports games. You can get directions and Register for the Event here.

A top mid-range choice
This month Expert Reviews took a look at our new mid-range gaming laptop the 3XS Graphite LG157. This 15.6" laptop has a powerful Intel Core i7 4720HQ processor, NVIDIA GeForce GTX 960M graphics with a backlit keyboard and high quality IPS screen. The review configuration included a super-fast 120GB SSD and 1TB hard disk all for just £949.99 inc VAT, but like all our laptops the configuration can be customised to your requirements. According to the review the LG157 is 'thinner, lighter and better made than its predecessors while maintaining a classy, understated design for gamers and power users who don't want to show off. It excelled in our benchmarks. One of the biggest benefits of the new chassis is an improved display, which switches out the TN panel found in previous 3XS laptops with a superior IPS panel.'

The review concludes with a score of 5 out of 5 and a Best Buy award for the LG157. You can find out more about the LG157 on the 3XS website and read the full review on Expert Reviews.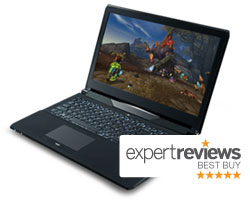 A hugely powerful workstation, with no weakness in any area
Announced a couple of months ago, the Quadro M6000 is NVIDIA's most powerful professional graphics card, and with 3072 cores and 12GB of GDDR5 memory is optimised for photorealistic visualisation and complex simulations.

So what better to pair the Quadro M6000 with but a pair of Intel Xeon E5 2687W V3 processors inside a Scan 3XS graphics workstation. The reviewers at 3D Total certainly agree, describing the Scab 3XS GW-HTX35 workstation as 'showcases the capabilities of the NVIDIA Quadro M6000 perfectly' and that it's 'modelling performance is the best we have seen'.

The review concludes with a score of 4 out of 5 and this thought 'The Scan 3XS GW-HTX35 is a monster of a system, with dominating performance in every respect'.

You can read the full review on 3D Total and check out the GW-HTX35 in more detail on the 3XS website.