SCANZONE
05.05.17 | ISSUE 50
While there's been plenty of new hardware to salivate over this month, and lots more to come later this summer that I can't tell you about quite yet, the most notable event this month was the debut of the Creators Update for Windows 10, which adds lots of hot new features including a Game Mode. Read on to find out more.

1. Windows 10 Creators Update
The Creators Update is the second major content pack for Windows 10, following on the Anniversary Update released in August last year. Much like the old Service Packs of old, the Creators Update adds lots of new features to Windows, these being the highlights.

Game Mode is the one of the most intriguing features in the Creators Update, and can be enabled via the new Game Bar which is accessed via the Settings menu or pressing the Windows key and G. Comptabile with both standard Win32 games and UWP games, Game Mode aims to smooth out inconsistent frame rates by prioritising the game exectuable over background tasks and applications such as security scans. However, in our testing with high-end 3XS PC with a powerful CPU and GPU Game Mode didn't appear to make any appreciable difference, although on more basic hardware such as entry-level laptops Game Mode should add a few more frames per second. One of the main reasons Game Mode doesn't make much of a difference is that Scan's own 3XS Systems are not pre-installed with a ton of bloatware as standard, which helps to avoid the problem of uncessary background tasks to start with.

Another new feature for gamers is sharing your gaming moments using the streaming service Beam, which is much like Twitch or Youtube. Accessed via the aforementioned Game Bar, Beam enables you to chat with viewers while you stream, although you can expect to pay around a 10-15% performance penalty when streaming, so you'll need a powerful system to maintain a smooth frame rate.

Paint, the basic image editing application that has been bundled with Windows since the dawn of time has been given a new lease of life in the Creators Update. Alongside the basic version is a new version Paint 3D, which allows you to create artwork with 3D objects rather than the basic flat 2D imagery of standard Paint. While most adults will probably grow bored of Paint3D within a few minutes, I can see it providing hours of entertainment for younger PC users.

With the explosion in different mobile devices running Windows 10, it's increasingly common to be using your system at night, which can be bad for your sleep pattern as blue light reduces the production of melatonin, the sleep inducing hormone. The new Night Light feature seeks to reduce this problem by adjusting the colour balance of your display late at night by displaying warmer colours.

The Creators Update is freely available now and is included as standard with any 3XS system ordered with Windows 10.

2. NVIDIA Titan Xp review
High-end graphics cards are like buses, you wait ages for one and then several arrive in quick succession. After last month's launch of the incredibly popular GeForce GTX 1080 Ti, NVIDIA's back again with another new card, the Titan Xp.

Despite the only name difference being the little lowercase p on the end of the name, the new Titan Xp is a big step up from the previous Titan X. The biggest upgrade comes from upping the core count from 3584 to 3840, the first time a non-Quadro card has been able to tap into the full potential of the GP102 die. Clock speed has seen a decent boost too, rising from 1531 to 1582MHz, while the RAM has been boosted from 10Gbps to 11.4Gbps. Speaking of the RAM, it stays at 12GB, although don't forget that is 1GB more than the 1080 Ti.

Now that the 2016 version of Titan X is no longer available we compared the new Titan Xp against the 1080 Ti. NVIDIA's new flagship card didn't take long to show its prowess, running games around 6% faster than the 1080 Ti, making it the new king for 4K gaming. However, we only measured a meagre 3% performance difference in Premier Pro, which suggests that you're better off spending your money on faster storage or more RAM instead.

The NVIDIA Titan Xp is so fast NVIDIA decided it was only sensible to make it available in professionally built PCs, so our 3XS Systems engineers have been busy working on an exclusive new range of gaming PCs featuring Titan Xp, which are available pre-built for next-day delivery or custom built to your requirements.

3. Intel Optane Memory review
Intel Optane Memory is the first product to market that uses 3D XPoint, the new memory technology developed by Intel and Micron that eventually aims to replace both DRAM and NAND.

Optane Memory isn't an SSD though, despite being sold as a M.2 PCI-E device. Instead, it's a low capacity storage device that caches the data most commonly loaded from your boot drive, accelerating load times. It does this through a set of clever algorithims that are controlled by the Intel RST driver in Windows, and so requires a motherboard featuring an Intel 200-series chipset and a 7th generation Kaby Lake Core i3, i5 or i7 processor.

Two models are avaialble to start with, a 16GB module that caches blocks and a 32GB module that caches blocks and files. Once enabled in the Optane application in Windows, the algorithims only take a few cycles to start caching data, resulting in some pretty impressive performance gains. For instance, in our own testing Optane was able to reduce the Windows boot time from 45 to 24 seconds after 3 reboots compared to a 7200rpm HDD. Bulky applications such as Photoshop also saw a big speed up too, loading in 6 seconds on Optane compared to 30 seconds from a HDD. Impressively, both these results are in line with loading the Windows and Photoshop direct from a SATA SSD.

We also benchmarked Optane Memory loading several complex games such as ARK and Arma 3. Once again Optane enabled the system to load the games much faster than from a HDD, although the SATA SSD was slightly faster.

Intel Optane Memory is a great way to speed up Windows, application and game loading times on a PC that uses a HDD as its primary storage and is very easy to setup, requiring no configuration or maintenance. However, it's worth noting that like any caching device, Optane Memory can't store all your applications and games, so when there is a cache miss, performance is no better and sometimes worse than loading from a HDD.

The real tragedy though is that Intel has locked Optane Memory down to 200-series chipsets and Kaby Lake CPUs as there are literally millions of PCs out there that still use a HDD and would massively benefit from a more responsive experience. Hopefully over time these limitations may change, but in the meantime it's worth considering some Optane Memory as a cost effective upgrade for a budget PC if you can't afford the premium of an SSD.

Intel Optane Memory modules are available standalone or integrated into one of our award-winning 3XS systems.

4. Oculus Rift now available at Scan
Until direct neural connections are available the most immersive way to play games or watch films is in VR. We're therefore very excited that we now stock both market leading PC VR headsets, the HTC Vive and now the Oculus Rift.

Unlike the Vive, the basic Rift does not support room-scale experiences, so you pick one up for a much more affordable £499, a massive £259 cheaper than the Vive. Room scale adds a whole extra way of interacting with your PC, but if you don't have the space or play games sat down such as space and flight simulators the Rift is ideal.

Alternatively we offer a bundle of the Rift with a pair of handheld Touch Controllers which are used to track your hand movements, instead of using a traditional PC controller such as keyboard and mouse or joystick.

The full range of Oculus Rift and HTC Vive VR headsets and accessories are available now, plus a range of VR Ready gaming PCs and gaming laptops plus VR content creation workstations.

5. AMD Ryzen 5 CPUs
Ryzen 7 marked AMD's long awaited return to the high-end CPU market, and with Ryzen 5 there are now some more affordable Zen-based processors to consider.

While all the Ryzen 7 CPUs were 8-core CPUs, Ryzen 5 is available in quad-core and 6-core models. For example, the entry-level Ryzen 5 1400 which sells for £169 is a 3.2GHz quad-core, while the top model is the Ryzen 5 1600X which sells for £249 and has six cores running at 3.6GHz. This pricing means that the four Ryzen 5 CPUs are squarely aimed at Intel's Core i5 processors, which are all quad-core models.

As most game engines are not very heavily multithreaded and so clock speed and IPC (instructions per clock) are more important, Ryzen 5 isn't as good a choice as Core i5 for a pure gaming system, although Ryzen 5 is by no means slow. However, in content creation type workloads such as video encoding Ryzen 5 is generally faster than Core i5, especially the two 6-core models.

It's great to see AMD flesh out the range of Ryzen processors, making full use of the Zen architecture which now scales from quad-core, to 6-core and 8-core CPUs. The full range is available to buy now standalone or as part of a 3XS system or overclocked bundle.

6. AMD Radeon RX 500-series graphics cards
AMD's mid-range RX 400-series of graphics cards are getting close to a year old now, so this month are getting a refresh. The new RX 500-series aren't wholly new GPUs as they are based on the same Polaris architecture as the RX 400s. They made on the same 14nm process too, and have the same number of cores as well. That's 2304 in the RX 480/580 and 2048 in the RX 470/570.

So what is new? AMD has ramped up the clock speeds a fair whack, squeezing the 1266MHz of the RX 480 up to 1340MHz in the RX 580. While this only boosts the average frame by around 2fps it does provide a more meaningful boost to the all-important minimum frame rate, making games feel smoother and more enjoyable. Meanwhile the 1206MHz of the RX 470 has been raised to 1266MHz in the RX 570, which again does very little for average frame rates but does help the minimum a fair bit.

While the new Radeon RX 500-series cards are a very minor upgrade over the older RX 400-series and certainly not worth switching up from, they're still a solid choice for a mid-range gaming PC.

"Smart, subtle and very fast"
Custom PC took a look at our 3XS Vengeance Ti high-end gaming PC, which features GeForce GTX 1080 Ti graphics, an overclocked Core i7 7700K processor and RGB lighting system.

Scoring 90% and winning a Premium Grade Award Custom PC wrote that 'Build quality is great too – cables are immaculately routed on both sides of the motherboard. The GTX 1080 Ti is a beast. The Scan delivered three-figure minimums in Fallout 4 and The Witcher 3. Nvidia's latest card really excelled at 4K. The Vengeance kept quiet, with a low hum during idle periods that barely became any louder during gaming. The Scan 3XS Vengeance Ti is smart, subtle and very fast. The overclocked GTX 1080 Ti is a monster card that ploughs through any current game, and it's bolstered by a great processor and solid components elsewhere. The blistering GTX 1080 Ti is paired with great components, a solid build and a good price.'

You can configure your own 3XS Vengeance Ti on our website.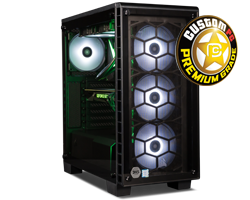 "The 3XS Nanu has plenty to offer"
3D World magazine took a look a small form factor Pro Graphics workstations this month.

The article includes a review of our 3XS Nanu Classic 3D workstation, which is designed for 3D modelling, basic animation, texturing and rendering such as 3DS Max, Cinema 4D, Creative Cloud and SolidWorks. 3D World wrote that it features the 'excellent new NVIDIA Quadro P4000 graphics card' and that 'the six-core processor acquits itself well in rendering', concluding that 'this is a very capable system' and giving out a Highly Commended Award.

You can configure your own 3XS Nanu Classic 3D on our website.