SCANZONE
31.10.12 | ISSUE 01
Hi there, Welcome to the first edition of Scanzone, the monthly newsletter from Scan that we've created to let you know more about what's going on the IT industry. Scanzone includes news on the latest technology and trends and highlights what Scan and its partners are up to. You'll also find out what are the hottest selling products are at Scan and find out what the press think of Scan's latest 3XS PCs and laptops.

1. Microsoft launches Windows 8
New look and feel

Windows 8 has a new interface that replaces the crowded Start menu with a Start screen that uses the whole screen area to highlight your favourite applications in large tiles. These tiles aren't just passive buttons though; they are active, and have the ability to provide real-time updates, such as previews of incoming emails, weather reports and your friend's latest posts on social media sites such as Facebook and Twitter. The new interface makes it much quicker to run applications and is equally suited to those using a mouse or touchscreen

Under the Hood

Power users and gamers will also find lots new to like in Windows 8. For example, the new Windows Display Driver Model 1.2 introduces support for stereoscopic 3D games and films. Windows 8 also has improved support for multiple monitors, such as the ability to span the taskbar across more than one screen. Microsoft has also given Task Manager an overhaul so that it now reports more data, including how much network bandwidth each application is using. Finally, the new VHD (virtual hard disk format) supports drives of up to 16TB; perfect for storing all your games, movies and music.

Windows 8 Pro

With Windows 8 Pro you get everything in Windows 8, plus enhanced features that help you easily connect to company networks, access files on the go, encrypt your data and more. You can find out more at our special Windows 8 shop.

2. Nvidia unleashes GeForce GTX 650 Ti
Nvidia is on something of a roll right now, with it's GeForce GTX 670 and GTX 680 cards ruling the high-end of the graphics card market for quite a few months. However, up until now, gamers on a tighter budget have not been able to move up to the GeForce 600-series and take advantage of all the goodness that its Kepler architecture brings.

That all changed on the 9th October though, when Nvidia roled out the more modestly priced GeForce GTX 650 Ti. The GTX 650 Ti boasts 768 CUDA cores running at 928MHz and 1GB of GDDR5 memory clocked at 5,400MHz. It only has a single 6-pin PCI-E power connector so draws very little power.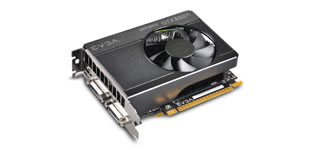 With prices starting at £117 inc VAT, the GTX 650 Ti offers a huge step in performance from previous generation graphics cards. For example, the GTX 650 Ti can play leading games such as Battlefield 3 smoothly at 1,920 x 1,080, the resolution of most 24in monitors, a huge step up from the jerky frame rates produced by older cards such as the GTX 460.

3. Korg Keyboard Authorised dealer
Hopefully, many of you will have noticed the emergence of our 'Pro' divisions over the last few months. The Scan 'Pro Audio' division are today pleased to announce that we are carrying some new Premium brands, and look forward to doing business with you in these areas.

KORG: Korg are the manufacturers of some of the finest professional synthesisers ever created. Along with their Pro range, they also make fine digital Pianos for the stage and the home as well as effects units for Guitars and Basses, and the worlds largest range of Tuners.

VOX: The legendary Vox brand has been associated with many top names and bands over the years (most notably the Beatles use of the Vox AC30, or latterly Brian May from Queen) In recent times, their move towards digital amplification has created some very high quality 'modelling' amps and pedals.

SAMSON: In 1980, Samson introduced their first wireless microphone system. Over the years, Samson has become a leader in the wireless field. In the early '90s, they began to expand the reach of their audio products through the development of power amplifiers, mixers, wired microphones and signal processors. In 2005, they introduced the first professional USB microphones to be used by musicians, broadcasters and podcast enthusiasts. Samson USB microphones are now the industry standard.

HARTKE: Hartke revolutionized the world of bass amplification in 1985 with the creation of a unique aluminum cone driver that produced a bass tone with far broader dynamics than had ever been heard before. They have gone on to create a full line of bass amplifiers, cabinets and combos that are used by some of the world's greatest musicians.
Look out for the KORG competition on next months issue - Coming Soon ! Massive prizes to be given away !
4. Scan unveils new servers
Scan's 3XS team has been busy working away over the last few months and is now ready to unveil a whole range of 3XS rackmount servers. The new servers fall into three main catergories; General Purpose, Storage and GPU/HPC.

The four new General Purpose servers are all 1U rackmount units that vary in capability and price.

The range starts with a single-socket Ivy Bridge server with two drives that starts at a very affordable £802ex VAT, so is ideal for small businesses.

Other models in the range add more capabilities, such as support for the latest generation of 8-core Intel Xeon E5-2600 processors, hot-swap hard drives and redundant power supplies.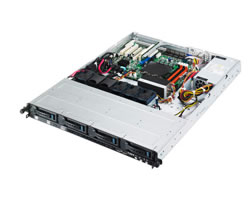 Among the new servers, you'll also find models specially designed for file hosting, such as the 3XS RS720-E7/RS12-E, which despite only being a 2U unit, can support up to 12 hot-swap hard drives.

Scan is also proud to unveil it's first ever GPU/HPC server, the 3XS 5017GR-TF-FM209. This innovative and compact 1U server packs in a huge amount of computational power thanks to its two Nvidia Tesla M2090 processing cards. This makes this new server ideal for unleashing the amazing parallel processing power of the CUDA compute platform.
5. Scan introduces gaming laptops
Scan is excited to announce that it now has its own range of gaming laptops. Unlike other so-called 'gaming laptops', all of our Graphite mobile gaming systems have high performance GPUs so you can enjoy DirectX 11 games at their best. Whether you're a road warrior who needs a compact gaming rig or a desktop replacement you'll find what you need in the Graphite series.

The new range of gaming laptops are sold under the Graphite brand and are built by the award-winning 3XS team that has been building desktop gaming PCs for 20 years.

Gamers can choose between three different chassis, the ultra-portable 11.6in LG5, the 15.6in LG10 and 17.3n LG15. All three models are availbity with a choice of Intel Core i3, i5 or i7 CPU and Nvidia GeForce or AMD Radeon gaming graphics card to ensure the best frame rates in your favourite games.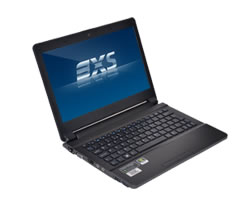 You can find out more about the exicting range of Graphite gaming laptops on the 3XS website.

New Workstation Reviewed
3D World magazine has published a review of our 3XS GW-HTX30 workstation.

3D World found that " The Scan 3XS GW-HTX30 is pretty much top of the heap in every respect, with the fastest rendering and some of the fastest modelling performances we've ever seen. The price is also suitably heap-topping, but not by an amount we'd consider unwarranted. If you're looking for supreme workstation power, this system has it in spades."

You can read the full review on the 3D World website..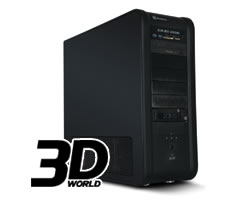 New Quiet Gaming PC Reviewed
Technology website Hexus has published a review of our 3XS Performance Q10 gaming PC.

The 3XS team has designed the Performance Q10 to be as quiet as possible while still delivering awesome frame rates in all games, something that Hexus recognised when it awarded the system a Recommended Award and a score of 4 out of 5.

As Hexus says "it's great to see Scan Computers producing PCs that offer gaming-class performance mixed with living-room-friendly quietness."

You can read the full review on the Hexus website.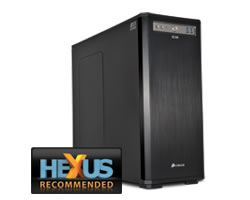 Mini Gaming PC Reviewed
AVForums and Custom PC have just finished reviewing our 3XS FT03 Nanu gaming PC.

The FT03 Nanu is the latest attempt by the 3XS team to build the smallest possible gaming rig, something that AVForums seems to think we have achieved in its recent review.

AVForums said that 'If you want a dedicated gaming PC in a mini-form factor then this 3XS FT03 Nanu gaming PC is definitely worthy of your consideration', giving our mini-gaming wonder a Highly Recommended Award and a score of 5 out of 6.

Meanwhile, Custom PC said that 'The Scan 3XS FT03 Nanu is a fantastic mini gaming system. It's faster than some full-sized overclocked Intel Ivy Bridge PCs, and you can use Scan's configurator to chop or change too. The three-year warranty is the icing on the cake, Custom PC gave the 3XS FT03 Nanu a score of 91% and gave it a coveted Premium Grade Approved Award. You can read the full review in the November issue of Custom PC magazine.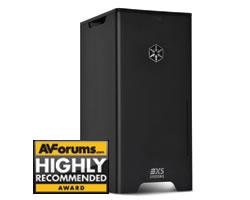 Gaming Laptop Awarded
Technology website Hexus has published a review of our first ever gaming laptop, the Graphite LG5.

Hexus says that 'Scan's doing what it does best by meeting the requirements of performance aficionados. The 3XS Graphite LG5 packs a serious punch for such a little machine, and when configured with the optional quad-core Core i7 processor, it would no doubt run circles around almost everything else in this segment.'

'Coupling the responsiveness of an Ultrabook with true gaming potential in an 11.6in form factor is a job well done.'

Hexus gave the Graphite LG5 a score of 4.5 out of 5 and a Performance Award. You can read the full review on the Hexus website.