SCANZONE
09.08.13 | ISSUE 10
Hello and welcome to the August issue of ScanZone

Despite the last few weeks of glorious weather we haven't given up working in order to better our suntans. In fact, we've been busy beavering away with lots of new technology, including an expanded range of Intel NUC small form factor PCs, an improved 3XS website for our PC building division plus some great reviews of the latest 3XS systems. Read on to find out more.

1. Intel adds cheaper and more capable NUCs
Intel has started to flesh out its range of NUC components with two new CPU/motherboard bundles, one based on the Celeron 847 and the other on the Core i5 3427U. The former has very similar features to the existing Core i3 NUC, but is a substantial £70 cheaper, making it a far more attractive proposition for office PCs and media entertainment systems. You can pick up a Celeron 847 NUC kit on its own or as a complete 3XS system.

At first glance the new i5 NUC doesn't seem much different from the existing i3 version, as both CPUs run at 1.8GHz, have two cores and have 3MB of cache. However, the £80 more expensive i5 NUC supports Turbo Boost, so can overclock itself up to 2.8GHz on demand for much greater performance. It also has an ace up its sleeve for business users – support for vPro and AMT. These Intel technologies allow you to fully remote manage an i5 NUC, including logging into it remotely and even reinstalling the OS if need be without having to be physically anywhere near the system. You can pick up an i5 NUC as a kit or a complete 3XS system.

2. 3XS website refreshed
The 3XS system team at Scan has been busy beavering away implementing an important set of changes to the way that we sell and deliver systems. One of the most notable of these is that we've now decided to use the same DPD courier company to deliver our PCs as the component side of Scan uses. As a result the cost of delivering a 3XS PC has dropped from £35 to £10 for most parts of the UK, a substantial £25 saving. As an added bonus DPD also promises to deliver systems next day, rather than the 2-3 day service that our previous courier provided.

We've also reorganised the way that PCs are listed on the 3XS website. For example, all system types are now preceded by a label, such as Gaming, Home, Pro and Home Office, making it easier for to find the right system for you.

We've also improved the filters, adding four extra filters for some of our most exciting systems – Award Winning & Hot Selling, GeForce Experience, Watercooled and Small Form Factor PCs. These filters do exactly what they say on the link, taking you directly to a list of PCs and laptops with those characteristics in a single click.

3. Intel EPSD servers now available at Scan 3XS
Intel has been a big advocate of PC gaming for many years, but in recent years it seems to have targeted casual gamers as the sort of titles they play, such as The Sims, run adequately on integrated Intel graphics, whereas first-person shooters tend to jerk along like a spasmodic puppet cut from its strings.

While it's still too early to go into any real detail about Intel's next-generation GPU built into the forthcoming range of Haswell processors, Intel did recently give several interesting presentations at the Game Developers Conference in San Francisco.

What caught my attention is not so much the content of the presentation but who gave it – Richard Huddy. Now I realise that Richard Huddy isn't a household name, but having run the developer relations departments of AMD and NVIDIA for many years, Richard is arguably the best person in the world to help Intel forge stronger relationships with game developers – a key thing for Intel to achieve if it's going to make GPUs that game play all types of games well.

Richard's presentation focussed on how Intel is hoping to extend the DirectX 11 API in the future with some new features, InstantAccess and PixelSync. InstantAccess former allows the CPU and GPU to access the same memory while PixelSync gives programmers more control over the ordering of processes within the pixel pipeline which should lead to better looking transparent effects such as smoke and clouds. Intel showed off some effects like this in upcoming game such as Grid 2, shown above.

4. Get Splinter Cell Blacklist free with select GeForce cards
Scan has teamed with NVIDIA to give any customer who orders a GeForce GTX 660, 660 Ti, 670, 680, 760, 770 or 780 graphics card a free copy of the latest Splinter Cell game, Blacklist, when it is released later this month. The offer is open to customers who buy a graphics card by itself or as part of a 3XS system.

To find out more about Splinter Cell Blacklist visit the special offer website on Scan.

5. Pro Audio webcasts
As usual our Pro Audio webcasts will be broadcast live from the Scan Theatre each Thursday at 7.00pm, and if you haven't checked them out yet, just come along to the Scan Pro Audio website each Thursday, and click on the banner which will take you to the right place.

However, we wanted to alert you to the prospect of a very cool competition that will be coming along in the next few weeks. We can't say too much about it at the moment, so this is more in the way of a teaser, but keep your eyes peeled on the Scan website over the next few weeks, if you're involved in any creative practice such as music making, photography, videography, graphic design etc. We have a very exciting competition that will offer some VERY cool prizes and which we hope will stimulate people to get their creative juices flowing.

Watch this space!

5. Blackmagic Design professional grade video production products now available at Scan
Scan has been working hard behind the scenes and is now pleased to announce that it is carrying the full range of Blackmagic Design video production products. The great thing about the Blackmagic range of products is that it scales in features (and price) all the way from indie film makers to big film studios.

For example, all three professional grade Blackmagic cameras include Davinci Resolve Lite, the basic version of Blackmagic's colour correction software. Stepping up a grade, Scan also carries the full version of Resolve, which adds support for 4K video and GPU acceleration. For the real pros out there we also carry the DaVinci Control Surface, a control desk incorporating multiple trackballs, dials and switches that are far more intuitive and quicker to use than a keyboard and mouse.

Scan has also developed a new workstation specially designed to run DaVinci Resolve, the 3XS Resolve Grading System. This highly-configurable workstation has two Intel Xeon E5-2600 series CPUs and has support for multiple NVIDIA graphics cards as Resolve greatly benefits from GPU acceleration when colour correcting.

So, whether you're a budding film maker or a professional colourist the Pro Video team at Scan would be delighted to help you produce better looking footage using this range of products. Find out more on the Scan Pro Video website.

5. Meet Scan at Insomnia gaming festival
Gamers should keep the bank holiday weekend of 23rd to 26th August free as the Insomnia gaming festival is back. Insomnia is the UK's largest gaming festival with over 3,000 gamers booked into to take part in a series of competitive gaming tournaments at the Telford International Centre. Scan is not only sponsoring Insomnia this year, but will also have the biggest stand at the show, where you'll be able to try out the latest games on a variety of hot new hardware, including Scan's range of award-winning 3XS gaming PCs and laptops. We'll also be exclusively unveiling our latest Dream PC, featuring the latest and greatest technology from our key partners, Intel and NVIDIA. You'll also get a chance to meet up and challenge the UK's leading gaming clan, Team Dignitas, at the Scan stand.

You can find out more about Insomnia at the official website, including directions of how to get to the Telford International Centre. We look forward to meeting and gaming with you at the show.

Stuff reviews tiny gaming powerhouse
After spending months rebuilding its website, Stuff magazine has started to test PCs again and has just published a review of our 3XS Z77 FT03 Nanu.

The FT03 Nanu is a tiny mini-ITX PC that has all the performance of a full-size PC thanks to the inclusion of a powerful Core i5 4607K processor that we overclock to 4.4GHz. You can even spec one up with a GeForce Titan graphics card.

Stuff had lots of nice things to say about the FT03 Nanu, such as 'Scan has put together a little PC capable of great things thanks to the Nvidia Titan' and 'Scan's educated choice of components and decent build quality make this a hugely punchy little PC'.

You can read the full review on the Stuff website.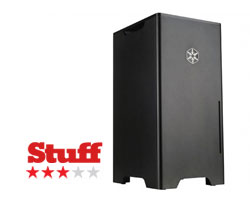 An 'exceptional value' graphics workstation
Develop3D has just published a review of our latest Pro Graphics workstation, the 3XS GW-MT15.

This popular system was recently upgraded to 4th generation Intel Haswell processors, giving it a real shot in the arm in terms of performance. Develop3D really liked the GW-MT15, writing that 'if your workstation is a few years old, perhaps sporting one of the 1st generation Intel Core processors, then this is an enviable upgrade for mainstream CAD. And at a price point of just over £1,200, it offers exceptional value.'

You can read the full review in the latest issue of Develop3D magazine or online.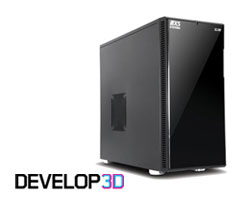 One hell of a good advert for the GTX 780
We were very pleased to read a review of our 3XS Z87 Vengeance 780 gaming PC in the latest issue of PC Gamer magazine.

Speced with an overclocked Core i7 4770K and overclocked GeForce GTX 780, PC Gamer described the system as 'one hell of a good advert for the GTX 780 that's been installed here' concluding that 'It's got a really impressive specs list filling out the rest of the build, and all told I've never seen a machine with this sort of performance at the £1,600 price level before'.

With such praise, PC Gamer gave the 3XS Z87 Vengeance 780 a score of 91% and an Editor's Choice award. You can read the full review in the latest issue of PC Gamer magazine.