SCANZONE
05.07.13 | ISSUE 09
After the flurry of new CPUs and GPUs that launched last month, over the last few week's things have been a bit calmer. That's why in this month's ScanZone you'll find a roundup of the hottest new games that were demonstrated at the E3 show plus a hot new Kickstarter project – a spiritual sequel to the classic 90s RTS series Syndicate.

1. Corsair has twins
Dual-chamber cases are nothing new, but it's been quite a few years since we last saw a fresh design. The idea behind such designs is that by increasing the width of case, it's possible to install the hottest running hardware in separate chambers, thereby reducing the amount of fans required to keep a system cool. That or you can just cram a silly amount of hardware into a case and build your very own dream PC!

The new Corsair Carbide Air 540 achieves excellent cooling by adding a second compartment to the right of the main chamber. Because this chamber holds the 2.5in and 5.25in drive bays plus PSU there is far more room inside the main chamber for the motherboard and cooling hardware. As standard, the Air 540 ships with three 140mm fans, two intakes on the front and an exhaust at the rear, with mounts for a further four fans. Alternatively you could install a 240 or 280mm radiator in the roof and a 240, 280 or 360mm radiator in the front for the ultimate water-cooled PC.

It's not just me that's excited about the system building possibilities of the Air 540 either, the press love it too, with Bit-tech giving it Premium Grade award, writing that ' Corsair has pulled off something special here - a case that's different but actually good and doesn't cost a fortune' while HEXUS wrote that it is 'Attractive, easy to build into, great at showcasing your hardware, and plenty of air- or liquid-cooling possibilities: the Air 540 hits a lot of the right notes.' You can check out the Air 540 for yourself here for a reasonable £116.99.

2. NVIDIA unveils GeForce GTX 760
On 25th June NVIDIA launched what's likely to be its last new graphics card of the year, the GeForce GTX 760. Like the GTX 770 that was launched last month, the GTX 760 doesn't mark a huge leap forward in technology.

For example, compared to the card it's designed to replace, the 660 Ti, the 760 actually has fewer cores, 1,152 versus 1,344. Its GPU does however run at a higher frequency, 980MHz versus 915MHz while the memory controller has been bumped up from a 192-bit to 256-bit model. This means that the 760 has a lot more memory bandwidth than the 660 Ti, 192.2GB/sec versus 144.2GB/sec.

What this all translates into the real world is a very small performance difference between the 660 Ti and 760. For example, the reviewers at Bit-tech benchmarked the 760 running Crysis 3 at 40fps, while the 660 Ti was barely any slower at 37fps.

When all is said and done though, the 760 is a little cheaper than the 660 Ti, so anybody considering upgrading from an older graphics card should definitely check out the GeForce GTX 760.

3. Microsoft upgrades Windows 8
After a rocky start with very poor sales, Microsoft has unveiled the first major update for Windows 8, imaginatively titled 8.1.

One of the biggest additions to 8.1 is the return of what looks like the Start button of old, although traditionalists will still be disappointed to hear that you can't run applications from it – instead it merely opens the Windows 8 start screen. It's a step in the right direction, but personally I'd still rather use one of the Start menu addons such as Start Menu 8 and Start8 or better still stick with Windows 7 on my desktop PCs.

Other improvements in 8.1 include more flexible snapping, so that you can choose how large each application appears when you have more than one running side by side. Microsoft has also improved the search function in 8.1, making it much easier to find the files or applications you're looking for.

To try out the changes for yourself you can download a preview version of 8.1 here. Just beware, like most pre-release OSs, you're unlikely to be able to upgrade from the preview version to the full version later on, so make sure you keep backups of anything important on a separate drive

4. Scan appointed NVIDIA Tesla Preferred Partner
Scan is delighted to announce that it is the latest company in the UK to be appointed an NVIDIA Tesla Preferred Partner (or TPP for short). There are only 45 TPPs in the whole of Europe, the Middle East and Africa, so this is a key step for Scan as only TPPs have access to the full range of Tesla products, including the exciting range of K20 GPU-based HPC accelerators. Being a TPP, Scan is also able to offer special discounts to specific institutions depending on the nature of the project.

To coincide with this announcement, Scan has launched a new range of HPC systems, which can be viewed online on the Scan 3XS website. The new range includes a personal supercomputer which can support up to three Tesla cards. There is also a selection of rackmount servers, which can support up to eight Tesla cards, for unparalleled processing power.
5. The best games of E3
Every summer the game industry takes over Las Vegas for a week to show off its best upcoming games for the year ahead. Some of the games are inevitably turkeys, but with NVIDIA and Intel putting so much attention on PC gaming at the moment there were a ton of cool PC games at the show. Here are some highlights of what you can expect to be playing over the next year.

Project Eternity is the poster boy for why Kickstarter is great – because it's putting gamers, not games company executives in charge of development. This old-school style isometric RPG is shaping up very nicely as the spiritual successor to Baldurs Gate.

Like Project Eternity, Wasteland 2 is another old-school isometric RPG, but this time set in post-apocalyptic North America. The original Wasteland, made way back in 1988, is a cult classic so I have high hopes for this thinking-man's adventure.

FPS fans are already no doubt already aware of EA's upcoming Battlefield 4, but the amount of destructible terrain (including whole skyscrapers) and what it means for gameplay makes me want this shooter even more than before.

I've been playing the Arma 3 alpha on Steam for a while now, but even so it was great to see some of the latest developments in the version Bohemia Interactive was showing off at E3. If you like shooters, but want something more challenging and dynamic than Battlefield or CoD then Arma 3 is definitely worth checking out.

I have to admit I'm still worried that Thief (which really ought to be called Thief 4) is going to be a too much like Assassins Creed, and not the clever, story based sneakathon that its predecessors were. Here's hoping that Eidos Montreal don't ruin it by dumbing it down too much.

The idea of a game the size and depth of scale of Skyrim, but online so always expanding, sends a chill down my spine. However, if The Elder Scrolls Online is half as good as promised it could be the MMO that finally topples World of Warcraft from its creaking, rust-encrusted throne.

6. Scan and the Arts
Many of you may not know that here at Scan we have a long history of supporting the Arts, and specifically music in our community.

All the directors here at Scan are huge music fans, and as well as sponsoring many hundreds of local events and music evenings, including local festivals and individual local bands, as well as local music hubs for education. They also sponsor the rock band Toto on the British legs of their tours, as well as Steve Lukather the band's guitarist, a solo artist in his own right.

So it came as no surprise to us when we were approached at a trade show exhibition by a London based artist and that within months she would be commissioned by Scan to produce a piece of art that we could use as part of our marketing.

Ashleigh Ashley walked into our lives a couple of years ago at a trade show in London.

She wanted to know if we could provide her with 'computer rubbish', items that we discard from system build, like old discs, hard drives, broken graphics cards etc.

She explained that she made fashion items by recycling the parts. She made clothes and jewellery and other groovy things. We believe very strongly in recycling so we agreed to supply her with some 'junk', and offered to sponsor her to come up with some fashion items that maybe she could model on the stand at the next big trade show.

Ashleigh went one better.

She described how she had a vision to make a film which would be her interpretation of the 'Birth' of one of our 3XS systems. She story-boarded the whole thing, explained how she saw it, and Scan agreed to work with one of our key partners, Intel, to fund the project.

You can check out Ashley's finished video online.

7. Syndicate 'sequel' in the works
NVIDIA might like to think that GeForce Experience is one of the best things for gamers everywhere, but I disagree – crowd funding, through websites such as Kickstarter, is clearly the best thing ever for gamers. This is because crowd funding puts gamers directly in contact with game developers, allowing us to tell devs what sort of games we want. It also makes gamers partially financially responsible for the cost of games development which means that devs are more likely to risk making the sort of creative games that big publishers would never fund as they would be considered too niche.

Just as this issue of ScanZone was going to press I noticed another great example of Kickstarter in action – Satellite Reign. Billed as the spiritual successor to the classic 90s series of RTS games, Syndicate, Satellite Reign even has a few of the original game's devs on board.

Set in a dystopian world rule by megacorporations and private security companies, you take on the role of the leader of a mysterious organisation fighting for change. Promising an open game world where you decide how to overthrow the megacorporations, whether it's through direct violence, hacking or good old fashioned coercion.

I strongly recommend checking out the Satellite Reign Kickstarter page and show your support for this exciting new game.

8. The data retention minefield
Our (insert your own choice label) political overlords in Westminster are true experts at creating more and more red tape for businesses to fight their way through. One great example of this is the minefield of legislation around data retention, i.e. the records businesses have to keep about their activities and employees. As the length you have to store this data varies from industry to industry it can be quite a minefield making sure your business records are in order.

WD reckons it can take the pain out of this process with its range of Sentinel storage servers. Designed for small businesses with up to 25 PCs, these compact storage servers are pre-configured with Windows Storage Server 2008 R2 Essentials and can storage up to 16TB of data, protected in either a fault-tolerant RAID 1 or 5 array.

Unlike a traditional file server the Sentinel storage servers are only for storing data on, so they're far easier to manage than a full server running Windows Server 2008 or 2012 with lots of other background tasks. This makes them ideal for small businesses that don't have any IT staff or use IT consultants on a call-out-basis as they can be setup in minutes, not days.

Unlike many of the consumer NAS boxes that small businesses may have used in the past the Sentinel servers can also be fully remotely managed and have a 3 year warranty as standard. Until the end of July Scan is also running a promotion where you can buy a WD Sentinel storage server and if you're not satisfied with its performance, you can return it within 30 days for a full refund. You can view the whole range of WD Sentinel storage servers on the Scan website.

9. Intel Haswell Overclocking MasterClass
We'd like to thank all the customers and suppliers who turned up to our Overclocking Masterclass for Intel's new Haswell processors last weekend. It was really great to meet you all and share tips and tricks about overclocking.

Keep an eye out for more events in future issues of ScanZone and on the Scan homepage.

A powerful touchscreen PC
Our first All-in-One PC, the 3XS Mirage AIO245 has just got its debut review at the hands of Expert Reviews.

The reviewer really liked the Mirage, writing that 'If you want a powerful touchscreen all-in-one PC, the Scan 3XS Mirage AIO245 is a good buy' pointing out that 'The PC has a 2GB Nvidia GeForce GT 750M mobile graphics processor, which makes it run 3D games reasonably well'.

Expert Reviews gave the 3XS Mirage AIO245 the highest score possible: 5 out of 5 points!

You can read the full review online at Expert Reviews.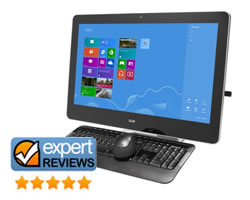 A gaming rig that will out perform every single machine at this price
The latest issue of PC Format has just hit the shops and includes a great review of a new Scan 3XS build, the Z87 Vengeance 780, with a score of 4.5 out of 5.

The review goes on to say that the Vengeance 780 is 'an absolute bargain in terms of performance. Being able to offer gaming speeds on a par with £2,000 rigs of just a couple of months ago is a truly astonishing feat from Scan'.

You can read the full review on page 20 of the August issue of PC Format.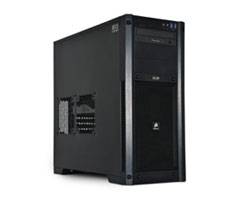 A GeForce GTX 770 for a great price
The latest issue of Custom PC includes a review of one of next-generation Haswell Intel Core i5 gaming PCs, the small but powerful 3XS Z87 Nanu GTX.

The review describes the Nanu GTX as 'small, good-looking and fast' concluding that 'the Scan is extremely quick, and presented in a compact, attractive and well-rounded package'. We're also very pleased by the 92% score and Premium Grade award that Custom PC gave to the Nanu GTX.

You can read the full review in the August issue of Custom PC on page 44.