SCANZONE
11.06.13 | ISSUE 08
And welcome to the June issue of ScanZone, the monthly newsletter from Scan Computers. The last few weeks have been absolutely manic, with NVIDIA, Intel and AMD launching over 20 major new products.

Arguably the most exciting of these are the new NVIDIA GeForce GTX 780 and 770 graphics cards, so we they take of price in this month's ScanZone. However, Intel's new 4th generation Core processors based on the Haswell architecture are very noteworthy too, enabling Scan to develop a whole new range of 3XS desktops, workstations and laptops. We're also very proud to have released our first 3XS All-in-One PC, complete with touchscreen and powerful NVIDIA graphics. Read on to find out more.

1. NVIDIA unleashes GeForce GTX 780 and 770
Over the last couple of weeks NVIDIA has begun to unveil the first two members of the new GeForce 700-series, the GTX 780 and GTX 770. While a cynic might argue that neither card is worthy of a new series name as they're both still based on existing Kepler technology, nobody should be in any doubt that these cards are superior to anything that's come before.

The first card to launch, the GTX 780, is a monster of card, being based on the same architecture as the GTX Titan that launched in February. Whereas Titan has 2688 processors, the GTX 780 has 2304 processors, Titan has 224 texture units, GTX 780 has 192 and while Titan has 6GB of RAM, GTX 780 has 3GB. What this translates to the in the real world is around 5fps less from a GTX 780, meaning it can still play most games at well over 40fps, even on a high res 27in or 30in monitor. What's more, despite there only being a small performance difference between the Titan and GTX 780, the newer card is a lot cheaper, retailing for around £549 inc VAT versus £800 inc VAT for a Titan. This means that the GTX 780 gives you far more bang per buck than Titan, which is why you'll find we've designed several new 3XS PCs to show it off at its best.

Don't just take my word for it though, HEXUS reckons that 'A GeForce GTX Titan in all but name, GTX 780 is the one to go for if you're after a truly high-end card' while Techradar wrote that 'The GTX 780 then is a great, great-looking graphics card, with performance to burn'.

For those of us who don't have £500 to spend on a new graphics card the GTX 770 is also an attractive proposition. However, rather than cutting down the GTX Titan even more, for the GTX 770 NVIDIA has opted for a different strategy. Instead, the GTX 770 is based on the GTX 680, but has a number of improvements.

For example, while both the GTX 770 and GTX 680 have 1536 processors, 128 texture units and 32 ROPs the GTX 770 runs a little faster at 1,046MHz compared to 1,006MHz. More importantly, the GTX 770 has much faster memory than the GTX 680, 7GHz compared to 6GHz, meaning that games with big textures or lots of anti-aliasing will run much faster on the newer card. The addition of GPU Boost 2 also means that the GTX 770 is a lot more overclockable than the GTX 680.

These architectural differences means that the GTX 770 performs on average around 3fps better than a GTX 680, meaning it isn't really worth upgrading to if you have a GTX 680. However, for owners of older cards the GTX 770 is a compelling upgrade as it's actually cheaper than the GTX 680, averaging around £330 inc VAT versus £350 for the older card. As an added bonus the GTX 770 is noticeably deal quieter than the GTX 680 too.

If you're still not convinced, then according to HEXUS 'Nvidia provides more performance at a lower price point and with better reference cooling than available on the GTX 680' while Tomshardware concluded that 'we're happy to get more performance in a better-built package for $100 less than what we could buy a year ago in GeForce GTX 680'.

2. 4th generation Intel Core processors unveiled
After months of rumours and speculation Intel has finally unveiled the first models of its fourth generation of Core processors. Based on the Haswell architecture the first models to hit the market are a variety of Core i5 and i7 for desktop PCs plus a handful of Core i7s for high-end laptops.

On the desktop side of things the Core i5 4670K and Core i7 4770K are the most notable chips, being the direct replacements for the Ivy Bridge architecture Core i5 3570K and Core i7 3770K respectively. In terms of key specs both generations of CPU have the same number of cores (4 and 4+4 respectively), run at the same frequency (3.4 and 3.5GHz respectively) and have the same amount of cache (6 and 8MB respectively). So, given that both new chips will require you to buy a new LG1150 motherboard based around one of the new 8-series chipsets, is there anything worth getting excited about?

Well, Haswell CPUs do have a new on-board GPU, but to be honest if you're buying a Core i5 or i7 you're almost certainly also going to have a discrete graphics card in your PC. Therefore you're probably more interested to hear that Intel has increased the size of the Translation Lookaside Buffer in Haswell, along with improving the branch predictor and doubling the bandwidth of the L1 and L2 caches.

These architectural improvements don't yield any massive performance gains, but according to our own testing and reviews in the media you should expect to see a 2 – 8% improvement between Ivy Bridge and Haswell CPUs. While this isn't much of a gain, Haswell CPUs do consume a lot less power than Ivy Bridge processors, both when idle and under load – something that anybody interested in their electricity bill should take note of.

In terms of overclocking, about the most you should expect to see from a Haswell CPU is something in the region of 4.4GHz, a good couple of hundred MHz lower than Ivy Bridge CPUs. This frankly is really quite disappointing and something we hope to see improved in later steppings as Intel refines the manufacturing process.

While we can't help but feel disappointed that Haswell doesn't mark a big improvement in performance and overclocking, if you have an old system that needs upgrading it's clearly a better choice than Ivy Bridge, especially as you get a free copy of the excellent racing game GRID 2 if you order from Scan. To this end the 3XS team has designed a whole range of new PCs based around Haswell CPUs, from entry-level to overclocked gaming PCs, overclocked bundles, gaming laptops, graphics workstations and everything in between. However, owners of i5 3570Ks or i7 3770Ks would be better off spending their money on a new graphics card such as one of the NVIDIA GeForce 700-series.

3. Next gen laptops with new CPUs and GPUs
Scan's 3XS team has been busy the last few months putting the finishing touches to a new range of gaming laptops that we're now ready to unveil.

There are four models in our second generation of 3XS Graphite gaming laptops, all of which feature the new quad-core Intel Core i7 4700-series of CPUs based on the Haswell architecture and the powerful NVIDIA GeForce 700-series of graphics cards.

The first two new models, the 15.6in LG155 and 17.3in LG175 have the same GPU, an NVIDIA GeForce GTX 765M with 2GB of dedicated video memory and also boast integrated Sound Blaster Cinema audio. We're particularly pleased with these models as they retail for just around £850 inc VAT, a good £150 cheaper than our first generation gaming laptops, despite having a higher spec.

The other two models, the 15.6in LG1510 and 17.3in LG1710 are available with a choice of GPU, either the NVIDIA GeForce GTX 770M with 3GB of memory or the GeForce GTX 780M with 4GB of memory. Both laptops also have Sound Blaster X-Fi 3 audio, which makes games and movies sound much better than generic audio chips. These two models start at £1,077 and £1,123 inc VAT respectively, again a fair bit lower than our first generation laptops.

4. Scan launches high-performance All-in-One PC
Scan Computers is proud to announce that it has launched its first AIO (All-in-One) desktop PC into the UK market.

Thanks to the convergence of several key technologies such as touchscreen displays and Microsoft Windows 8, Scan believes there is now a compelling argument for many users to switch from traditional bulky tower PCs with separate monitors to a more stylish and compact AIO PC.

Unlike other AIO PCs, the 3XS Mirage AIO245 is not a basic PC shoehorned into a bulky box mounted behind a low quality monitor. Instead, the Mirage AIO245 uses the latest Intel and NVIDIA technology to provide a high performance PC that is mounted invisibly behind the high quality 24in Windows 8 certified 10-finger touchscreen monitor. As standard, the Mirage AIO245 includes an NVIDIA GeForce GT 750M graphics card. This powerful GPU is accompanied by 2GB of GDDR5 memory, meaning that the Mirage AIO245 can play all the latest DirectX11 games at a smooth frame rate without having to lower the quality settings.

As with any Scan 3XS product, the Mirage AIO245 is also highly configurable, with a wide range of Intel Core i3, i5 and i7 processors, memory and storage options to choose from. The most basic model, which includes an Intel Core i3 3220 dual-core processor, 8GB of RAM, 500GB hard disk and Microsoft Windows 8 retails for £1,057 inc VAT.

5. Scan Pro Audio – Here to Help
Many of our customers will have already heard about the demise of White Rabbit records, which traded as Digital Village, on the 10th May 2013. The company has resurfaced as DV247 Limited, and is now owned by a German retailer called Music Store.

This is sad news for our industry, as many of the people who lost their jobs when the shops at Acton, Barnet, Clapham, Southampton, Bristol, Cambridge and Birmingham closed, were people we at Scan Pro Audio had worked with in the past, and they all had a terrific knowledge of the Pro Audio world.

Here at Scan Pro Audio, we think that information is key when it comes to equipment for making music, and we would like to remind you that we are happy to talk to you, even if you aren't ready to purchase just yet, and just want some advice.

We offer you the best prices (if you've seen it cheaper elsewhere, give us a ring, we are always happy to try and help) and we are a UK based retailer offering UK based warranties, and next day delivery.

Also, look out for our webcasts, which will become a feature of Thursday evenings over the coming months. Starting at 7pm these webcasts feature Pro Audio news and demonstrations of kit by some of the industry's leading demonstrators and experts.

6. Scan and the Arts
Many of you may not know that here at Scan we have a long history of supporting the Arts, and specifically music in our community.

All the directors here at Scan are huge music fans, and as well as sponsoring many hundreds of local events and music evenings, including local festivals and individual local bands, as well as local music hubs for education. They also sponsor the rock band Toto on the British legs of their tours, as well as Steve Lukather the band's guitarist, a solo artist in his own right.

So it came as no surprise to us when we were approached at a trade show exhibition by a London based artist and that within months she would be commissioned by Scan to produce a piece of art that we could use as part of our marketing.

Ashleigh Ashley walked into our lives a couple of years ago at a trade show in London.

She wanted to know if we could provide her with 'computer rubbish', items that we discard from system build, like old discs, hard drives, broken graphics cards etc.

She explained that she made fashion items by recycling the parts. She made clothes and jewellery and other groovy things. We believe very strongly in recycling so we agreed to supply her with some 'junk', and offered to sponsor her to come up with some fashion items that maybe she could model on the stand at the next big trade show.

Ashleigh went one better.

She described how she had a vision to make a film which would be her interpretation of the 'Birth' of one of our 3XS systems. She story-boarded the whole thing, explained how she saw it, and Scan agreed to work with one of our key partners, Intel, to fund the project.

You can check out Ashley's finished video online.

7. Improved AMD APUs debut
AMD's Socket FM2 range of APUs (CPUs with built in AMD GPUs) have proven popular with PC builders looking to build a low-cost small form factor PC for their living room or an entry-level gaming PC. Fans of these chips will be delighted then to hear that AMD has released several new APUs, codenamed Richland. You can find these new APUs on the Scan website and in several 3XS bundles and gaming PCs. The new Richland APUs are identifiable as they all start with the number 6, regardless whether they are A10, A8 or A6 parts. Although Richland isn't strictly a new architecture, the new 6-series APUs do run at higher frequencies than the earlier 5-series Trinity APUs, so you can expect a decent performance gain.

8. Join us for an Intel Haswell Overclocking MasterClass
After all the excitement surrounding the launch of Intel's 4th generation Core processors, codename Haswell, this month (see story on the launch above), Scan invites you to join us for an overclocking masterclass. Our resident overclocking gurus will be on hand all day on Saturday 29th June, running a number of seminars and tutorials on how to get the most from your Haswell hardware. So, if you're struggling with the concepts of base clocks, multipliers and RAM timings our experts will be delighted to steer you through the overclocking minefield.

While we're at it, we'd also like to thank the hundreds of visitors who took part in our recent open day on 1st June to celebrate the launch of the NVIDIA GeForce GTX 770 and 780. We had a great day chatting and playing games together and hope the winners of the day's Counterstrike: Global Offensive tournament are enjoying their fantastic prizes.

A formidable gaming rig
HEXUS was first off the starting blocks with a review of one of new 3XS gaming PCs based on the new 4th generation Core Haswell processors.

The reviewers at HEXUS took a look at our 3XS Z87 Performance GTX system, writing that 'For £1,200, the 3XS Z87 Performance GTX is one of the most well-rounded gaming systems we've tested in recent years. The use of a fourth-gen Intel Core i5-4670K processor and an Nvidia GeForce GTX 770 graphics card is enough to propel the rig to the top of almost every performance benchmark in our suite'.

You can read the full review, and see the Performance Award that the PC won on HEXUS.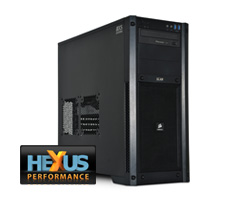 Incredible gaming performance and specs
PC Gamer took a look at our 3XS Z77 Vengeance Titan high-end gaming PC in its June issue, writing that 'it is fully overclocked out of the box – both the CPU and GPU – so you don't have to do anything apart from boot it up, load in some games and watch them fly around your high-res screen at a rate of knots'.

The review concluded with a score of 89% saying that 'The Z77 Vengeance Titan offers incredible gaming performance and specs'.

You can read the full review on p106 of the June issue of PC Gamer.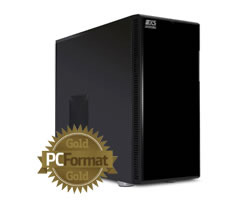 It's the fastest gaming PC it's possible to imagine
AV Forums has also just reviewed our 3XS Z77 Vengeance Titan PC, saying that 'in every benchmark test we ran the system performed superbly, particularly with PC Mark 7, which tests the whole system rather than just a graphics intensive benchmark. The score in that test is currently the 6th highest for a system with a single Titan in the entire world.'

It's not just fast though 'The system is extremely quiet when idle, barely registering more than 35 dBs and only rising to a steady 45 dBs under full load with the temperatures in this overclocked system also impressive.'

The review concludes that 'By a good distance this is the most powerful PC we have ever reviewed at AVForums. Taking all these factors into account we have no issues at all with awarding this our Highly Recommended Badge. If you have £2000 to burn and are looking for a high performing single GPU solution gaming PC, then this system should definitely be at the top of your list.'

You can read the full review online at AV Forums.