SCANZONE
12.04.13 | ISSUE 06
And welcome to Issue 06 of ScanZone, the monthly newsletter from Scan Computers. March and April have been busy months for the computer industry, with the huge Cebit trade show in Germany encouraging companies to announce and launch new products. For example, NVIDIA has been busy launching a new application, GeForce Experience, which identifies the hardware in your PC and then configures the appropriate quality settings in your favourite games for you, negating the need to muck about in the options menus. We've also got news on a new push by Intel into the gaming market and the exciting news that Scan has been nominated three times in the upcoming Custom PC and Bit-tech awards 2013. Read on to find out more and how you can vote for your favourite component and PC retailer.

1. NVIDIA takes the pain out of PC gaming
The days of messing around with the order of programs and settings within config.sys and autoexec.bat may well be behind us, but many PC gamers still get confused about what image quality and resolution settings are appropriate for their PC..

NVIDIA is aiming to take the pain out of messing around with these settings with GeForce Experience. This free Windows application sits in the background and anytime you install a new game will compare your PCs principle specs (graphics card, CPU etc) against a massive database of gaming PCs that NVIDIA has already run the game on. From this database NVIDIA knows which settings are appropriate for different specs of PC, allowing GeForce Experience to make recommendations about which settings are optimal for your PC. GeForce Experience then writes these changes to the game's configuration files, so the next time you load the game it should look better and run faster.

GeForce Experience will also keep an eye on your graphics driver, alerting you when an updated version is available. It will then download the new driver and install if for you. In short, GeForce Experience will mean less work for you setting up games and drivers and better gaming on your PC.

GeForce Experience is compatible with all GeForce 400-series and later graphics cards so why not try it out on your PC right now.

2. Scan nominated in the Custom PC and Bit-tech Awards
We're excited to announce that Scan has been nominated in three different categories in the upcoming Custom PC and Bit-tech Awards 2013. The awards are voted for by the general public, so you can shape which companies and products win awards by going to the awards website and registering your opinion. Scan has been nominated in the PC Manufacturer, Laptop Manufacturer and Retailer categories so if you've had a good experience when buying from us we'd love you to vote for Scan.

3. Intel gets serious about gaming
Intel has been a big advocate of PC gaming for many years, but in recent years it seems to have targeted casual gamers as the sort of titles they play, such as The Sims, run adequately on integrated Intel graphics, whereas first-person shooters tend to jerk along like a spasmodic puppet cut from its strings.

While it's still too early to go into any real detail about Intel's next-generation GPU built into the forthcoming range of Haswell processors, Intel did recently give several interesting presentations at the Game Developers Conference in San Francisco.

What caught my attention is not so much the content of the presentation but who gave it – Richard Huddy. Now I realise that Richard Huddy isn't a household name, but having run the developer relations departments of AMD and NVIDIA for many years, Richard is arguably the best person in the world to help Intel forge stronger relationships with game developers – a key thing for Intel to achieve if it's going to make GPUs that game play all types of games well.

Richard's presentation focussed on how Intel is hoping to extend the DirectX 11 API in the future with some new features, InstantAccess and PixelSync. InstantAccess former allows the CPU and GPU to access the same memory while PixelSync gives programmers more control over the ordering of processes within the pixel pipeline which should lead to better looking transparent effects such as smoke and clouds. Intel showed off some effects like this in upcoming game such as Grid 2, shown above.

4. Pro Audio Webcast Update
In the last ScanZone, we talked about our upcoming Pro Audio webcast, and so this month we thought we'd report back on our first broadcast.

We think that webcasts are exciting because rather than sitting at home waiting for your favourite program to come on TV you search the web for the specific content you want. And with production values always improving you're no longer limited to watching old school Youtube clips with some murky, shadowy character showing you how to play Stairway to Heaven sat on the end of their bed.

Our first Pro Audio webcast from the in-house Scan studio (pictured above) included Simon Lyon giving a preview of the forthcoming Ableton Live 9 while Luke from Korg gave a great demonstration of the new King Korg analogue synthesiser.

We were keen for the webcast to be interactive so were also pleased to be able to take questions from the viewers, live in realtime, and were able to answer and use those questions as part of the show.

So, here's looking forward to our next webcast, which we'll announce the date soon on the Scan Pro Audio website. Our plan is to make the Pro Audio webcast a regularly weekly show with demonstrations of new kit, tips and tricks with well-known software, recording advice etc.

5. NVIDIA Boosts GeForce GTX 650 Ti
You could be forgiven for thinking that there is a different graphics card to choose at every price point but NVIDIA spotted a gap in the market and filled it last week with the GeForce GTX 650 Ti Boost.

As you might imagine from its name the new GTX 650 Ti Boost sits midway in price between the GTX 650 Ti and GTX 660, with most of the new cards retailing for around £145 inc VAT.

Although the GTX 650 Ti Boost shares the same overall GPU as the standard GTX 650 Ti, with 768 processors and 64 texture units it has 24 rather than 16 ROPs, meaning that the frame rate won't drop so much when you turn on advanced features such as anti-aliasing. The GTX 650 Ti Boost also has a lot more memory bandwidth than the standard GTX 650 Ti; 144.2GB/sec versus just 86.4GB/sec. This is a huge difference and is thanks to the GTX 650 Ti Boost having the same 192-bit memory controller and 6GHz RAM as the more expensive GTX 660, whereas the standard GTX 650 Ti has a 128-bit controller and 5.4GHz RAM.

Taken together, this means that the new GTX 650 Ti Boost performs remarkably well despite costing a few pounds under £150. In fact, it's a lot closer in performance to the GTX 660 than the GTX 650 Ti despite being smack bang in the middle of these two cards in terms of price.

You can check out a range of GTX 650 Ti Boost cards plus our range of award-winning 3XS gaming PCs with the GTX 650 Ti Boost inside.

Titan-powered Tiny PC Reviewed
The 3XS team has been busy developing several new systems to support the new NVIDIA Titan graphics card (see ScanZone issue 05), the first of which out the door is the 3XS Z77 Node Titan which Hexus has just reviewed.

Hexus gave the Node Titan a score of 4 out of 5 and a Performance Award saying that 'Extreme PC gaming aficionados with a love for all things SFF need look no further - the Node Titan really is small-but-explosive'.

You can read the full review on Hexus.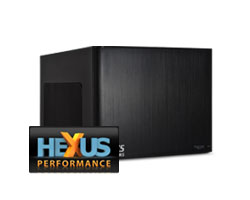 An awesome thing to behold
PC Format has just published a review of our new 3XS Z77 Vengeance Titan in its May issue.

As you might imagine from its name this gaming desktop sports the new NVIDIA GeForce Titan graphics card, so is monstrously fast. In fact, PC Format loved our new PC, saying that 'the extra overclocking grunt really made a difference in our tests' and that it 'is an awesome thing to behold, and it more than justifies its price tag in the face of other PCs out there'.

PC Format gave the 3XS Z77 Vengeance Titan a score of four and a half stars out of five plus a coveted Gold Award.

You can read the full review here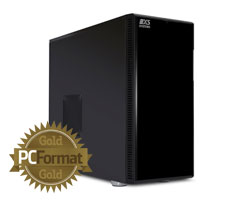 Entry-Level Graphics Workstation Reviewed
Develop3D has reviewed one of our new 3XS GW-MT15 budget graphics workstations this month. The new GW-MT15 incorporates the very latest NVIDIA Quadro K600 graphics card that is a stunning 33% faster than the previous generation Quadro 600 card.

Develop3D gave the 3XS GW-MT15 a score of 9 out of 10 writing that 'For what is essentially a budget workstation it's good to see Scan has still managed to present it in a quality chassis. With a substantial CPU heat sink and insulated with acoustic foam, the machine is also incredibly quiet in operation' concluding that 'Overall, the Scan 3XS GW-MT15 is an impressive entry-level machine, which, thanks to its overclocked CPU, can mix it with the best when it comes to raw CAD performance.
You can read the full review on Develop3D.

You can read the full review on Develop3D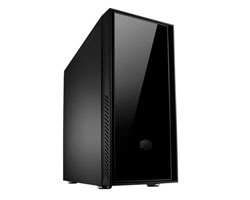 Mid-Range Graphics Workstation Reviewed
Our 3XS team has been very busy recently thanks to the launch of the NVIDIA Quadro K-series of cards for graphics workstations. The 3XS GW-HT15 is a more capable workstation than the 3XS GW-MT15 reviewed above thanks to the inclusion of a powerful NVIDIA Quadro K5000 graphics card, the flagship model of the new K series.

3D Artist took a look at the 3XS GW-HT15 in its latest issue and found that 'the GW-HT15 delivers high performance with a guaranteed overclock, is exceptionally well put together and offers great value for money'. 3D Artist concluded that 'In austere times, it's refreshing that Scan has managed to reduce the cost of its GW-HT15 workstation without making any cuts to quality' and gave the 3XS GW-MT15 an overall score of 9 out of 10.

You can read the full review in 3D Artist.