SCANZONE
10.05.13 | ISSUE 07
Welcome to Issue 07 of ScanZone, the monthly newsletter from Scan Computers that lets you know what we've up to and about some of the exciting new products that our partners have been producing. This month we're delighted to announce that Scan's 3XS system division was voted as the Best PC Manufacturer 2013 by the readers of Custom PC and bit-tech. On the same theme we've also launched some new small form factor PCs that pack a hell of a punch – see the reviews section of ScanZone to see more about these pocket rockets.

We're also excited to see AMD finally release a new high-end graphics card this month, the Radeon HD 7990 and note that Intel has started a countdown to the release of its Haswell 4th generation Core processors. Our resident Pro Graphics guru Oren also has some words of wisdom on how to choose a monitor for a professional workstation.

1. CPC & bit Awards 2013
Over the last few weeks thousands of readers of Custom PC magazine and www.bit-tech.net have been voting on their favourite products and companies. Last Thursday the winners of this year's round of voting were announced by the editors of the magazine and website.

Scan was on hand at the award ceremony and was delighted that its 3XS system division was voted as the 'Best PC Manufacturer 2013' while Scan won a Highly Commended award for its overall service in the Best Retailer category . We'd like to thank all our customers who have bought products from us over the years and voted for Scan – we're very appreciative of your continued support.

While we're at it, we'd also like to congratulate all the other award winners, especially our platinum partners Corsair and EVGA, which also walked away with awards.

2. New NVIDIA laptops GPUs on their way
NVIDIA has been a busy bee recently launching the GeForce GTX 650 Ti Boost and GeForce Experience program last month. Now the company has unveiled five new laptop GPUs, the first members of the GeForce 700M family.

The five new models are intended to find a home in entry-level and mid-range laptops and AIO (All-In-One) desktop PCs. The most basic models, the GT 720M, GT 735M and GT 740M are claimed to be around 50% faster than the predecessors in the GT 600M series, but from what we've seen they're still going to struggle playing demanding games at high quality settings.

We're holding out more hope for the higher spec GT 745M and in particular the GT 750M though, as initial benchmarks suggest that they will cope with games very well.

You can expect to see the new NVIDIA GeForce GT 700M series of GPUs appearing in a variety of laptops and AIO PCs over the next few months.

3. AMD unveils Radeon HD 7990
NVIDIA hasn't been the only company unveiling new GPUs recently as AMD has also just unveiled its fastest ever graphics card, the Radeon HD 7990.

There's been a fair amount of confusion over this card, as some companies, such as Asus and Club3D, already launched what they called 7990 cards earlier in the year. However, these weren't official AMD designs – Asus and Club3D designed the cards on their own.

All that cleared up, the official 7990 is now here and it's a beast of card. It has to be really, as it has two full-fat Malta GPUs which are based on the same 28nm South Island architecture as the 7970. This means that each GPU has 2,048 processors, 128 texture units and 32 ROPs. Each GPU is also accompanied by 3GB of GDDR5 running at 6GHz, connected via a 384-bit memory controller. All this processing power and memory means that that 7990 has two 8-pin PCI-E power connectors and requires a hefty power supply - AMD recommends a 750W PSU.

We haven't had a chance to put the 7990 through its paces yet, but in media reviews such as on HEXUS and Bit-tech, the 7990 proved very fast indeed. However, it was on balance slightly slower than NVIDIA's fastest graphics card, the dual-GPU GeForce GTX 690 in most games. However, NVIDIA has had almost exactly a year to tweak the drivers of the 690, while the 7990 is fresh out of the factory. For example, Techreport found that the 7990 micro-stutters in some games, causing the frame rate to drop below that of the single-GPU 7970.

Either way it's great to see AMD finally release a new high-end graphics card, albeit so late to the game. We'd also expect to see the drivers mature a lot over the coming months and improve the performance of the 7990. If in the meantime you fancy giving the 7990 a look Scan has got several models available from the likes of XFX, Asus and Gigabyte.

4. Niche broadcasting and personal channels
Following on from last month's piece about the Scan webcast, we want to look forward to June 6th, and the start of our move towards global domination in this field.

Ok, well, maybe not that, but we're certainly serious about moving forward as Web broadcasters, and to that end we'll have Novation's Chris Calcutt here on the 6th of June to talk us through some exciting new products.

To re-cap, all the data coming from the big corporations such as Google, YouTube etc. is showing that the trends are moving away from traditional family TV sessions, where the whole family gather around the box to watch programmes together, and moving towards much more personalised content, delivered to niche consumers via the internet.

Here at Scan, we're working towards delivering the best webcast experience we can. It looks like we've got the pictures out clean and sharp, and we've managed to get the interactivity happening nicely. The idea is that on June 6th, between 6.30pm and 7.30pm, if you are in any way interested in music technology, we will be broadcasting a programme that you can watch on your smartphone or tablet, and that you can have the opportunity to engage with, by asking questions. (Anyone remember Tomorrows World?, imagine that format but with Music Tech.!)

If you do manage to tune in, bear in mind that this is the start of the future…

Over the coming years, musicians, comedians, storytellers, indeed anyone with a skill that requires a viewer, will find opportunities to host their own channels, and seek out audiences for themselves by affiliating with other like minded people. In my mind's eye, I can see ten years from now, whole families sitting together in their living rooms after dinner, each watching bespoke programming based on their favourite subjects, and having it delivered via Google glass type lenses projected directly onto the retina by low level laser, so it expands the whole field of view, and becomes a 3D reality!

Anyway, back in the real world of today, make a date to join us on the 6th of June, and take the first steps towards a better understanding of music production.

5. Pro Graphics needs a Pro Monitor
In recent years there has been fast progress in consumer electronics technology, which of course is a welcome thing. As a consumer, or even as a professional, every year one has access to better technology at lower prices.

No one is going to complain about this, but one also needs to remember that there are the down sides of all this progress. The gap between standard consumer products and professional ones is all but disappearing. It is getting increasingly tricky to label a product as a home use one as opposed to a fully professional one. There are always products at the top of the range, both in price and in terms of features, but those features and quality marks that used to be exclusively pro are now becoming available lower and lower down the range. Consumers are of course benefitting, but are the pros losing out? Once it was easy to identify a pro piece of equipment, today one needs to delve deeper into the specs.

There are plenty of good monitors out there and the good news is that you do not need to pay thousands of pounds any more to be able to accurately and reliably display your work. It is important though to carefully study the specs of any monitor you buy to make sure it is the right one for the job.

A good monitor will be measured against a number of factors, all of which will need to score well.

Panel technology: The old CRT displays were fantastic at reproducing colour accurately at high resolutions, but were also large, bulky and drew a lot of power. The move to flat LCD screens (with or without LED backlight) is taken for granted now, but at first was definitely a step backwards in terms of image quality and response time. It is only now, many years later that LCD displays have caught up with the quality of the old CRT panels. IPS technology (In-Plane-Switching) represented a big step forward in quality, dramatically improving the colour reproduction accuracy as well as the poor viewing angle of previous technologies. There are several sub-technologies of IPS panels, but in general, all of them reproduce better colours than other panel types such as TN (Twisted Neumatic), although they do suffer somewhat with slower response times. In general, and without going into too much detail, an IPS monitor will produce a better quality image than any other type of LCD monitor.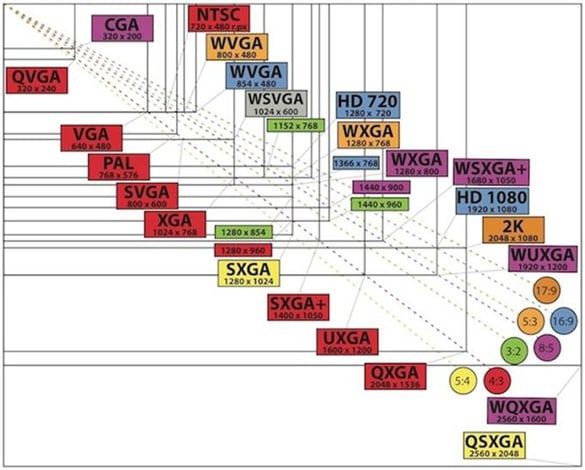 Pixel resolution: A higher pixel resolution for a given screen size will give a sharper and more accurate image, as well as allowing for more information to be displayed. The standard resolution expected today should be around the 1920 x 1080 for most screen sizes, but higher resolution displays are available, most commonly 2560 x 1440 and 2560 x 1600. The resolution also determines the aspect ratio of the monitor, with cinema style (widescreen) displays being 16:9 or 16:10, and square displays being 4:3

Colour depth: Colours are represented in computers and monitors as built of three values, one each for red, green and blue (RGB). In most monitors, each of these three basic colours will consist of 256 variations. This is called an 8-bit colour, and the full spectrum will be of 24 bits (3 times 8) and colours will each carry a value between 0 and 255. This system will give an overall 16.7 million colour palette. This sounds like a large number, but in certain graphic environments it quickly becomes necessary to have greater accuracy. Professional graphic cards and a growing number of monitors now support 30-bit colour – meaning each channel will carry 10 bits of information, giving a palette of over 1 billion colours. Reproducing colours will then be a lot more accurate, and this is particularly relevant when drawing gradients, avoiding banding (see image 2). Most monitors in the market today are still 24-bit, and higher colour depth is usually only needed in highly specialized print and graphics work.

Contrast ratio and brightness: most monitor manufacturers list the contrast ratio in their specs, in terms of 1000:1, 10,000:1 or 1 million:1. This figure is slightly difficult to understand, since the ratios stated are often based on internal company tests rather than an industry standard metric. Comparing contrast rations between manufacturers is therefore very difficult until there is a uniform measure available.

Higher contrast will always mean better image quality, as it signifies the level of difference in colour and light between pixels. The bigger the difference, the sharper the image will be, whilst low contrast panels will show a flat looking image. LCD panels suffer from poorer contrast and black levels compared to other display technologies, although they are steadily improving. Part of the problem is that LCD displays need to be backlit in order to view anything at all. This lighting has a colour of its own and often 'drowns' the pixel colour to an extent. Newer LCD technologies (such as OLED, for example) greatly improve contrast as well as black levels.

Screen size and pixel pitch: Screen size and pixel pitch is closely related to pixel resolution. Monitor obviously come in many different sizes, and most consumer pricing for computer displays is defined by screen size, where monitors are set into groups of 22in – 24in, 27in, 30in etc. It is important to remember though, that it is the combination of screen size and pixel resolution that determines the amount of information that will be displayed. A large 30" display with a low pixel resolution will result in an unclear image where the individual dots can be seen, whereas a small 19" display with the same pixel resolution may look much better, since each pixel is smaller (smaller screens size divided by same number of pixels). For this reason we recommend avoiding cheap 27in monitors that have a resolution of 1,920 x 1,080 as they will produce blocky images. Instead, a 24in monitor at 1,920 x 1,080 or a 'true' 27in monitor running at 2,560 x 1,440 will produce far superior images.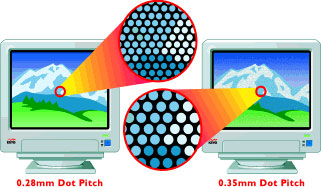 I/O and ergonomics: Last but not least, ergonomics, inputs and outputs determine the usability of a monitor. Clear, easy to use menus that allow the display to be set up according to your needs can make a huge difference. The ability to easily switch between inputs, adjust the brightness or colour setups for different tasks, or being able to select custom resolutions all impact productivity. The type of inputs will determine whether the display is suitable for a specific work environment. Many displays now offer USB hubs built into them for attaching various peripherals instead of running cables back to the computer.

Monitors also offer different connectivity options. Whilst years ago the standard 15- pin D-Sub was the only connection available, today's system use DVI (single-link or dual-link depending on the resolution required), HDMI (with or without audio) and Display Port (version 1 or 1.1).

Scan carries a wide range of monitors, suitable for both professionals and consumers.


6. 4th generation Intel Core processors to arrive soon
Intel has slowly been trickling out more information about its upcoming new range of desktop and mobile 4th generation Core CPUs, codenamed Haswell. Unfortunately we're still not allowed you give you the full specs, although we can say that we've tested a number of samples here at Scan and are very happy with their performance and overclockability.

However, we are now allowed to tell you that you'll be able to find out more in approximately 2,628,000,000,000,000 nanoseconds, which surely isn't all that long to wait. Watch this space.

A tiny powerhouse that defies the odds
Custom PC magazine took a look at our 3XS Z77 Node Titan this month, a miniature mini-ITX system that packs in an overclocked Intel Core i7 3770K processor and overclocked NVIDIA GeForce Titan graphics card.

Custom PC loved the Node Titan, giving at a score of 89% and an Extreme Ultra award, writing that it's 'a tiny powerhouse that defies the odds, cramming £2,000 worth of hardware into a mini-ITX cube case, while remaining remarkably quiet at idle and under load', concluding that 'this is a great value, high-performance mini PC.'

You can read the full review on p34 of the June issue of Custom PC magazine.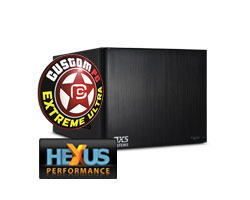 The Ultimate Gaming PC
Eurogamer.net published an article on the 'The Ultimate Gaming PC' this month, using a 3XS X79 Carbon SLI with three NVIDIA GeForce Titan graphics cards in 3-way SLI to show off what the very best in PC hardware can do.

The article describes the Carbon SLI as 'without a shadow of a doubt the most visually striking PC we've seen' and that 'here is a PC that offers up the kind of raw power we may well be getting eight or nine years down the line - if indeed there is a new wave of consoles after the next Sony and Microsoft machines have run their course.' Eurogamer concluded that 'this phenomenal machine is a love letter to the niche, to the hardcore, to the enthusiasts who demand something different, something unique.'

You can read the full article on Eurogamer.net.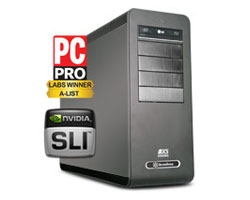 It's the fastest gaming PC it's possible to imagine
PC Pro has also published a review of our pocket rocket 3XS Z77 Node Titan mini gaming PC this month.

PC Pro reckons that 'We're all for high-end PCs that push hardware boundaries, so we salivated when the Scan 3XS Z77 Node turned up in the Labs' and gave our pocket rocket a score of 5 out of 6. The review concludes that 'This Scan is an excellent PC, then, and a Titan in more than just name. It's the fastest gaming PC it's possible to imagine, incredibly quick in application and storage tests, and well put-together, too.'

You can read the full review on PC Pro.