SCANZONE
13.11.13 | ISSUE 13
And welcome to the November issue of ScanZone, the monthly newsletter from Scan Computers that aims to inform you about the most exciting technology and developments in the computer industry.

This month we've got a jam packed newsletter filled with all sorts of technical goodies and great news. First and foremost, some clever bods at NVIDIA have figured out a way to eliminate tearing and stuttering in games, something that's been a problem ever since we stopped making ASCII games in the 1980s. Scan has also been busy, developing a new workstation specially designed for programmers to get to grips with CUDA. Meanwhile, Intel, AMD and Microsoft have also been busy too, all releasing new products in the run up to Christmas. Read on to find out more.

1. NVIDIA says goodbye to tearing and stuttering
Back when the dinosaurs still walked the planet, CRT monitors operated at a fixed refresh rate, which was the time it took for the image producing gun to move from the top left to bottom right of the screen. The higher the refresh rate, the less noticeable this drawing process was, with 60Hz as the industry standard minimum.

Unfortunately, when LCD monitors started to make CRTs extinct in the first half of this millennium, to make them backwards compatible, they were also given a refresh rate of 60Hz. I say unfortunately because LCDs don't have any moving parts so they don't actually have a refresh rate -the whole concept of one in an LCD monitor is purely artificial. What's more, any monitor, be it a CRT or LCD, having a fixed refresh rate can cause problems.

The problem is that when the GPU sends a rendered frame to the monitor while it is in the middle of a refresh, only the part of the monitor that still hasn't been refreshed will be updated with the new frame. This is known as tearing and looks simply terrible, with tall vertical objects split in half across the screen as you can see in the image below.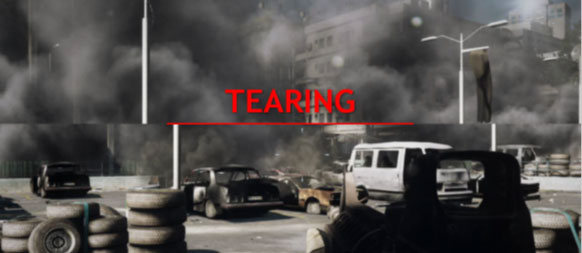 Now, because the monitor is running at a fixed refresh rate of 60Hz, the GPU and monitor will only be in sync if the GPU is outputting at precisely 60fps. Now, anybody who has ever played a game will know that the frame rate varies enormously from second to second as the scenery changes, so it's impossible for a GPU to always output at 60fps.

The common work around for this problem is vsync, a feature that any decent graphics card driver will allow you to enable. What vysnc does is force the monitor to only display whole frames. This does eliminate tearing, but it causes the monitor to skip over any frames that are sent over by the GPU while the monitor is in the middle of a refresh. This skipping however is also visible, and is most evident on-screen when the frame rate changes dramatically, such as changing the view from a simple to a complex scene, as a stutter.

However, the clever bods at NVIDIA have now thought up a way to eliminate both tearing and stuttering. The new technology, known as G-Sync, enables the GPU to adjust the refresh rate of the monitor on the fly. This then means that the monitor will only refresh when the GPU is ready to send it a new frame. The end result is a silky smooth gaming experience, rather than one that suffers from ugly and distracting tearing (vsync off) or annoying stutters (vsync on). In short, G-Sync is amazing and arguably the biggest step forward in visual quality since the switch from software to hardware 3D acceleration.

Unfortunately, because G-Sync gives control of the monitor's refresh rate to the GPU, it does require a specific graphics driver and monitor to work. At the time of writing, Asus, Benq, Philips and ViewSonic had already announced G-Sync monitors, although they're unlikely to appear until mid next year.

However, Scan is already working with NVIDIA to launch a limited-edition G-Sync monitor later this year. Keep an eye on the Scan and 3XS websites over the coming weeks as we unveil the world's first G-Sync monitor, exclusive to Scan.

2. Scan makes CUDA coding easy with the 3XS CUDA Development System
Scan is a big believer in using the right tool for the job, but when it comes to adapting your code for use on one of the NVIDIA Tesla co-processors it can be a time-consuming process. As part of Scan's Tesla Preferred Partner program we've developed a new 3XS High Performance Computing workstation, the 3XS CUDA Development System to ease this process.

This system has been designed for developers and researchers to experiment with coding using the CUDA programming language for parallel computing on Tesla GPUs. Rather than using server-type components, it uses desktop components, such as the NVIDIA GeForce GTX Titan GPU and Intel Core i7 CPU, to give some of the performance to a full Tesla system at a fraction of the cost. What's more, it's also small and quiet enough to be deployed in an R&D environment on or under a desk. The Scan 3XS CUDA Development System really helps to lower the barrier of entry into CUDA programming, so is perfect for organisations who want to try out CUDA before investing in a GPU cluster.

You can check out the 3XS CUDA Development System and a host of other Tesla systems in our High Performance Computing website.

3. Mike Newman sets new powerboat world record
Last month ScanZone reported on the Mike Newman's attempt on 1st November to set a new world speed record for powerboats, which previously stood at 90mph. Mike races on behalf of the charity Speed of Sight, which Scan sponsors, which promotes and encourages people with disabilities to take part in sporting and physical activities that would otherwise be impossible to try.

We're delighted therefore to announce that Mike, who is blind, set a new world speed record of 93.5mph on 1st November at Torquay Harbour, breezing past the previous record. Congratulations Mike!

4. Intel updates NUC to Haswell
It's hard to believe but Intel NUC is only just 9 months old and in that time has already spread out into a range of eight different motherboards and kits. Up till now though, all of these have been based on the Ivy Bridge generation of CPUs.

NUCs are worth getting excited about, because at just 4 x 4in they are some of the smallest motherboards around, making them ideal for building a discrete and stylish PC for your living room or office. Unlike many other small form factor PCs, NUCs feature full-performance CPUs, so can run any application you care to name and quite a few games too.

This month, Intel is giving NUC a big shot in the arm, by releasing two new NUCs based around the 4th generation Core architecture, also known as Haswell. Both models are available as motherboards or kits (motherboard plus case) and include either a Core i3 4010U processor or a Core i5 4250U chip soldered onto the motherboard. The former has two Hyper-Threaded cores running at 1.7GHz with 3MB of cache while the latter runs at 1.3GHz but can Turbo Boost up to 2.6GHz depending on how hot the chip is running. Unlike the i3 version, the i5 version also has the new Intel HD 5000 on-board graphics, which is a lot faster than previous Intel GPUs.

Both of the new Haswell NUCs have similar core features, such as two SO-DIMM sockets, two mini-PCI-E slots and six USB 3 ports. The latter is a huge improvement over earlier NUCs, which only supported USB 2. Another major upgrade is the addition of a SATA 6Gb/sec port onto the motherboard. This means that for the first time that you're not limited to using mSATA SSDs, but could plug in a 2.5in or 3.5in hard disk into your NUC, case permitting. This opens up all sorts of new possibilities for the Haswell NUCs, such as recording TV streams without having to rely on an external storage device such as NAS box.

The only feature that the new Haswell NUCs lack is Intel vPro, so unlike the Ivy Bridge Core i5 NUC they cannot be remotely managed. However, Intel will continue to produce the Ivy Bridge Core i5 NUC to cater for that market.

You can pick up the new Haswell NUCs either as a fully-configured 3XS PC, a DIY kit or a motherboard from Scan, alongside the existing range of NUCs. If you're building a NUC system for yourself, don't forget that you'll need a case, RAM, mSATA SSD and probably a mini-PCI-E WiFi card, power supply and power cable too.

Scan has teamed up with Intel and HEXUS to give away a complete NUC system to one lucky ready of ScanZone. The prize is a fully-configured 3XS NUC N10, which comprises a Haswell-based Core i5 NUC, RAM, SSD and WiFi card. For your chance to win this amazing small form factor PC, worth £585, simply point your web browser to our Facebook page

5. AMD launches new flagship graphics card
Last month AMD unveiled a new range of the graphics cards belong to the Radeon R7 and R9 family. However, while the names were new, these weren't really new cards at all, but rebranded and slightly updated cards based on the previous Radeon HD 7900-series.

After a two year hiatus though, AMD is now finally ready to show off two truly new cards, the Radeon R9 290 and 290X. The 290X is the flagship card, so I'll concentrate on it in this write-up. Unlike the other R7 and R9 cards, which are still based on the Tahiti architecture, the R9 290X is based on the new Hawaii design.

One of the biggest changes between Tahiti and Hawaii is that each of the four shader engines now has its own geometry processor and rasterizer, effectively doubling the performance of these operations. Hawaii also has more cache per shader engine and some other tweaks to improve efficiency.

The R9 290X has a grand total of 2816 cores or stream processors running at up to 1GHz plus 4GB of GDDR5 connected to the GPU via a huge 512-bit memory bus. This gives the R9 290X a stunning 320GB/sec of memory bandwidth, far more than any consumer graphics card in production today.

AMD has also used the R9 290X to introduce several new features. First, the R9 290X ditches the CrossFireX bridge connector in favour of multiple cards communicating with each other over the PCI-E bus. There's also a new programmable audio processing engine known as TrueAudio, which AMD claims will give more artistic freedom to audio artists. However, it will require games to be recoded so at this stage it's hard to say what difference TrueAudio will make.

AMD has been doing the rounds with the R9 290X with the press, who found that it performs mid-way between the NVIDIA GeForce GTX 780 and Titan in most games. This is quite an achievement when you consider that a R9 290X costs around £515 inc VAT and a Titan around £800. However, the R9 290X is only 2-fps faster than the GTX 780, which retails at around £400, and also supports some great features such as GeForce Experience and G-Sync (see story above).

What's more, the R9 290X consumes a lot more power than either NVIDIA card, which is not only bad news for your electricity bill, but also bad news for your ears as it means that card runs hotter and louder.

With all this in mind it's hardly surprising that while the R9 290X is a big step forward from the ageing 7970, it hasn't got a clear recommendation in most of the press. Still, it's always good to see more competition in the market, and the launch of this new card has already forced NVIDIA to lower its prices on some cards in the last few days.

6. NVIDIA launches new flagship graphics card
Graphics cards are like buses, you wait ages to one and then several appear in quick succession. First it was AMD with the R290X (see story above) and then literally a few days later NVIDIA responded with a new card, the GeForce GTX 780 Ti.

Despite its 780 Ti name, this new card is officially NVIDIAs new flagship card, putting it even higher than the Titan. For example, while the standard 780 has 2,304 cores and Titan 2,688, the 780 Ti has a whopping 2,880, putting the GeForce family for the first time on-par with the ludicrously fast and equally expensive Quadro K6000 for graphics workstations. All these cores run faster on the 780 Ti too, at between 876MHz, compared to 863MHz on the 780 and 837MHz on the Titan.

Like the standard 780, the 780 Ti also has 3GB of memory, but it runs at a zippy 7GHz, versus 6GHz on the 780. Any gamers still thinking that a Titan might be faster as it has 6GB of memory should return their attention to the 780 Ti. All the testing we've done at Scan shows the 780 Ti to be faster, even at 4K, as today's games simply aren't written to use all the memory that Titan has. Where Titan does have an edge is its support for double-precision calculations, making Titan much faster than either 780 when running GPGPU applications that need this level of precision.

780 Ti also introduces a new NVIDIA buzzphrase, Power Balancing, which spreads the power draw more evenly across the three different power sources (PCI-E slot, 6-pin and 8-pin connector). We've been unable to test this feature yet, but it's supposed to lead to bigger overclocks, something that is always welcome news.

Despite its flagship status at the head of NVIDIA's new gaming card line-up, the 780 Ti actually costs a significant amount less than the Titan. At around £560 it's still an expensive card, but it delivers significantly more performance than the standard 780, so is well worth considering if you have one or more high resolution monitors. It also confidently returns the performance crown to NVIDIA, just days after AMD launched the R290X, a card that is not only slower, but also runs considerably hotter and noisier. The press loves the 780 Ti too, HEXUS describing it as 'Ideally suited to playing the latest games at high resolutions and image-quality settings, the GeForce GTX 780 Ti makes a very strong case for inclusion in the ultimate PC build.'

You can check out the 780 Ti in more detail or pick one up here.

7. Join Scan Pro Audio at the Music Show, Manchester 15th-16th November
I hope this doesn't seem like me harping on, but the Manchester Music Show is next week and we will have some great special guests appearing on the Scan Pro Audio stand.

Over the two days of The Music Show, Scan Pro Audio will be welcoming many amazing special guests to stand D26. These friends, partners and artists all champion Scan Pro Audio to help them create, produce and perform music.

DJ Rasp (DMC/IDA champion Turntabalist)
Scan favoured show-stopper, DJ Rasp is a multi-award winning turntabalist, he's a beat juggler, groove scratcher and all things that equate to seeing is believing! He will be performing throughout the day check the stand for times, a must see for all music lovers.

XFM's Tim & Jim plus Clint Boon
On the Saturday Scan has XFM's Tim and Jim DJing from the stand and also conducting a special seminar 'How to get your music played on the radio' (11am – 4pm). Also from XFM and Manchester's own legendary Inspiral Carpets is Clint Boon who will be holding a Question and Answer about all things Manchester and music based. (2.30pm on the Scan Stage)

Julie Gordon (Happy Mondays vocalist)
Awesome, soulful vocals from an active singer whose current project 'Julie Gordon and the Digital Orchestra' is being very well received both here and in Europe. Don't miss this exclusive appearance

David Julien (The Voice, BBC)
Singer/songwriter David has been busy performing up and down the UK and as far as Malaysia. Performing alongside Leona Lewis, Dionne Warwick and Amelia Lilly he's playing the game and working on his own material with producer Simon Lyon (Scan's Pro/Audio and Education consultant) David will be performing songs on both Friday and Saturday.

Dead Audio - Producers/Remixers/DJs
Dead Audio, aka Luke Fenn and Tom Atkinson are a bass heavy music production duo from the UK. Remixing duties to date have included Pendulum, Modestep, Borgore, and the pair has worked with vocalists as diverse as Miley Cyrus and Yasmin. With regular support from BBC Radio1 and BBC 1Xtra, their first single 'Take Me Away' Feat. Jade Harris, is helping to pave the way for future success.

DJing from the Scan DJ booth throughout the weekend.
Any Scan Pro Audio customers wanting to come along can get 50% off the door price of the show by quoting this code on the booking page: SCN3009

8. Scan 3XS makes watercooling easy
A lot of enthusiasts know that watercooling your PC is the most effective way of reducing its temperature and noise. That's because water is over 20 times more effective at conducting heat than air. However, it can be a real nightmare picking and choosing all the different components you need, ensuring that not only are they compatible with your hardware, but compatible with each other.

To simplify this whole process we decided to tap into the expertise of the Scan 3XS system building team, which has built thousands of watercooled PCs over the last fifteen years. The end result is a new range of Watercooled Bundles, available to order now on the Scan 3XS website.

Each bundle includes a full online configurator, allowing you to pick with piece of find from a list of components that we know work well together. For example, the WCB 05 configurator includes a choice of waterblock, radiator, fan, pump and reservoir combo plus all the accessories you need such as fittings, tubing, fluid, fan splitters, hose cutter and TIM. For a small fee, the 3XS team can even install, pre-fill and test your watercooling bundle inside the case of your choice.

You can view the range of Scan 3XS Watercooled Bundles online now.

9. Corsair handpicks RAM for even higher performance
While most products that Scan sells are made by the thousand and then distributed to different countries around the world, every now and then something a little bit more personal, a little bit more special reaches our ears.

This time it's Corsair, which has decided to handpick and test individual DIMMs so that it can release some special cherry picked kits. Individually testing DIMMs in this ways means that Corsair can find the cream of the crop and release them at much higher speeds than standard kits. There are five such kits, all of which are exclusively available from Scan in the UK.

The two most extreme kits come from the Dominator Platinum series, one 16GB kit clocked at 2,800MHz and one 8GB kit clocked at an even more ridiculous 2,933MHz. Considering that the most popular RAM right now is 1600MHz, these new turbo-charged kits really are something special. There are also three Vengeance Pro kits, a 16GB kit at 2,933MHz, another 16GB kit this time at 2,800MHz and finally an 8GB kit at 2,933MHz.

Because these kits are handpicked and tested they do command a significant price premium over more standard memory kits. However, for extreme overclockers and performance junkies they open up a whole new era in high speed memory. You can check out this range of special kits, exclusive to Scan in the UK on our website.

10. Windows 8.1 released
Late last month Microsoft released the first major update for Windows 8, upping the version number to 8.1. The new version is probably what Microsoft would have called a Service Pack in the past as it includes a significant number of updates.

The most interesting of these mark what is essentially a climb down from Microsoft, as in 8.1 you can now configure your PC to boot directly to the Windows desktop, bypassing the tiresome tile-based Start screen. There's even an old-school Start button too, though Microsoft has played a dirty trick on us, as it doesn't open the tried and trusted Start menu but merely bumps you back to the tile-based Start screen.

Apart from these largely cosmetic changes, 8.1 also includes the ability to personalise your Start screen and improved performance too, especially when copying files or searching for something on your PC. If you've already taken the plunge with Windows 8, you can upgrade to 8.1 for free using Windows Update. Alternatively you can pick up a copy of Windows 8.1 here.

11. Save £140 on the Radeon HD 7990 graphics card
Scan has teamed up with AMD and XFX to offer customers a fantastic offer. Normally if you bought AMD's fastest graphics card, the dual-GPU Radeon HD 7990, from Scan it would cost you £479. However, for a limited time only, if you buy one as part of a Scan 3XS gaming PC you'll only be charged £336, a fantastic saving of £143! We only have a limited number of XFX 7990 cards available at this special price, so be sure to act fast if you want to take advantage of this special deal.

12. Scan gaming day – 30th November
In conjunction with its most trusted partners Scan Computers have brought together a day of gaming carnage and football. Test your skills in the Battlefield 4 tournament, where you will be competing to win great prizes, such as gaming peripherals, cash or a coveted Scan 3XS gaming PC worth £1,500.

Think you're good at football? We'll be running a FIFA 2014 tournament on our award-winning 3XS systems, with even more prizes up for grabs. Last but not least we have even more prizes to give away in our obligatory fastest lap competition in GRID 2 where you will pilot the Cobra simulator as you cross the finish line to glory.

Throughout the day we will have exclusive special offer prices on lots of gaming hardware, peripherals, systems and accessories. Our special vendor partners for the day will be available to answer any questions or give an in depth demonstration on their products and explain how it will improve your gaming experience. NVIDIA will also be giving a demonstration on their new GeForce GTX 780 Ti, and why it is the most powerful gaming GPU on the planet.

The day will kick off at 10:30am with rounds of Battlefield 4 deathmatch. Each round will last 20 minutes - the winners will then compete against each other at 3:30pm in a final round to win the grand prize that is the gaming system. The FIA 2014 tournament will be played throughout the day alongside the Battlefield 4 tournament, each game will take 10 minutes each with the finals being played at 3.30pm. The UK's premier gaming clan, Team Dignitas will also be on hand to pitch your skills against and give tips and tricks to improve your gaming. Places in the tournament are limited so register as soon as possible to avoid disappointment.

The fastest pre-built gaming PC we've seen
The December issue of Custom PC went on-sale recently and included a stonking review of a new 3XS gaming system, the Z87 Cyclone SLI.

Designed by the 3XS team especially for 4K gaming the Z87 Cyclone SLI includes an overclocked Core i7 4770K, a pair of overclocked NVIDIA GeForce GTX 780s, 16GB of RAM and a 500GB SSD. To keep everything cool and quite the entire PC is watercooled in a stylish black and red colour scheme.

Custom PC loved the Z87 Cyclone SLI, describing it as 'the fastest pre-built gaming PC we've seen' and that 'the insides look clean, racy and lust-worthy – everything you want from a PC'. The review concludes that 'if you want a finely crafted 4K gaming PC, this is the machine for you', with a score of 90% and a Premium Grade award.

You can read the full review in the December issue of Custom PC. You'll know it because it has the Z87 Cyclone SLI taking up the whole front cover.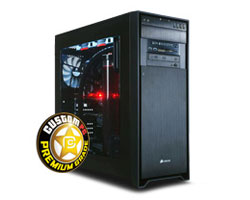 A beautifully built, blazingly fast rig
The December issue of PC Format also has a fantastic review of our Z87 Cyclone SLI gaming PC.

PC Format also loved this high-end gaming PC, describing it as 'a beautifully built, blazingly fast rig' and that 'there's no denying that it's one hell of a desirable rig', concluding with a score of 4 out of 5.

You can read the full review in the December issue of PC Format.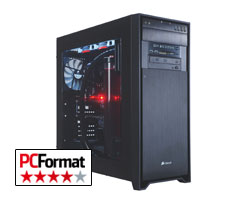 A 'great spec for the cash' gaming laptop
T3 magazine has just published a group test of gaming laptops. Amongst all the big international brands, Scan was the only UK company to get an invite.

The laptop that T3 reviewed is the 3XS Graphite LG155, a mid-range 15.6in gaming laptop which is available with a variety of Intel Core i5 and i7 processors, an NVIDIA GeForce GTX 765M GPU plus a wide selection of SSDs and HDDs. T3 really liked the low price of the LG155, describing it as having a 'great spec for the cash' and that 'key extras can be added cheap'. The review concluded that the 'it offers outstanding choice for gamers on a budget', giving the LG155 a score of 4 out of 5.

You can read the full review on page 134 of the December issue of T3 magazine.