SCANZONE
16.09.13 | ISSUE 11
Hello and welcome to the September issue of ScanZone, After the relative peace and quiet month of August (a lot of people went on holiday) the IT industry has now begun to gear up for the busy period towards the end of year. Intel alone has just launched over 30 new CPUs this month, from lowly Celerons and Pentiums through to some new Core i3s, i5s and i7s plus a whole new family of dual-socket Xeons with more cores and cache than ever before.

Not to be outdone, NVIDIA has also launched a monster new graphics card, the Quadro K6000, which with its 12GB of RAM has been specially designed for high quality visualisation and highly complex simulations.

This month's ScanZone isn't just about faster processors though as we've got news on the first 4K monitor. This 31.5in monster has a native res of 3,840 x 2,160 – the equivalent of four standard 24in monitors. Meanwhile, our Pro Video team has been busy investigating more affordable alternatives to green screens when you need to add a virtual background to your videos.

1. Scan wins PC Pro Excellence Awards
Scan is delighted to announce that it has been voted the as Best Online Retailer by PC Pro magazine. The PC Pro Excellence awards are held every year and are chosen by the magazine's readers. Scan also won a Highly Commended Award as a Desktop Manufacturer, something our 3XS systems team is very proud of. Thanks to everybody who voted for Scan and 3XS

2. Intel unveils ten and 12-core Xeon CPUs
Intel's launch frenzy starts this month with the release of a new range of Xeon CPUs belonging to the E5-2600 family. This new range, identifiable by the addition of a 'v2' to the end of the name, is designed to replace the existing E5-2600 range so the CPUs are drop-in compatible on most motherboards, servers and workstations as long as you update the BIOS first.

While the original E5-2600s were based on the Sandy Bridge E architecture and made using 32nm transistors, the new v2 CPUs are based on the Ivy Bridge E architecture and made from 22nm transistors. Intel has used the extra space freed up by the smaller transistors to increase the number of cores, frequency and cache memory. In short, the v2s are a lot more capable than their predecessors. For example, the old E5-2690 has eight cores running at 2.9GHz with 20MB of cache while the E5-2690 v2 has ten cores running at 3GHz and 30MB of cache. Depending on your applications this could boost performance by anything up to 22%, a pretty huge increase and far more of a boost than we've seen between generations of desktop CPU recently.

Not only are there more cores in every v2 CPU, there are two special models too, the E5-2697 v2 and E5-2695 v2. These run at a slightly lower frequency than the other v2s, but make up for this by having 12 cores, the highest number of any Intel CPU, making them ideal for running multiple virtual machines or complex simulations.

As the E5-2600 v2 chips are drop-in compatible with the original E5-2600, you'll be able to find the new chips available as options in a variety of Scan 3XS rack servers, tower servers and graphics, audio and video workstations. Alternatively you could upgrade your existing systems with the new CPUs.

3. Second-generation X79 LGA2011 CPUs finally appear
As Intel upgraded its mainstream Core i5 and i7 processors to the Haswell architecture in June, its enthusiast-grade LGA2011 Core i7 processors based on the Sandy Bridge E architecture have begun to look a bit old and unloved. However, after months of speculation and rumour Intel has unveiled its new range of enthusiast Core i7 processors, the 4960X, 4930K and 4820K.

However, unlike the mainstream Core i7 chips which are based on the Haswell architecture, these new CPUs are based on the Ivy Bridge E architecture. This might seem strange and little bit of a slap in the face for enthusiasts – exactly the sort of customers who want the latest technology.

However, don't forget that the Haswell architecture was first and foremost designed for mobile CPUs, so its main selling points compared to Ivy Bridge (better graphics performance and lower power consumption) aren't really relevant to a high-end gaming PC or workstation. In fact, as Haswell chips overclock less well than Ivy Bridge chips, Intel might even have done enthusiasts a favour by not upgrading to its latest architecture.

Disappointingly the new LGA2011 chips have the same number of cores as their predecessors. For example, the flagship 4960X runs at 3.6GHz, has six cores and 15MB of cache while the older 3970X has the same number of cores and cache but runs at trifle slower at 3.5GHz.

More disappointing is that Intel hasn't developed a new chipset for these chips. This means you'll have to use them with an ageing X79 chipset motherboard, which lacks native USB 3. Intel has upgraded the on-board PCI-E controller to version 3.0, but unless you're running three or more graphics cards you're unlikely to notice any difference compared to a PCI-E 2 equipped Sandy Bridge E chip. If there were emoticons for boo and hiss I'd be using them right now.

The final big question when it comes to enthusiast CPUs such as Ivy Bridge E is how well they overclock. It's still early days for these CPUs, but the samples that Scan has been testing for a few months show a lot of promise, overclocking stably to 4.6GHz without too much extra voltage. Admittedly that's about the same you'd expect from a Sandy Bridge E, but don't forget that those CPUs have been around for nearly two years, during which time Intel has further refined the manufacturing process and BIOS writers have got to grips with the new chips.

Still, one can't help but feel that after nearly two years of waiting Intel could have done a lot more with the 4960X, 4930K and 4820K than give us 100MHz more and PCI-E 3.0. You can check out the 4960X, 4930K and 4820K for yourself on the Scan website or in a range of high-end gaming and workstation systems.

4. Amazon Payments now supported by Scan
Expert Reviews and Computer Shopper magazine has just opened voting for its annual awards. We'd like to invite all Scan customers to take part in the awards survey. It only takes a few minutes and you'll be entered into a competition to win an Amazon Kindle Paperwhite.

5. A need for speed
Already got an Amazon account? You can use the delivery and payment information stored in your Amazon account to purchase your order with Scan making it even more convenient. Paying with Amazon Payments for your goods is just as safe and secure as it is paying with Scan; the only difference is that you can use your Amazon login details to complete your purchase. You can also use the payment details stored in your Amazon account which are not shared with us. Simply select the 'pay with Amazon' button at checkout when you've finished shopping on the Scan website.

6. World's first 4K consumer monitor
Even though the TV and film industry are still getting to grips with 1080p, we PC users have been running 1,920 x 1,080 and much higher resolutions for years. In fact 30in 2,560 x 1,600 and 27in 2,560 x 1,440 monitors are the status symbol for a hardcore PC gamer and a must have for any graphics professional.

It's therefore quiet a treat that the first 4K, or 3,820 x 2,160, monitor has made its way onto the market this month. Announced a few months ago, the Asus PQ321QE is a 31.5in monitor based on a IGZO panel running at up to 60Hz. To achieve such a resolution you'll need a compatible (i.e. modern) graphics card that supports DisplayPort 1.2.

I've been playing around with an early sample of the PQ321QE for a couple of months now and as a big fan of high resolution monitors immediately fell in love with the razor sharp Windows desktop. For graphics professionals who need to edit high resolution images the PQ321QE is therefore a very interesting alternative to multiple lower-resolution monitors.

That said, the PQ321QE is not without faults. Gamers won't appreciate the significant amount of input lag (33ms), while the 4K resolution does have a downside – many websites and other low res graphics simply look terrible.

As the world's first consumer 4K monitor the PQ321QE does command a suitably high price tag, coming in at £2,999 inc VAT. And as much as I love high resolution monitors at this stage I can't wholeheartedly recommend the PQ321QE though. Still, with Dell and others also due to release 4K monitors over the coming months our eyes are certainly in for a treat.

7. Meet Scan at Eurogamer Expo
I'm sure that hardcore gamers have already booked their tickets for the upcoming Eurogamer Expo at the end of this month. Not only will you be able to play some major forthcoming games such as Battlefield 4 and The Elder Scrolls Online, you'll also be able to meet up with the Scan Computers team.

Scan has always been a big supporter of the Eurogamer Expo and this year has teamed up with Asus to demonstrate the latest and greatest PC tech. Highlights of the Scan stand will include a wide variety of award-winning 3XS systems to try the latest games on and the opportunity to pit your skills against the UK's number one gaming clan, Team Dignitas.

We'll also have some great competitions and offers at the show, including free copies of Battlefield 4. You can find out more about the Eurogamer Expo at the official website, including directions of how to get to Earls Court. We look forward to meeting and gaming with you at the show.

8. NVIDIA launches new flagship Quadro GPU
If you're tempted to buy a new workstation or server based around one of the stunning new Intel Xeon E5-2600 V2 processors (see story above) then you'll be interested to hear that NVIDIA recently launched a new flagship professional GPU.

The new K6000 sits at the top of the Quadro range; in terms of performance, features and price. For example, compared to the K5000 which has 1,536 cores, the K6000 has a whopping 2,880. The K6000 also has a lot more memory bandwidth than the K5000; 288GB/sec compared to 173GB/sec, thanks to a super-wide 386-bit memory controller. The K6000 also has a lot more memory to go round, 12GB versus 4GB, meaning that the K6000 can run visualisation and analysis workloads far greater than the K5000 or previous generation Quadro 6000, which only had 6GB of RAM.

All of this performance does of course come at a price, with the K6000 drawing almost twice as much power as the K5000, and tipping the scales at £3,899 plus VAT. The K6000 is available now as an option in a variety of 3XS graphics workstations or on its own as an upgrade option.

9. Want to help your child out at school and later on in life?
I don't want to sound like a broken record (I already did a piece on this at Christmas) but some new studies have just been published, and once again all of them show that one of the most beneficial things you can do for a child is to teach it to play a musical instrument. Here are just a couple of the quotes from the findings.

'Learning to play a musical instrument has definite benefits and can increase IQ by seven points, in both children and adults.' Study: Lutz Jäncke, University of Zurich.

'Research has shown that both listening to music and playing a musical instrument stimulate your brain and can increase your memory. A study was done in which 22 children from age 3 to 4 and a half years old were given either singing lessons or keyboard lessons. A control group of 15 children received no music lessons at all. Both groups participated in the same pre-school activities. The results showed that pre-schoolers who had weekly keyboard lessons improved their spatial-temporal skills 34 per cent more than the other children. Not only that, but researchers said that the effect lasted long-term.' Study: Irvine Shaw, University of California and Rauscher, University of Wisconsin.

'Children exposed to a multi-year program of music tuition involving training in increasingly complex rhythmic, tonal, and practical skills display superior cognitive performance in reading skills compared with their non-musically trained peers.' Study: Joseph Piro and Camilo Ortiz, Long Island University.

Now the interesting bit is that this information is now coming in thick and fast, and shows no sign of letting up. So there's no better time to think about introducing a piano into the house!

Here at Scan Pro Audio we have home pianos from Korg, the electronic keyboard manufacturer. In particular, we'd recommend the Korg SP-170SWH as it's slim and much easier to find a home for, compared to the heavy, cumbersome instruments of yesteryear.

10. More affordable desktop and laptop Haswell CPUs now available
Intel's September launch frenzy concludes with the first 4th generation Core processors based on the Haswell architecture being added to the Core i3 family. There are 22 new Haswell CPUs launching this month, but I reckon that the i3 4130 is the most interesting, as for about the same price as the existing i3 3220, you'll be getting a much more capable integrated GPU and 100MHz more CPU performance.

If your budget is even more limited then there are also some new Pentiums based on the Haswell architecture. You can tell these four new models apart from the previous generation Ivy Bridge Pentiums as they start with G3000 rather than G2000. For example, instead of the G2020, you could now get a G3220, which runs at 3GHz rather than 2.9GHz.

Intel has also announced several more mobile Haswell CPUs for laptops, with the Core i5 4300M looking the most interesting. For £26 less than the cheapest Core i7, the 4700MQ, the i5 4300M has two fewer cores, but still runs at a very respectable 2.6GHz and has 3MB of cache. The i5 4300M is now listed as an option on all 3XS gaming laptops.

11. Reflecmedia: Changing the art of chromakey
I'd like to share a secret with you. If you have been watching the weekly Scan Pro Audio webcasts, live in HD from the Scan Theatre every Thursday at 7pm, you'll be aware that the presenters are recorded in an expansive multi-camera TV studio with video walls relaying a live feed from the outside broadcasting unit. Or are they? Well, er, no, they aren't. It's a virtual set, and like many newsrooms around the world, is made possible by the use of a revolutionary piece of kit by Reflecmedia.

The traditional green screen technique, that you'll no doubt have seen in Hollywood blockbusters, is known in our industry as the darkest of the dark arts because of the difficulties involved in achieving a clean matte (that's the thing that allows you to pop out the background and replace it with a different one). Reflecmedia makes use of a clever technology that makes it easier, quicker and more cost effective to use than 'fabric & paint' green screen.

So how does it work? Reflecmedia employs a dual colour LED LiteRing which sits over the camera lens and a retroreflector background to create an instant chromakey studio anywhere. The reflective material is called Chromatte (available as a pop-up screen or studio curtain) and its millions of embedded microscopic glass beads have the ability to reflect the coloured light from the LED LiteRing back down the lens from almost any angle. It works for both photo and video applications, and because it scales to suit your needs or budget it's ideal for schools, colleges, video producers, photographers and filmmakers who need fast, cost effective professional results without the hassle of an old school green screen.

There's a good chance that you've already seen the results of Reflecmedia technology. Even though it's supposed to be a secret, the industry grapevine rings with top dollar feature film credits. Remember I mentioned the ability of Chromatte to work at almost any angle? That would be quite handy if, say, you needed a cloak to make a certain bespectacled apprentice wizard disappear, wouldn't it? Other places you'll have witnessed Reflecmedia trickery are in the Pirates of the Caribbean films and on multiple BBC productions, which use Reflecmedia when they need a portable green screen solution that can be easily operated, even by Lord Sugar's twits on The Apprentice.

Ideal on location or in the studio, Scan Pro Video makes use of Reflecmedia in many diverse situations where traditional green screen just wouldn't be practical. The entire Reflecmedia range is now available from Scan Pro Video. If you want to find out more or request an in-store demo, please [email protected].

Strong gaming performance for less than £1,000
PC Advisor reviewed one of our Haswell gaming laptops, the popular 15.6in 3XS Graphite LG155, giving it a score of 4 out of 5.

The review found that 'LG155 will certainly allow you to enjoy your favourite games with their DX11 eye-candy in full HD resolution' and that 'The LG155 provides the sort of gaming performance that we've previously only seen from laptops costing well over £1000.'

You can read the full review on the PC Advisor website.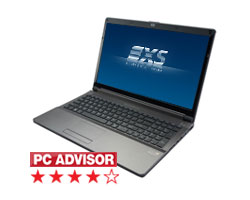 Easily the best value gaming laptop we've seen for under £1,000
A few days after PC Advisor praised the 15.6in 3XS Graphite LG155 gaming laptop, Expertreviews also reviewed the LG155.

Expertreviews was even more lavish in its price, giving the LG155 a score of 5 and out 5 and a Best Buy award. According to the review the LG155 'tore through our Dirt Showdown graphics test, producing a super-smooth average frame rate' and that the 'LG155's 15.6in screen looked fantastic. Its matt finish meant colours didn't look quite as bright and vivid as laptops with glossy displays, but blacks were incredibly deep and uniformly lit across the screen'. The review concluded that the LG155 is 'easily the best value gaming laptop we've seen for under £1,000'.

You can read the full review on Expertreviews and in the next issue of Computer Shopper magazine.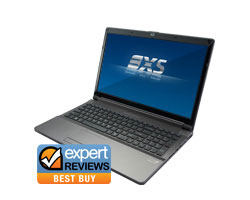 An outstanding PC
The October issue of Computer Shopper will be hitting the shops this month and includes a stunning review of our 3XS Z87 Performance GTX overclocked gaming PC.

The review says that 'if you want to buy a gaming system that's quiet, well-built and designed to last, this an outstanding PC.'

Computer Shopper gave the system a perfect score of 5 out of 5 and a Best Buy award. If you can't find the October issue in the shops you can read the review at Expertreviews online.