SCANZONE
19.12.13 | ISSUE 14
Hello, And welcome to the December issue of ScanZone, the monthly newsletter from Scan Computers.

This month we're proud to unveil one of our biggest projects this year, our latest 3XS Dream PC. The Bear joins our stable of Dream PCs, each of which offers world-beating performance in a highly individual and customisable chassis. Just one month after it was unveiled to the world we're also delighted to announce the Scan has the first G-Sync monitors available to buy.

We've also got news on WD's new drive that squeezes a 1TB hard disk and 120GB SSD into a single 2.5in enclosure, making it a worthwhile upgrade for laptops that only have a single drive bay. NVIDIA and Intel have also been busy, unveiling new server products. The Tesla K40 is NVIDIA's new flagship server GPU accelerator – promising even greater performance and memory capacity than previous Tesla cards. At the opposite end of the spectrum is Intel's range of microserver-friendly CPUs,

1. Introducing our new Dream PC - The Bear
Every year our 3XS systems team put aside some time to design from the ground-up a new Dream PC. We define a Dream PC as a truly individual design that offers the ultimate in cutting-edge technology, aesthetics and acoustics. This year we're proud to announce our latest Dream PC – The Bear.

The Bear joins the White Tiger in the 3XS range, offering superior performance and cooling plus a completely different look. While the White Tiger comprises a sharp black and white colour scheme, the larger Bear sports a copper/bronze paint scheme, complete with colour matched coolant, RAM, fans and SLI bridge. Unlike the White Tiger, the Bear also features a full size window in the right side panel, meaning that all the wondrous hardware and cooling is on display for all to see.

Inside, The Bear is a marvel of minimalist design, with every effort made to hide unsightly cables and ugly components such as pumps out of the way. The 3XS team has extensively modified the original Corsair Obsidian 900D case with new exterior and interior panels plus custom fans and lighting. The default specification includes an Intel Core i7 4930K overclocked to 4.6GHz, 16GB of Corsair DDR3 running at 2.4GHz and three heavily overclocked NVIDIA GeForce GTX 780 Ti graphics cards. Both the CPU and graphics cards are water-cooled, so The Bear remains whisper quiet despite its hedonistic hardware. Other key components include the limited edition Asus Rampage Extreme IV Black motherboard, 500GB Samsung SSD, Creative Sound Blaster ZX sound card, a pair of 2TB hard drives in RAID 1 and a Blu-ray drive.

The Bear, along with the White Tiger is available to order today from the Scan 3XS website in the Dream PC section, starting at £6999 inc VAT. It's not just us that think The Bear is the ultimate Dream PC though – Custom PC magazine featured a special Dream PC review in its latest issue. Scroll to the end of ScanZone to find out what the reviewers thought.

2. NVIDIA G-Sync monitors now available at Scan
Last month ScanZone brought your news about NVIDIA's clever new technology, G-Sync, which forces monitors to refresh at the same time as your graphics card, thereby eliminating both tearing and stuttering – visible artefacts which together have plagued computing gaming for decades.

I'm delighted therefore to announce that months ahead of the industry, you're now able to buy the world's first G-Sync monitor, exclusively at Scan. Working closely with NVIDIA and Asus, we've re-engineered the Asus VG248QE monitor, and are now listing a special G-Sync edition. The VG248QE is a 24in LED panel which has a native res of 1920 x 1080 with a 144Hz refresh rate, so is a great monitor for gamers. You can buy the special G-Sync monitor online on our website or see G-Sync in action in the Scan showroom.

3. Christmas Opening Times
24th December - Open as normal
25th, 26th December - Closed
27th, 28th, 30th & 31st December - Open as normal
1st January - Closed
2nd January - Open as normal

If you're in the mood for some last minute Christmas shopping then you'll be pleased to hear that the Scan showroom will be open as usual up until December 24th. Our showroom will reopen again on 27th December. Alternatively, if you order online or by phone before 12pm on Monday 23rd December we'll make sure your goods arrive by Christmas.

4. WD squeezes an SSD and HDD into one drive
There's no doubt now that an SSD is the must have upgrade for any desktop PC, laptop or all-in-one system. However, in many such systems, due to a shortage of drive bays you have to make the decision whether to have an SSD (for performance) or a HDD (for capacity).

WD aims to solve this problem with its new Black2 drive. This 2.5in drive has a trick up its sleeve in that it's actually two drives in one; a 120GB SSD and a 1TB hard disk. As far as your motherboard is concerned the Black2 is a single drive, having one SATA 6Gb/sec connector, but once you run the WD setup software, Windows is able to see both drives, allowing you install applications and games on the SSD and store data such as documents, videos, music and photos on the HDD. This makes the Black2 a very different product to other hybrid drives, which use a small SSD to speed up the HDD.

WD provides an excellent five year warranty for the Black2, and the drive is already available to order from Scan for £244 inc VAT. Please be aware that as the Black2 is 9.5mm thick, it may not fit inside all PCs, so please check what size drives your system supports before purchasing. Alternatively, the Black2 is also available as an option in Scan 3XS gaming laptops and home/office laptops..

5. New Tesla K40 GPU accelerator unleashed
A couple of weeks ago at the Supercomputing Show in Denver NVIDIA unveiled its latest addition to the Tesla family of server and workstation GPU accelerators. The new K40 is available in two flavours, an actively cooled model, the K40M for workstations and a passively cooled model, the K40, for servers.

Apart from the cooler, both K40 cards have the same specs, sporting 2880 CUDA cores, the same as NVIDIA's flagship Quadro K6000 and GeForce GTX 780 Ti cards that were launched recently. In the K40, this monster GPU runs at 745MHz and is accompanied by 12GB of GDDR5 connected via a 384-bit bus. This gives the K40 a whopping 288GB/sec of memory bandwidth with ECC disabled. With a peak double-precision floating point performance of 1.43Tflops and peak single-precision floating point performance of 4.29Tflops, the K40 makes possible even larger data analytics and large-scale scientific workloads.

You can find out more about the NVIDIA Tesla K40 GPU accelerator and what it can do for your business on the Scan website. Alternatively, the K40 is now an option on many Scan 3XS High Performance Computing systems and Pro Graphics workstations.

6. The Scan Pro Audio guide to Christmas shopping
So, with limited shopping days until Christmas, I want to put to paper, my thoughts on a little argument I was having with a friend the other day.

My friend was bemoaning the loss of 'Christmas Spirit' when shopping on-line, as opposed to the 'human contact' of traditional shopping which apparently imbues one with the 'Joys of the Season'. Well, recalling my own experience these last few years, which has mainly involved, wet feet, freezing cold hands, queuing up (which I HATE), shop assistants that have plainly 'had enough', and finally that awful bit of trying to remember when your extortionate car park ticket runs out may I suggest the following steps this Yuletide.

Set aside an hour one evening soon, in a nice warm and slightly darkened room.

Make sure you're not disturbed, by telling others they will 'ruin the surprise' if they come in. Take a glass of something festive, sherry or port, and a couple of mince pies, open your web browser to this page and find this page, tune in, and get ready to browse.

Make sure you have a pad and pencil with you, (or open up wordpad or its equivalent) and start your shopping. You don't have to buy straight away, just take notes of what might do for who, and spend the next hour just happily clicking and sipping and nibbling with the gentle songs of Christmas spilling forth from your speakers. (Oh by the way, start here).

I promise you'll get 'Christmassy' a lot faster this way…..

On behalf of everyone here at Scan, we wish you a Happy and Peaceful Christmas, and a prosperous New Year.

7. Our best-selling gaming laptop just got better
The Scan 3XS Graphite LG155 is by far and away our most popular gaming laptop and has won multiple reviews for its great performance and fantastic value for money. This month, the LG155 is getting better still, as we've just received a new batch of chassis from China that have an all-new backlit keyboard. The backlight is customisable with several colours and patterns, so you can tailor it your individual tastes. The newly upgraded LG155 is now available to order on the 3XS website..

8. Technology Spotlight: Microservers
Although traditional wisdom states that the best way to boost application performance is to scale-up your hardware with bigger, more powerful CPUs, that isn't always the case. For example, some server applications, such as content delivery and web serving will run better when scaled-out, i.e. run on lots of (individually) less powerful systems, known as microservers. After seeing a number of companies such as Calxeda launch a range of ARM-design based CPUs specifically for this market, Intel has now decided to launch a range of microserver products too, codename Avoton.

The first Intel microserver CPUs are based on the Atom architecture, a good starting point as Atom is optimised for low power consumption in mobile devices such as tablets. However, unlike the tablet-friendly Atoms which are only have a one or two cores, the microserver Atoms have either two, four or eight cores. Despite this, even the most powerful microserver Atom, the C2750, with 8-cores running at 2.4GHz only has a TDP of 20W, far less than any traditional Xeon CPU.

Scan's 3XS server team has already developed a range of microservers based around the Intel Atom C2000-series, with the potential to slash your data centre's power and cooling costs. Our server team, which can be reached on 0871 4724744 or emailed at [email protected] will be delighted to give you more info

The fastest PC we've ever tested
This month, Custom PC challenged each of the UK's four leading PC manufacturers to send them a high-end PC for a special head-to-head review. Scan sent in our brand new Dream PC, The Bear, which had been specifically designed to give the best experience in 4K games.

We're delighted to announce therefore that Custom PC gave The Bear a stunning review, giving it a score of 90%, the highest in the group test, winning The Bear the Dream PC 2013 award in the process. The review found that The Bear is 'the first ever PC we've reviewed to break the 3,000-point mark out of the box' and that it 'really excelled in our game tests' being between 39 and 58 per cent faster than any of the other three Dream PCs.

Custom PC also liked the fact that The Bear was 'the quietest PC on test', writing that 'the Bear features some drool-worthy customisation. The external modifications and colour matching look great, and Scan can easily customize it to suite your tastes'.

The review concludes with 'the Bear wins our vote with its great hardware choices, storming game performance and great-looking design touches. Plus, it's the fastest PC we've ever tested'.

You can read the full review of The Bear in the February issue of Custom PC magazine.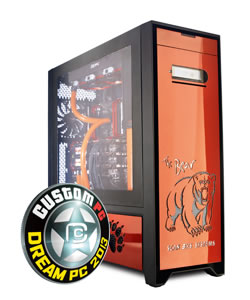 Squeezing it all in
HEXUS took a look at one of our small form factor gaming PCs recently, the 3XS Nanu Gamer.

The Nanu Gamer costs just £799, yet includes an NVIDIA GeForce GTX 760 graphics card, Intel Core i5 4670 CPU and 2TB hybrid drive. All of this hardware is crammed inside the compact CoolerMaster Elite 130 chassis with optional NVIDIA Claw stickers on the top.

HEXUS really liked the Nanu Gamer, describing it as 'a well-integrated system that can play the latest games at full-HD resolution… all without making a fuss and taking up too much room'.

You can read the full review on HEXUS.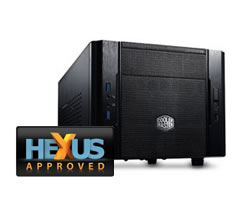 Exactly what you'd want from a laptop
Custom PC also reviewed our 3XS Graphite LG135 in its January issue. The LG135 is a 13.3in gaming laptop that features a powerful NVIDIA GeForce GTX 765M GPU, a high resolution 1920 x 1080 screen and backlit keyboard.

The reviewer loved the LG135, writing that 'the really special results were produced in our benchmarks, though, with the LG135 better every laptop' and that the LG135 is 'exactly what you'd want from a laptop of this size'. Custom PC also wrote that 'the screen looks superb' and that the LG135 is 'remarkably good value for money', giving a score of 90% and a Premium Grade Award.

You can read the full review on page 24 of the January issue of Custom PC magazine.