SCANZONE
07.02.13 | ISSUE 04
And welcome to Issue 04 of ScanZone, the monthly newsletter from Scan Computers. This month has been an exciting one for the computer industry because lots of new products were announced at the CES (Consumer Electronics Show) in Las Vegas. Foremost among these is the world's smallest PC, the Intel NUC, an Nvidia games console and a slew of new Corsair gaming peripherals. ScanZone isn't just about new products though; we also wanted it to enlightening. That's why this month we've got articles about the differences between professional and gaming graphics cards, how to spec up a video editing PC and how budding guitarists can practice without driving their neighbours right the bend. Read on to find out more.

1. A new era in tiny PCs with Intel NUC
Over the years the computer industry has made multiple attempts to scale down the PC into a smaller. However, all of these attempts, from micro-ATX to mini-ITX have only managed to scale down the PC by a few percentage points because they still used desktop PC components.

It's interesting therefore to see Intel try a new approach with its NUC specification. The NUC (Next Unit of Computing) is a spec based around laptop components, which are already optimised to be as small as possible and draw very little power.

The end result, is a frankly tiny motherboard that is a mere 4 x 4in, compared to the 6.7 x 6.7in of mini-ITX, let alone the 12 x 9.6in of standard ATX. NUC motherboards are also shorter than its nearest rival mini-ITX, so the case can also be shorter too.

NUC isn't just a spec though; it's a complete recipe for a system. That's because the motherboard, which uses the Intel QS77 chipset already has an Intel Core i3 3217U CPU soldered on. This does of course mean you can't upgrade the CPU in a NUC, but the Core i3 3217U is no slouch, having two cores running at 1.8GHz and 3MB of share cache.

NUC systems aren't totally ridged though – you can choose how much RAM you want thanks to the presence of two SO-DIMM sockets on the motherboard and you can choose what size SSD and whether you need wireless LAN or Bluetooth via a pair of Mini PCI Express slots.

The other big difference between NUC and other small form factor standards such as mini-ITX is that Intel is not only making NUC motherboards, it's also making NUC barebones (motherboard, chassis plus power supply). In addition, Scan's own award-winning team of 3XS system builders have also designed a NUC system, the 3XS NUC N5, which is available right now from £460 inc VAT with 8GB of RAM, a 128GB SSD and Windows 7.

2. Scan Forum Launches
Facebook, Twitter, email and the telephone are all good ways of communicating but we wanted to provide Scan customers with a way of communicating with one another and Scan staff in a more communal way.

We're therefore pleased to announce the opening of the official Scan Computers forum, which we'd invite all customers to sign up for and join in the discussions. On the forum you'll be able to find out about new products, what's going on in the industry and our latest special offers.

We'd also invite all members to share their technical expertise on the forum so that we can all help each other with PC problems.

Scan staff will also be on the forum if you need help choosing between different products or unsure of what spec to choose from when ordering a new 3XS PC.

You can access the Scan forum on your PC, plus we've also developed Android and iPhone apps too for those who are on the move.

3. Professional versus gaming graphics cards
It is pretty widely understood that an integrated GPU is not powerful enough to run graphic intensive tasks, so a discrete graphics card is usually required. We have also pretty much resigned ourselves to the fact that top-of-the-range graphics cards get fairly pricey, and a few hundred pounds is not unusual for a recently released card. It is a little more difficult to justify why we are required to fork out four or five times more than that for a top of the range professional graphics card, especially as, according to some, the only difference between gaming and professional graphics cards is in the driver.

We'd like to start off by confirming what many think, especially those spending their own personal cash that, in many cases, an expensive professional graphics card is not always needed. It is important to remember though that in many other cases, a professional card will make all the difference between working smoothly and efficiently, and having to put up with a lifetime of difficulties. The same arguments apply to both Nvidia and AMD, with Quadro and FirePro cards representing the professional side of the market and GeForce and Radeon the gaming cards.

So why are home piano sales very much on the rise, and why is piano playing cool again? Look no further than YouTube.

So how do we know when it's sensible to install a professional graphics card, and when we can make do with a gaming one? The answer lies with what the pro card does well and how it is different from the gaming card.

Pro cards differ from gaming cards in six main areas.

Software Features: Pro grade cards offer specific graphics-related features relevant to professional graphics applications. These are a result of the different GPU architecture as well as the different drivers. Some of these features are designed to streamline graphics work, meaning that the same can be achieved without them, only slowing the work process. Others, enable processes not available via gaming cards. Most of these features are a result of the different tasks these two families usually have - one to play games and one to design them.

Hardware features: Professional cards, especially at the higher end of the range, offer a selection of extra hardware features such as hardware frame synchronization, quad buffered stereo or uncompressed video output. These features, which often require add-on cards, are specifically for niche markets, and require more robust and specialised hardware. They are therefore not available on gaming cards.

Support: Because the pro grade cards are designed for business use while the gaming cards are for home users, the support structure for each family is different. The professional cards enjoy far more comprehensive support, which includes looking at software issues that may have caused incompatibility problems between a card and a specific application. This is important in business environments where resolving hardware-software problems quickly has an impact on revenue. For gaming cards, on the other hand, support only covers correct operation of the card.

ISV compatibility: Professional cards are certified to work correctly with most professional graphics software applications, and software vendors in turn tend to require pro-grade cards in their hardware requirements list. This is to minimize the volume of support calls from non-certified hardware. This does not mean that gaming cards will not run these applications. It only means that some features may not work with gaming cards, and there is a likelihood of more frequent problems.

Lifetime and roadmaps: Gaming cards are replaced often. They are always chasing the latest and the fastest technology. Professional ones, on the other hand, are more stable. They enjoy longer development periods, and are replaced less often. This helps large organisations wanting to standardise on hardware in the long term. It also increases long term stability.

Quality and stability: The professional cards are not, as some believe, identical hardware with different BIOS and drivers from gaming cards. They are designed and built from a similar architecture base, but branch off pretty early on in production. The gaming cards are built for ultimate speed whilst the professional cards are built for stability and compatibility - different philosophy for different purposes.

So when should you choose a more expensive professional card over a cheaper gaming card? The gaming cards are not only cheaper, but also sometimes run at higher clock speeds (as demanded by gamers). However, this does not always translate into faster performance in professional graphics applications. For one, these applications - Photoshop being a great example, often rely more on CPU speed rather than GPU speed for overall performance. In addition, many pro grade cards perform faster than gaming cards of greater clock speed because of specific features implemented in them. Add to this the extra level of support, particularly relevant to businesses where 'time is money', and you start to get a clearer picture.

Saving money by buying a consumer graphics card for a professional task does not mean your system will crash with repeated blue screens. But, like everything in life, there will be a price to pay. Part of this price is less compatibility, less reliability, a lack of certification and in general - less long term security. If this price is acceptable, there are cost savings to enjoy with an excellent range of GeForce or Radeon cards gaming graphics cards. If not, it's the professional graphics card route for you, with an NVIDIA Quadro or AMD FirePro.

4. NVIDIA to launch PC compatible games console
NVIDIA has been quite quiet the last few months and now we know why. At the CES show this month the company unveiled Project Shield, an Android-powered portable games console.

Looking like a the result of hot date between a gamepad and an LCD screen, Project Shield has all the buttons you'd expect such as a D-pad and two miniature thumb-driven joysticks plus a 5in touchscreen with a native res of 1,280 x 720. Project Shield is driven by the brand new Tegra 4 processor which includes a 72-core GeForce GPU and quad-core ARM A15 CPU running Android Jelly Bean. This means you'll be able to choose from the thousands of games and apps on the Google Play store plus NVIDIA Tegrazone.

Perhaps even more exciting is that if your PC has an NVDIA GeForce GTX 650 or higher graphics card you'll be able to stream games from it to your Shield over the internet, meaning you'll be able to play high quality PC games while sitting in the comfort of your living room or even your garden (if it stops snowing anytime soon).

You can find out more about Project Shield online.

5. How to spec up a video editing PC
For film makers it's critically important to have a high level of hardware in their computer. This is because video editing requires lots of horsepower. For this reason Scan has developed a range of PCs specifically built for video makers, which you can view online in our special Pro Video section. But because PC systems are usually purchased a la-carte, there's a wide range of hardware choices you can make. We'll discuss these later, but in the meantime we'd like to say that while many video editing applications do work on Windows Vista or XP, they will run faster and more efficiently on Windows 7 or Windows 8.

The Five Rules Of Video Editing

CPU processor power, RAM, storage, graphics, and the monitor are the five most important hardware features to look for in an editing computer.

The Intel Core i5 and Core i7-series of CPUs are best for video editing because their multiple cores are perfectly suited to the highly multi-threaded nature of most video editing applications. This is critically important when it comes to the rendering stage – when the final edit of the video, including any visual effects, transitions, titles, etc is produced. Without a fast CPU, this final step can be excruciatingly slow.

It's also important to have plenty of RAM. A typical off-the-shelf computer might come with 8GB of RAM. For video editing, this is not enough. We'd recommend at least 16GB as this way your system will be able to load more clips into RAM, rather than having to constantly fetch clips from the hard disk, which is hundreds of times slower than RAM. Thankfully, RAM is cheap these days. The amount of RAM will also dictate the type of operating system you use. If there is more than 4GB of RAM, you will need a 64-bit operating system, since the 32-bit version will not recognize more than this.

Storage is another important specification. The 1TB hard disk typical on most computers is not big enough. High Definition video takes up a huge amount of capture space, so you need at least a 2TB drive - or be prepared to expand your storage with external drives or a NAS box. Multiple storage drives are a common way to increase storage volume. Security issues also need to be addressed in systems that include a lot of important data - your videos. Hard drives are often set up as RAID 1 array- where the information is written to more than one drive simultaneously; meaning that if one fails you won't have lost your precious videos.

The graphics card in your PC can make your video editing application more responsive, especially if you employing 3D transitions and other special effects. Some software applications can even take advantage of the parallel processing capabilities of modern GPUs.

It's best to select the largest widescreen IPS LCD monitor compatible with your graphics card. Today, popular LCD monitors start at 21-inch but go up to 30-inch. You might think a 27-inch monitor is too big, but when you consider a single monitor must show multiple windows and also playback of your video, a 27-inch widescreen monitor is not only practical but necessary. Such monitors are relatively inexpensive now (about £ 460), but make sure you buy one with a resolution of 2,560 x 1,440. For example, some cheaper 27in monitors have the same 1,920 x 1,080 resolution as 24in monitors, meaning that videos won't appear as sharp. You may also wish to consider using multiple monitors with one monitor to display your video and another to run the editing software.

6. Corsair updates gaming peripherals
You'll soon have several more Corsair gaming peripherals to choose from in the coming weeks.

Corsair took advantage of the recent CES show in Las Vegas to unveil its new flagship gaming keyboard, the Vengeance K95. The K95 is a big step forwards from the existing K90, boasting mechanical Cherry Red MX switches for every key, making it much more responsive. Each and every key also has its own backlight and you can now programme different keys to light up in specific patterns depending on what game you're playing. With a black anodised frame the K95 will be sailing its way into the Scan warehouse soon.

Corsair also showed off two new gaming mice at CES, the M65 and M95. The M65 is a replacement for the existing M60 and from the outside at least looks unchanged. However, Corsair has replaced the sensor with a new Avago Technologies ADNS-9800 LaserStream sensor which boasts much improved sensitivity (8,200 dpi versus 5,700dpi), which should produce more accurate shooting in first-person shooters. The M65 will be available soon in black, white and green.

There's also the M95, an MMO-optimised replacement for the existing M95, which boasts a whopping 15 programmable buttons. Like the M65, it's also been given a sensor upgrade, so will allow you to crush your enemies and see them driven before you with even greater ease. The M95 will soon be available to order from Scan in black or white.

7. Practice makes perfect
The Korg Pandora has been around since 1995, and Scan Pro Audio guru Steve Fairclough remembers it well. Indeed, Steve even contributed five of the original voices to it! Back then he worked for Korg UK, and got involved as part of the international voicing team for the guitar products.

For many years it's been pretty much understood.
You see, it's not a modelling amp, or an effects pedal.
IT'S A PRACTISE TOOL!

It was always meant to be a practise tool, and the latest Pandora Mini does it better than ever. One of the big problems for electric guitarists is that practising with the kind of big sound that inspires you involves lifting out a big, heavy amp, connecting it up and trying to ignore everyone else in the house when they bawl at you to 'Turn it Down!'

Even once you're set up, you're usually alone, and so it gets kind of boring after 20 minutes of playing to yourself, no matter how good the sound.

With the Pandora Mini, you get 200 presets in all different styles, (160 for guitar, 40 for bass) plus another 200 user locations for storing your own sounds.

If you want to play along with something, there's not only an on-board metronome, but also 100 rhythm patterns with complete control over tempo, volume and reverb.

You can also play along to your songs by plugging your CD or MP3 player into the Mini's aux input – there's also a variable pitch function which lets you match the key of the song to the tuning of your guitar.

So now, even just playing through some of the presets can be inspiring, and once you've found one you like, you can start to play over some pretty cool rhythms which is way more fun than playing in a silent room all by yourself.

Either way, all this takes place under cover of earphones, so you can sit and jam away in the living room, while everyone else watches TV, and all the time you're getting better.

A Great Gaming Laptop
Custom PC has just published a group test of all the gaming laptops in the market, including the Scan 3XS Graphite LG10.

The review says that the LG10 has an 'understated design combined with a solid feel' and that 'the screen proved to be one of the best on test, exhibiting no ghosting or motion blur, and excellent viewing angles too'. Apparently the LG10 has had 'a clear lead over the competition' thanks to the inclusion of its Intel Core i7 quad-core processor and AMD Radeon HD 7970M graphics card.

In fact, the LG10 won the group test, beating all the other laptops into first place with a score of 88% and an Approved award. You can read the full review in Issue 114 of Custom PC magazine.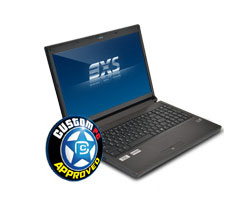 A Good Value For Money Gaming PC
Online gaming community The Last Resort has just reviewed our popular Scan 3XS Z77 Performance GTX desktop gaming PC.

The Last Resort says that 'What sets Scan apart from the competition however is that they are happy to visit your home to setup your system, this is an excellent option for those of us that may not have had a desktop PC before' and that 'the asking price is good value for money'.

The review concluded with a score of 8 out of 10 and a Silver Award. You can read the full review on The Last Resort.