SCANZONE
01.09.14 | ISSUE 22
Hello and welcome to the August issue of Scanzone, the monthly newsletter from Scan Computers. We delayed this month's newsletter for a few days because we wanted to include news of Intel's first 8-core desktop CPU, the Core i7 5960X and the launch of DDR4 memory. This is arguably the most important launch of the year, as this new CPU and the other models in its family are the biggest step forward in nearly three years, marking the dawn of a new era in high performance desktop PCs.

In this month's newsletter…

1. Intel unleashes 8-core CPU and DDR4 memory
The high-end Intel X79 platform has to be one of the longest lasting products in recent years, being launched all the way back in late 2011. In contrast, in that same time period Intel has updated its consumer platform three times, going all the way from P67, to Z77, Z87 and finally Z97. However, at long last, the replacement for X79 is here and it's a monster.

Known as X99, it's a whole new platform, introducing three new CPUs, a new chipset and DDR4, the first PC platform to support this new type of memory. The CPUs themselves are based on the same Haswell architecture as the 4000-series CPUs that were launched back in June, but the new chips, known as the 5000-series have more cores, either eight or six. This marks the first time that Intel has made an eight-core CPU for the desktop market and means that the top-end chip, the Core i7 5960X is incredibly fast in multi-threaded software such as 3D graphics and video editing applications. The other two CPUs, the Core i7 5930K and 5820K have six cores, so aren't as fast in these types of application, but are still far faster than a quad-core 4000-series CPU.

The table below shows the principle differences between these Intel X99 CPUs:
| | | | |
| --- | --- | --- | --- |
| FEATURES | Intel Core i7 5960X | Intel Core i7 5930K | Intel Core i7 5820K |
| Number of processor cores / threads | 8 / 16 | 6 / 12 | 6 / 12 |
| Frequency | 3GHz | 3.5GHz | 3.3GHz |
| Intel® Turbo Boost Technology 2.0 | Yes | Yes | Yes |
| Random Read (IOPS) | 450 | 450 | 460 |
| Number of memory channels | 4 (DDR4 2133MHz) | 4 (DDR4 2133MHz) | 4 (DDR4 2133MHz) |
| PCI Express Lanes | 2 x 16 + 1 x 8 | 2 x 16 + 1 x 8 | 1 x 16 + 1 x 8 + 1 x 4 |
| Unlocked Multiplier | Yes | Yes | Yes |
| Intel Hyper-Threading Technology | Yes | Yes | Yes |
| Intel® Smart Cache | 20MB L3 shared | 15MB L3 shared | 15MB L3 shared |
| Overclocking Enabled | Yes | Yes | Yes |
| PCI Express 3.0 | Yes | Yes | Yes |
| Recommended Intel® Chipset | X99 | X99 | X99 |

2. NVIDIA releases new line-up of professional Quadro cards
NVIDIA launches a new GeForce graphics card for gamers every couple of months, but the qualification process for a new Quadro graphic card for professional users is much more involved. It's therefore a much bigger deal when NVIDIA rolls out five new Quadro cards at once as it has done this month.

NVIDIA has stuck with the same K-series branding as the cards, but added a 2 into the name. This means that the replacement for the K5000 is the K5200, the K4000 is replaced by the K4200, the K2000 by the K2200, the K600 by the K620, with a new range finished off with an entry-level card, the K420.
You can check out the whole range of new Quadro cards on the Scan website as well as our range of award-winning 3XS Pro Graphics workstations. Don't worry though, if you need to maintain a consistent platform Scan will keep stock of the older cards for some time to come.

3. Mike Newman sets new land speed record
Mike Newman broke his own land speed record of 186mph this month, zooming past with a new record speed of 200mph in his modified Porsche GT2.

Mike Newman, who is blind, drives on behalf of the charity Speed of Sight, which is sponsored by Scan, which promotes and encourages people with disabilities to take part in sporting and physical activities that would otherwise be impossible to try. Congratulations Mike!

4. Get access to hardware-accelerated graphics anywhere
Imagine sitting in an airport waiting for a flight and realising that you need to make an urgent change to the complex 3D model you've been working on for months. I bet you didn't bring your 4kg laptop with a Quadro GPU inside did you? I couldn't blame you either; whenever I travel I bring a thin and light laptop with me, not a hulking monster with a powerbrick heavier than most tablets.

NVIDIA reckons it's come up with a solution to this problem – GRID, a virtualised GPU that delivers a responsive, high performance Windows desktop on any device, anywhere. The market for GRID is much larger than travelling workers though; any business that has graphics workstations knows the pain of estimating what level of performance, and investment is required for each user. GRID alleviates that whole issue by moving processing from each users workstation to a centralised resource, either in your own server farm or a remote datacentre. Thus, instead of costly individual workstations, each user simply needs a standard PC or laptop, greatly reducing costs. GRID also gives your organisation greater flexibility, as you can dynamically adjust the processing power available to users on their virtual machines as their needs change.

So how does GRID work? GRID operates using the VDI (Virtual Desktop Infrastructure) principle which is hosting a desktop OS such as Windows 7 or 8 on a virtual machine running on a server. Unlike a simple RDP connection, which are powered by the servers CPU and so can only offer basic graphics, GRID provides hardware accelerated graphics to the remote session, meaning for the first time artists, architects and engineers can work on a virtual machine.

GRID has been created so it can run either from a local server farm or a remote datacentre using a variety of hypervisors such as Citrix, Microsoft and VMware and has support for the OpenGL 4.1, DirectX 9, 10, 11 and CUDA APIs. The diagram below shows a centralised GRID server providing 8 users with their own hardware-accelerated virtual desktop, each powered by a vGPU (virtual Graphics Processing Unit).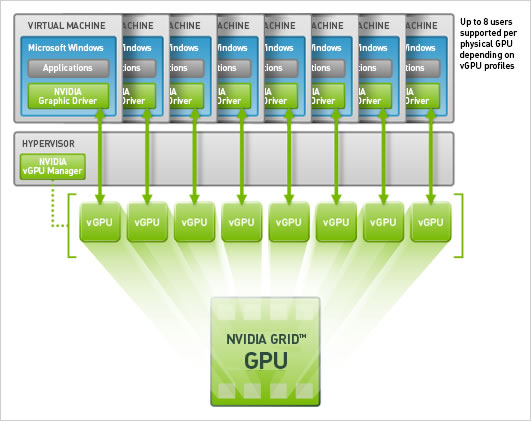 Right now, the GRID range includes two cards, the K1 and K2. The K1 has four Kepler GPUs each with 192 cores and 4GB of RAM, each broadly equivalent in performance to a Quadro K600. The K2 has two more powerful Kepler GPUs, each with 1536 cores and 4GB of RAM, each broadly equivalent in performance to a Quadro K5000. The K1 can support up to 32 vGPUs, and the K2 up to 16, but each card supports multiple vGPU profiles, which can be dynamically allocated to users, depending on their performance requirements.

Scan has worked closely with NVIDIA, PNY and other partners over the last few months to bring to market a full range of GRID solutions, which can be viewed on our Enterprise website in the Virtual Graphics section. The range includes 1U, 2U and 4U servers, each with support for multiple GRID cards depending on your requirements. We can also arrange a trial of GRID so you can see how it could revolutionise your workplace. Please email [email protected] to discuss your requirements.

5. Need a new PC fast ?
Earlier this year we launched a new range of ready-to-ship PCs and laptops under the F-Series brand. Designed and built by our award-winning 3XS systems team F-Series PCs are pre-built so are ready for next day delivery whenever you need a system, fast.

This month we've expanded the range of F-Series systems, adding in a selection of Pro Audio workstations and Pro Graphics workstations. We've also expanded the range of gaming PCs, adding in three specs based around AMD technology. These include the 3XS Vision Black, is an entry-level gaming PC that costs just £432 inc VAT, the mid-range 3XS Vision Premium for £652 inc VAT and the high-end Vision Ultimate for £914 inc VAT. You can point your web browser here to view the full range of F-Series ready-to-ship gaming PCs.

6. Why buy an Enterprise SSD ?
Almost every field of IT produces both consumer and enterprise versions of the same product with tweaked characteristics depending on the target market. Consumer CPUs for example are engineered for maximum performance while enterprise CPUs are designed for maximum reliability with technology such as ECC memory. Consumer PSUs are designed to be as quiet as possible while enterprise PSUs have some sort of redundancy built it so that if one fails your server will keep running.

The SSD market is no different, but there seems to lot of confusion over what are the real differences between a consumer and enterprise drive, with most of the discussion usually focussed on the number of IOPS per second. However, while IOPS can be a useful measure of performance, the biggest and most notable difference between consumer and enterprise SSD is endurance and consistency.

Endurance
Endurance is a key characteristic for any SSD, because due to the nature of MLC NAND flash that the drive stores data on, SSDs have a finite number of write cycles, which when expired will cause the drive to corrupt data and/or be inaccessible. This isn't meant to scaremonger, because most consumers will barely write any data to their SSD once Windows and applications have been installed. For instance, the two SSDs in my main PC have written on average 1.5GB per hour that they've been switched on; though of course in reality most of these writes would be concentrated around when I install download a new game from Steam.

However, install an SSD in a database server and the number of writes to the SSD will be significantly higher than in a consumer desktop PC, with multiple GB of data written per day, every day. For this reason, most enterprise SSDs use so called eMLC with no prizes for guessing what the 'e' stands for. eMLC differs from standard MLC by having fewer bits per cell, which in turn allows each cell to handle a far higher number of write cycles, typically around 3x more. Take Intel's 200GB DC S3700 enterprise SSD for example; it has a 5 year warranty, a 2 million hour MTBF and is rated by Intel to endure up to 10 drive writes per day for 5 years, a drive write being defined as the full 200GB capacity. In contrast, Intel's 240GB 530 consumer SSD also has a 5 year warranty, but only has a 1.2 million hour MTBF and a mere 20GB of writes a day. This means that while the enterprise SSD is roughly double the price of the consumer SSD it actually has 10 times greater endurance.

Consistency
If that figure alone hasn't convinced you that installing a consumer SSD in a write intensive server environment is a false economy then it's also worth talking about consistency. This is another crucial talking point with SSDs, as the controllers inside consumer drives are only designed to give peak performance for a short period of time after which performance will vary enormously as the controller struggles to keep up as you can see in the image below taken from Anandtech's review of the 240GB Intel 530 consumer SSD.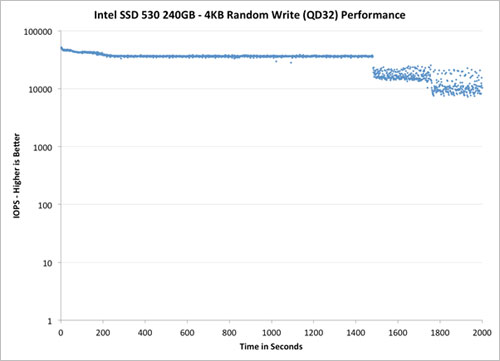 As you can see, after 1500 seconds the controller in this consumer SSD, fails to keep up with demand, with performance dropping off and then fluctuating wildly every after by as much as 22%. This inconsistent performance is a serious problem for servers, because SSDs are rarely used individually but in large RAID arrays, so it's impossible to keep the drives in sync thereby stalling any read or write operations in the RAID controller.

In contrast, enterprise SSDs have special firmware that ensures more consistent performance. This can be seen in the image below taken from Anandtech's review of the 200GB Intel DC S3700 enterprise SSD running the same test as the consumer drive. As you can see, once again there is a drop off in performance after some time (300 seconds or so), but after that the enterprise drive delivers far more consistent performance than the consumer drive.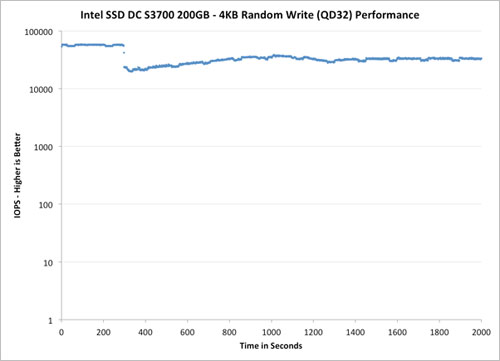 Which SSD is right for me?
Hopefully this article has been useful in explaining the significant differences between consumer and enterprise SSDs when it comes to endurance and consistency. That's not to say that an enterprise SSD is always better however as they are totally overkill for consumer PCs and not worth the price difference, which is typically around 2x for the same capacity. However, for any server, particularly one using multiple SSDs in RAID an enterprise SSD will perform better and last far longer than a consumer SSD.

As the SSD market develops and matures manufacturers are now beginning to offer a variety of enterprise SSDs. You can choose between a wide variety of SATA, but now the first NVMe drives (see June ScanZone article) are making their way onto the market delivering performance an order of magnitude higher, with transfer rates as high as 2800MB/S compared to a maximum of 500MB/S for a SATA drive. Some manufacturers even tune SSDs for different workloads.

Intel for example produces three distinct ranges all belonging to the DC family, the 3500, 3600 and 3700, some of which are available as both SATA and NVMe drives. The DC 3700 is tuned for write intensive servers with a very high endurance of 10 drive writes per day for 5 years, the DC 3600 for a mix of write and read with an endurance of 3 drive writes per day for years and the DC 3500 for read operations with an endurance of just 0.5 drive writes per day. With various capacities available it can be hard choosing the correct SSD for your server, so hopefully this article has been useful in explaining what to look out for.

You can view a complete range of enterprise SSDs on the Scan website and as a configurator option in our 3XS servers on our Enterprise Series website.

7. Meet Scan at EGX London
Scan will be once again exhibiting a range of high-performance gaming PCs and components at the EGX Show in London at the end of September. EGX is the new name for the Eurogamer Expo, and as always will be held at Earls Court exhibition centre in London from 25th to 28th September.

Highlights for the show will be a range of exciting new systems based around the new Intel X99 platform (see story above) and our latest Dream PC, the Swordfish, which takes PCs to a whole new level as its built into a desk rather than sitting on top or underneath.

8. Vote for favourite retailer in the Computer Shopper Awards
It's that time of year again when every magazine and website invites you to share your opinion on the products and companies you've bought from over the last 12 months. So please point your web browser to the Computer Shopper Reader Awards Survey 2014 to register your views you'll even be in the chance to win a free Kindle ereader.

9. Something big is coming
September is going to be one hell of a month to be a PC enthusiast with Intel launching its amazing new X99 platform, complete with 8-core CPUs and DDR4 memory and NVIDIA due to release something awesome that I'm dying to tell you about but can't, on pain of dismemberment, right now.

Scan 3XS Performance GT approved by Custom PC
Custom PC magazine conducted a head-to-head of £599 gaming PCs in its latest issue and we're pleased to announce that Scan's entry, the 3XS Performance GT won the test, scoring 83%, winning an Approved Award in the process. Custom PC summed up the article with 'the faster, quieter Scan is a more complete machine that is more deserving of your cash'.

The Performance GT is one of Scan's new F-Series range of PCs, which are pre-built and soak tested so are ready for next day delivery. You can check out the Performance GT and the other F-Series range of PCs on the Scan website.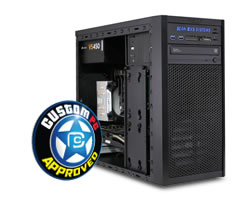 The fastest Micro-ATX PC we've seen
Intel's X99 platform may only be a few days old but HEXUS has already published a review of Scan's first PC based around this exciting new platform. The X99 Micro is a micro-ATX gaming PC designed to be small enough to sit on your desk and is ideal for taking to LAN parties as there's enough graphics horsepower to ensure silky smooth frame rates in all games.

With an overclocked 6-core Core i7 5820K, 16GB of DDR4, GeForce GTX 780 Ti graphics and 500GB SSD, HEXUS described the X99 Micro as 'the fastest Micro-ATX PC we've seen' and 'most importantly, a system that tears through CPU benchmarks', ending the review by giving the system a Performance Award.

You can read the full review online at HEXUS.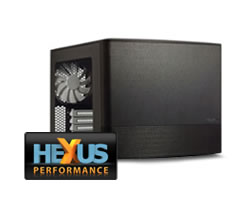 Mid-price gaming PC offers class-leading graphics performance
PC Advisor took a look at our latest £599 gaming PC, the Performance GT in its latest issue, giving the system a score of 4 out of 5 and describing it as 'The Scan 3XS Performance GT offers class-leading graphics performance combined with a high-spec Intel X97 Express-based motherboard which will ensure performance and upgrade capability in the future'.

You can read the full review in the latest issue of PC Advisor on the magazine's website.