Scan code: LN68771 Manufacturer code: EL-8-OB
Audeze Open Back EL-8 Planar Magnetic Headphones - Open Box
Audeze EL-8 - Open Back, Planar Magnetic Headphones with Wood Veneer Accents (Open Box)
Scan code: LN68771 Manufacturer code: EL-8-OB
Delivery Options
By DPD

to your specified address. |

£5.48

Receive SMS with one-hour delivery window Weekend, timed and European delivery options are available at checkout

Have your parcel delivered by DPD to your specified address. Receive SMS with one-hour delivery window

Weekend, timed and European delivery options are available at checkout

Collect instore

Collect from our Bolton store, BL6 6PE |

Free

Order online, collect from our Bolton store (25-28 Enterprise Park, Middlebrook, Horwich, Bolton, BL6 6PE)
Product Overview
These are Open Box Items
They have been used for six hours by contestants at the Samplethon event at Metropolis Studios, which was sponsored by Audeze.
These items are all in excellent condition, but may have cosmetic imperfections to the packaging and some light signs of use (but no significant scratches). They have a FULL manufacturer warranty.
This is a one-time-only offer, once this handful of units have sold, it will not be repeated.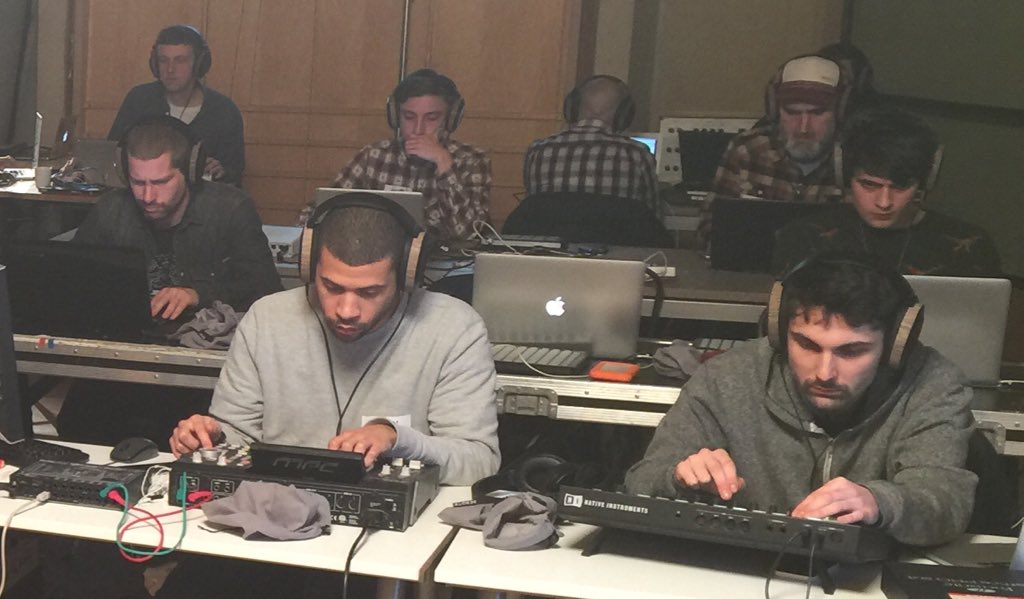 Here's a pic of the EL-8's in use at Samplethon.
The EL-8 is flexible, portable, lightweight and loaded with new technology for extreme performance. It works beautifully with most portable players and phones, due to its low 30 ohm impedance. The industrial design is by BMWDesignWorks USA and available in
open
and
closed-back
models, they're built with superb craftsmanship, wood veneer accents, and enormous attention to detail. The EL-8 has some of the world's most advanced planar magnetic technology with the new patent-pending Fluxor magnetic technology, Audeze delivers nearly double the magnetic flux density of the highest-grade neodymium magnetic circuits available. This remarkable achievement results in reduced weight with greater efficiency to work with mobile devices.
The open-back Audeze EL-8 brings the same characteristic neutral sound of the LCD-X to a smaller package, albeit without the slightly pronouced LCD-X characteristic sub bass. These headphones easily surpass the accuracy and definition of nearfield monitors in a non-acoustically treated room, with a need to spend thousands of pounds on speakers and treatment to get anywhere close to them. They represent incredible value for music listeners, producers, engineers and performers, as you can essentially travel with your studio or listening room.
Planar Magnetics
The transient (the "snap", "crack" or "thud" at the start of a sound) response and separation of inividual sounds in planar magnetic drivers is simply unsurpassed by conventional dynamic headphones, giving a very sharp, detailed and defined sound as the planar drivers are able to move much faster than dynamic cones.
The EL-8's patent-pending Uniforce diaphragm employs an industry first - variable trace widths in the voice-coil to effectively capture variations in the magnetic field within the magnetic gaps by equalizing the forces of the individual traces, creating a uniform driving force across the entire diaphragm surface. This results in dramatically reduced distortion, higher resolution and improved imaging.
Fazors
Our patent-pending Fazor technology, introduced in the LCD Collection, is also integrated into the EL-8. Fazors are special acoustical elements positioned on either side of the magnetic structure. They enhance transparency by affecting the sound waves generated by large planar diaphragms. A few of the benefits include extended frequency response, improved high-frequency extension, and lowered distortion, with better imaging.
Design
The EL-8 Design was a partnership between Audeze and BMW Designworks, and has elliptical cups, which are smaller than on the LCD range. They're built with superb craftsmanship, wood veneer accents and enormous attention to detail.
The custom cable connections to the headphone are magnetic, in a similar way to the Macbook's power supply connector, meaning that if they do get caught whilst in use, the pressure on the socket, cable or your DAC will be minimal.
The material of the Diaphragm is actually a polymer developed by NASA for use on the space station, due to its high strength and flexibility with low weight.
With Great Power, Comes Great Responsiblilty
The EL-8 are 30 Ohm impedance, meaning that they can be driven to a good volume from most devices including portable players, smartphones and laptops, but these built-in devices often lack clarity, especially in the the high treble and low sub bass regions (which is certainly the case with an iPhone or Macbook). We suggest using a dedicated DAC & Headphone amp to get the best out of the EL-8, such as the Audeze Deckard, Chord Mojo or Hugo, Creative E5, Geek Out 450, Apogee Groove, or an all-analogue amp such as the Nuforce HA200.
Package Includes
• 1.2m Audeze headphone cable
• 3.5mm to 1/4in stereo adapter
• Soft protective carry bag.
Features
Specifications
• Open circumaural style
• Planar magnetic transducer
• Fluxor magnets magnetic structure
• Neodymium Magnet
• 100mm Driver Size
• 15W (for 200ms) Maximum power handling
• >130dB Maximum SPL
• 10Hz – 50kHz Frequency response
• Less than 0.01% (1kHz, 1mW) Total harmonic distortion
• 30 ohms Impedance
• 102dB / 1mW Efficiency
• 200mW – 4W Optimal power requirement
• 460g Weight
Warranty
Please note your statutory rights are not affected.
For further information regarding Scan's warranty procedure please see our terms and conditions
Details
Duration:

36 months

Type:

Return to base

DOA Period:

28 days

RTB Period:

36 months
Manufacturer Contact Details